Fairborn Baker High School
In Memory
Sheryl Barger (DeLoria)
Sheryl Barger DeLoria of Tucson, AZ, formerly of Fairborn, OH, passed away peacefully Saturday, November 22, 2014, after a long struggle with cancer. She was born December 28, 1954, in Dayton, OH, to the late Curtyleese and Helen Marie Barger.
She is survived by her dog, Sophia; two brothers, Gregory (FHS-69) (Jan Wright, FHS-75) Barger of Overland Park, KS; and Brian (Kathy) Barger of Tucson, AZ; two sisters, Dr. Karen Doherty (FHS-68); and Gemma (FHS-79) (Terry, FHS-77) Aldridge of Kettering, OH; and eleven nieces, nephews, grandnieces, and grandnephew.
A graduate of Fairborn Baker HS Flyers Class of 1973, Sheryl attended Wright State University and Park College, graduating in 1977 with a Bachelor of Arts degree in Business Administration and Social Work.
Sheryl spent each moment of her 60 years full of life, laughter, and love. Although Sheryl lived in Arizona for the last 25 years, Fairborn and Dayton, OH, were her home for the first half of her life.
Prior to being disabled by cancer, Sheryl's career was in banking, where she mastered the fine art of spending money with unbridled abandon. However, the money she spent was frequently on someone else. Her most endearing traits were her extreme generosity, extraordinary personal kindness, and the world-renowned Chile Rellenos that she baked.
A private family gathering will be held later.In lieu of flowers, donations made be made in Sheryl's memory to local animal rescue organizations.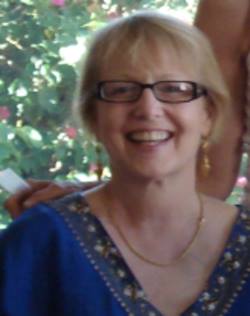 A story of Sheryl's long battle against cancer.
http://patient.varian.com/us/patient-stories/brain-cancer/sheryl-deloria