Fairfield High School
Classes of 1968 - 1971
In Memory
Ms. Julia Manchester Battelle Lowdon (Principal's Secretary)
From the Daily Republic
Julia Ann Manchester Lowdon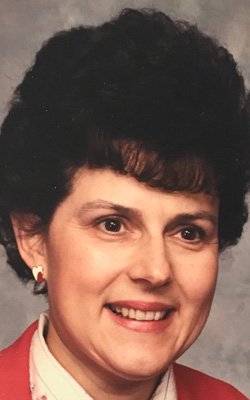 July 6, 1936 — April 21, 2018
Julia Ann Manchester Lowdon passed away in Folsom, California, on April 21, 2018, at the age of 81. Julia was born July 6, 1936, in Mason City, Washington, to Charles and Eleanor Manchester. She lived in Washington and Nevada when she was very young and then moved to California. Her parents owned homes both in Rockville, California, and South Lake Tahoe, California.
She graduated from Armijo High School and then went to college in Sacramento. She proudly worked for the South Lake Tahoe Unified School District and the Fairfield Unified School Districts. Julia was the principal's secretary at Fairfield High School. She was a dedicated and steadfast worker, retiring in 1994 after almost 30 years of faithful service. She was a Fairfield resident for over 50 years.
Julia loved to decorate, sew, travel both in the U.S. and abroad and work in her rose garden. She was truly dedicated to charity, generosity and loving kindness to all.
Julia had a long history of involvement with the International Order of Rainbow for Girls and with the Order of Eastern Star organizations in both Fairfield and South Lake Tahoe. She held many different offices and was honored in 1998 with the Order of Eastern Star Service Award. She served Grand Chapter as Grand Adah. She also served as Deputy Grand Matron, 1972-1973. For many years she would visit the homebound, bringing them plants and cookies. She also was the number one person to do the decorations in the chapter room and the dining room for meetings. In addition to this, she was a volunteer for the Disabled American Veterans DAV and AMVets Veterans organizations.
She is survived by her stepdaughter, Janice Warney (Paul) (Ken Battelle's daughter); stepsons, Jimmy and Michael (Jim Buck's children); and stepsons and stepdaughters, Priscilla Best (John), Sarah Lowdon (George), Laura Chapman (Lief), Vernon Lowdon and Richard Lowdon Jr. (Dick Lowdon's children); brothers, Charlie Manchester (Carolyn) and Allen Manchester (Lynn); sister, Barbara Thompson (Manchester); she was actively involved in the lives of her nephews, nieces and stepgrandchildren.
She is preceded in death by her husbands, the late Ken Battelle; the late Jim Buck; the late Richard (Dick) Lowdon; and her parents.
We love you deeply and will miss you very much! You will forever be in our hearts! God Bless You!
In lieu of flowers, donations can be made to the Eastern Star Organization or a veteran organization.
Julia's visitation will be from 10 a.m. to noon Monday, April 30, 2018, at Bryan-Braker Funeral Home, 1850 W. Texas St., Fairfield, California. Funeral will immediately follow at noon, also at Bryan-Braker Funeral Home. A time of remembrances and fellowship will be held at the Funeral Home Garden Court following services. Interment will be privately held at the Happy Homestead Cemetery, 1261 Johnson Blvd., South Lake Tahoe, California.
Arrangements under the care of Bryan-Braker, 707-425-4697, www.bryanbraker.com.