Fairfield High School
Classes of 1968 - 1971
In Memory
Mr. Paul Miller (Counselor)
From the Daily Republic
Ethan Paul Miller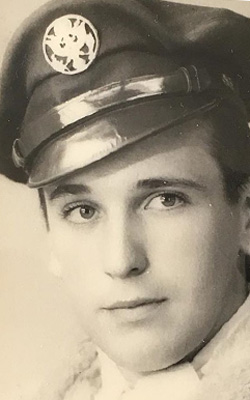 Ethan Miller
June 5, 1928 — Oct. 7, 2018
Ethan Paul Miller passed away peacefully surrounded by family on Oct. 7, 2018, at the age of 90 years old. He was born and raised in Riverhead, Long Island, New York.
Growing up, Ethan did not like his first name, so he went by his middle name, Paul.
On Jan. 5, 1949, Ethan joined the U.S. Air Force. He attended radar school in Biloxi, Mississippi. Following graduation he was stationed at Travis AFB in Fairfield, California. After one year at Travis he was transferred to Germany for one year and eight months. He had an honorable discharge on Aug. 8, 1952.
From 1953 to 1957 Ethan attended Grant Tech College, Vallejo Junior College and Sacramento State University. In June of 1957 Ethan received a B.A. degree in business administration. That same year, Ethan started teaching business subjects at Armijo High School. The principal at Armijo High School observed Ethan's caring nature and asked him if he would be interested in becoming a high school counselor. In September 1960, Ethan started part-time counseling and teaching business subjects. He started taking night classes at San Francisco State University toward a master's degree in pupil personnel counseling. In June of 1967 Ethan received his master's degree. Ethan transferred to Fairfield High School in 1967.
During the summer of 1976 Ethan, three teachers and six students challenged the Pony Express time from Sacramento, California, to St. Joseph, Missouri. Using 10-speed racing bikes they beat the Pony Express time by two days. In 2002, Ethan retired from Fairfield High School. At the time of his retirement, he was the oldest employee of the Fairfield-Suisun Unified School District.
Ethan is survived by his children, grandchildren and great-grandchildren. His story of "the benefits of becoming a teacher" will forever be embedded in their memories of him. Before his death Ethan was able to watch his grandson perform his student teaching via a video. It brought great joy to him that one of his grandchildren was going to be a teacher. Ethan loved spending time with his family and attending Grace Family Church-Solano.
Ethan is preceded in death by his mother, Margaret Ann Miller; brother, Allen Miller; son, David Paul Miller; great-grandson, Shane Michael Von Boeckmann and stepdaughter, Renée Rond.
The family is especially grateful to his very caring hospice nurse, Gladys, of Kindred Hospice Care and the staff of Honeysuckle Comfort Home.
A memorial service will be held at 1 p.m. Saturday, Nov. 3, 2018, at Fairfield Funeral Home, 1750 Pennsylvania Ave., Fairfield, California.
Arrangements under the care of Fairfield Funeral Home, 707-425-1041.