Fairfield High School
Classes of 1968 - 1971
In Memory
Mr. Nick Pavloff (Art, Yearbook Advisor)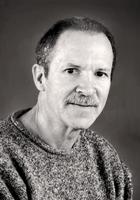 Nick Pavloff (born 21 June 1943, died 14 August 2020) taught art and photography at Fairfield High School from 1966 to 1968 and oversaw the creation of the school's award winning 1968 yearbook honoring the first graduating class at FHS. Nick inspired his student artists to see the world as a place of beauty, inspiration, and patterns. He encouraged his students to look at the mundane - whether the mundane be student and staff portraits, school sport and club participants, or local business sponsors - and to see these subjects with open eyes, with a twist that made the old new and memorable. The result of these student efforts is a yearbook that remains to this day brilliant and cutting-edge. Nick met his life's love, Cathy Mezirka, at Fairfield High School. They married in San Francisco in 1969, and Nick stopped teaching to pursue a successful career in photography. His career encompassed both black and white and color landscape, commercial, portraiture, and stock photography.
After Cathy's death in 2013, Nick moved to Reno, Nevada, to be closer to his daughters and grandchildren. Nick never allowed his battle with Parkinson's to stop him from doing what he loved best, photographing the exquisite beauty of the world around us.
But more than a great photographer, Nick was a gentle soul, a kind and good man who loved his family and cherished his friends.
Submitted by Jude Moore Parry-Jones, Class of 1968