In Memory
Glenda Carpenter (Reagan) - Class Of 1976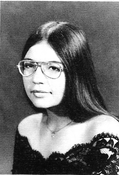 Glenda Carpenter Reagan, age 51, of Jackson, GA, passed away Sunday, January 17, 2010 at Spaulding County Regional Hospital in Griffin, GA.
She was born in Cumberland County, NC to Glenn and Peggy Smith Carpenter of Robbinsville, NC.
She was preceded in death by her son, Jerry Mullins.
In addition to her parents, she is survived by her husband of 19 years, Mark Reagan of Jackson, GA; and her brother, Johnny Carpenter of Fayetteville, NC. She is also survived by her aunts, uncles, nieces, nephews and cousins.
Funeral services were held at 2:00 pm Thursday, January 21, 2010 at the Townson-Smith Chapel. The Reverend Daniel Stewart officiated. Burial followed at Old Mother Cemetery.
Townson-Smith Funeral Home were in charge of the arrangements.