In Memory
Terry Wayne Baggett, Sr. - Class Of 1979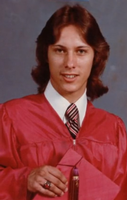 Terry Wayne Baggett, 57, passed away Wednesday, August 8, 2018 in his home.
Terry was born in Cumberland County on January 19, 1961 to the late Arthur Leamon Baggett and Junie Aldine Spell Baggett. He worked for Black and Decker for many years and then worked as a Ceramic Tile Installer.
He is survived by his children, Scotty Baggett of Fayetteville, Terry Wayne Baggett II (Tiffany) of Florida, Bryan Baggett (Sarah Hart), Athens Gorham (Brandon), Roxanne Danielle Gillespie (Jason) and Hannah Minter, all of Fayetteville; brothers, Arthur Joe Bagget of Colorado and Tony Baggett (Joanne) of Charlotte; sisters, Barbara Alexander (Tom Cain) and Carolyn Chandler, all of Fayetteville; 8 grandchildren and many extended family members; special friends, Kevin Powell and Red Earwood.
Visitation will be held from 6:00 PM to 8:00 PM on Saturday, August 11, 2018 at LaFayette Funeral Home, 6651 Raeford Rd. Fayetteville, NC 28304.
Funeral services will be 2:00 PM Sunday, August 12, 2018 at Jesus First Church, 7467 Camden Road Fayetteville, North Carolina 28306 with Pastor Gary Leviner Sr. officiating.
Burial will follow In Cross Creek Cemetery #4.
In Lieu of flowers, donations may be made to the family.