In Memory
Michael Edwin Blount - Class Of 1975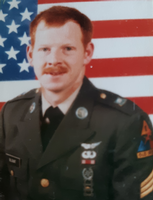 Retired Staff Sgt. Edwin Michael Blount, 58, of Fayetteville died Friday, November 14, 2014.
Born in Cooke County, Illinois, he was a son of the late Elbert Marvin Blount and Barbara Jean Merritt Blount. Mr. Blount was a retired truck driver and a member of Fayetteville Community Church.
He is survived by his brothers, Charles Wallace (Charlie) Council of Hope Mills and David Marvin Blount of Florida and two Uncles who were more like brothers, Jerry Rhodes and Keefer Rhodes.
A graveside service will be held at 11:00 A.M. Tuesday, November 18, 2014 at Fayetteville Memorial Cemetery with Rev. Wesley Pritchard officiating. The family will receive friends from 6:00 P.M. to 8:00 PM. Monday, November 17, 2014 at the funeral home.