In Memory
David Andrew Dunn - Class Of 1977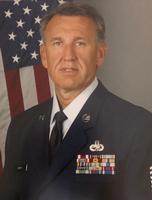 David Andrew Dunn was born at Fort Bragg, NC on January 28, 1960 to Henry and Lois Dunn. He went to be with the Lord on November 14, 2019, at the age of 59. David was a happy and loving person who always had a smile and a kind word. He had servant's heart and never passed up the opportunity to help someone in need. His sudden and unexpected death has been heartbreaking and a massive reminder to live each day to the fullest. There are not enough words to express how greatly and deeply he will be missed.
David was a longtime resident of Fayetteville. He went to Douglas Byrd Highschool, where he excelled at playing football and other sports. In 1977, David married his high school sweetheart Traci and joined the Air Force. They were stationed in Goldsboro at Seymour Johnson Air Force Base, and then Langley Air Force Base in Virginia. After moving back to Fayetteville, David continued his Air Force Career in the Reserves and began his career with the Fort Bragg Fire Department. He retired in March 2014 as an Assistant Chief from the Fort Bragg Fire Department, and in June of 2014 from the Air Force. David had a combined 35 years of service in the Government of The United States. He enjoyed spending time with his wife and family and was an active and doting grandfather. David loved traveling and adventure and cherished the friendships and memories he made. He liked working out and being physically active, scuba diving, and spending long days soaking in the sun.
He was preceded in death by his father Henry Wyatt Dunn, his mother Mary Lois Dunn, his nephew Danny Dunn, and his brother Henry Wyatt Dunn (Junior).
David leaves behind his loving wife of 42 years Traci Hutchinson Dunn, his children; David Dunn and his wife Candice, Dana Dunn Hutchens and her husband Bill, and Daniel Dunn. His five grandchildren Andrea Hutchens, Grant Hutchens, Caroline Dunn, David William Dunn, and Reid Hutchens. His siblings; Mary Brown, Penny Morris, Trisha Potts, Tommy Dunn, and LaDena Whitman. As well as, his many nieces and nephews, and his extended family and friends.
David's Celebration of Life will be on Friday November 22, 2019 at Village Baptist Church. Visitation will be from 11-12:45 in the sanctuary with the services starting at 1:00. Graveside Services will follow with Full Military Honors at Lafayette Memorial Park.
Online condolences may be left at http://www.jerniganwarren.com
Arrangements by Jernigan-Warren Funeral Home, 545 Ramsey St. Fayetteville, NC 28301.
To send flowers to David's family, please visit our floral section.
https://www.jerniganwarren.com/notices/David-Dunn?fbclid=IwAR0l85gOnGZ6fY3moBGk7xO0_fsu2CnXPxKYf0AtZZ1ikIOnwM9ZCGoX0_Q