News-Current Events
Dear GHS Alumni
I have a few events and other items of interest I'd like to share with you:
GARLAND SCHOOL STORIES
The next quarterly GHS Alumni newsletter, which comes out in May, will almost finish up the Garland school stories series; so, if you have some fun/crazy/nostalgic/whatever stories from your years in school in Garland, at any grade level, just hit reply and send them to me. Good quality old pictures too are much appreciated!
APRIL 15: ALUMNI BASEBALL NIGHT
The Garland Baseball Boosters Club would like to start having an annual Alumni Night beginning this year on April 15. The game against Rowlett starts at 7pm -- and, yes, the baseball field is still in the corner by Williams Stadium. In addition, if any alumni would be willing to donate $100-200+ they can throw out the "first" pitch -- but, this is open to more than one person, if more donations at that level come in. If you have any questions or if you would like to donate, contact Roger Ethridge (theethridges@yahoo.com, 214-304-0862). Sally and I will be there. Hope you'll join us! (Don't worry. I will not embarrass you by trying to throw a baseball anywhere whatsoever!)
APRIL 23: OPEN HOUSE TOUR ON SOUTH 11TH
Last year many of you took advantage of the wonderful series of open historic homes on South 11th Street. If you missed it or would like to go again, Kay (Wheeler) Moore '66 [kaymoore2000@yahoo.com] invites you to come. See details at the end of this letter. Kay said to tell you that there will be an additional house open this year and a film will be shown
AUGUST 1: DISTINGUISHED ALUMNI NOMINEES DUE
Charles Smith '59 [charles@cwsfuneralhome.com] asked me to tell you that the GHS Distinguished Alumni Selection Committee that he chairs would love to get more nominees. If you know of someone you'd like to nominate, email Charles their name AND background material on why you think the person is a good candidates. (Hint: you can always ask the person you want to nominate to get more info on them.) Charles must have all nominations by August 1 at the latest.
ALUMNI WEBSITE
Jerri (Grant) Scribner '75 [Jgscribn@garlandisd.net] and I, working with the alumni class reps, have much improved the Alumni website that is part of GISD's website. Jerri has done all of the labor, while the class reps and I have been giving her lots of good content. Have a look!
You can see it here: www.garlandisdschools.net/alumni
I also created a shortcut to it: tinyurl.com/ghsalumni
Gig 'em Owls!
Steve
Steve Rhodes, GHS Alumni Association President
Email: ghsalumni@yahoo.com
6808 Audubon Dr.
Parker, TX 75002
Vintage homes on historic South 11th to open for tour Saturday, April 23
Note from Kay Wheeler Moore '66
Five vintage homes in Garland's Travis College Hill Addition (South 11th Street between Avenues B and D) will be open for viewing in the addition's second annual historic home tour from noon to 5 p.m. Saturday, April 23. This addition backs up to Garland High School and has been the home of numerous GHS graduates as well as some faculty.
The event is held in conjunction with Garland's Heritage Celebration 2016.
Travis College Hill, originally platted in 1913, has received a Texas Historical Marker for its significance in the history of Garland and the State of Texas. At the time the area was platted, 11th Street was known as Garland Avenue (before the name was given to another thoroughfare).
The homes on tour were built in the early days of the last century. They include Garland's Historic Pace House, formerly a City of Garland event center, which was moved from behind city hall and onto South 11th Street in late 2014. The Queen Anne-inspired home has been refurbished and has returned to residential usage.
Besides the Pace House, the other dwellings open to the public on the free tour are:
400 South 11th Street, (1918)—Greg and Becky Baxter;
301 South 11th Street (1915)—Dale and Hillary Adams;
313 South 11th Street (1913)—Louis and Kay Moore;
401 South 11th Street (1913)—KLMK Properties Inc.
All are bungalow style with strong Craftsman influences.
Additionally, a short film, "Saving Magic 11th Street", will be shown continually in one of the rooms at 401 South 11th during the home tour. The film chronicles the restoration and renewal of the historic neighborhood due to a partnership between residents and governmental entities.
The addition, officially known as the Interurban Land Company's Travis College Hill Addition, is a rare collection of extant dwellings that represent a remnant of life in early Garland. The addition sprang up as plans for an electric rail car, the Interurban, were being made to connect Greenville to Dallas through Garland. The rail car was to run down Mewshaw Avenue, now Avenue D. The rail car never materialized, but the addition is a reminder of that earlier period of Garland's life.
____________________________________________________________
January 26,2016
Dear GHS Alumni Class Reps,
About every 3 years, Garland High School puts on a musical. Three years ago, Sally and I went to see The King and I at GHS, and it was absolutely fantastic!
This week for three nights (Thu 28, Fri 29 and Sat 30) at 7pm GHS will be putting on The Music Man.
The doors open at 6:30 at the GHS auditorium. The tickets are on sale at the door, are general admission and only cost $10.
Please pass the word along to your class, via email or Facebook or however, about this production.
Sally and I will be there Saturday night along with more than 16 of our fellow classmates. Please consider joining us then, or, if not then, then consider going to another night of the show.
Hoping to see some of you soon,
Steve Rhodes
__________________________________________________

Dear GHS Class Reps

I am sorry to have to tell you that Mrs. Hardgrave, who taught in Garland for almost 4 decades, has passed away at age 100. Ann Daugherty Ticknor '53 put it best when she said in a note to her class: Mrs. Hardgrave, whose husband passed away many years ago, "had no children. A brother and several sisters lived in California. We were her family."

Here is a picture of Mrs. Hardgrave at my class's 40th and 45th reunion, which she came to, bringing her signature big smile.

Her services will be at 1pm at Williams Funeral Home on Monday (January 4) with visitation at noon, right before the service.

Please join Sally and me in keeping Mrs. Hardgrave in your thoughts and prayers.

Steve Rhodes

_____________________________________________

Cecelia Duncan Row

We recieved informaiton that our classmate Cecelia Duncan Row was diagnosed with an inoperable brain tumor last week, and the diagnosis was 2 to 3 months to live. Her husband Hank indicated they will seek a second opioion but it does not look good. She is recovering from a stroke suffered last week which lead to the discovery of the lesion.

If you wish to send her a card or note plesae send it to 622 Rilla Dr. Garland, Tx, 75041. If you want to visit her please contact Hank directly at 214-621-8675.

___________________________________________________

In the future, our all-class reunions will always be on the first Saturday in October. We have arranged this in order to allow people who want to come to be able to plan in advance.

Not only did we have a great time at the reunion, we also signed up 68 new members into the Alumni Association and got about $500 in donations.

As you may know, we just finished a 2-issue trial membership to the Association to people suggested by their class reps. I am extremely pleased to report that 137 people in the trial have joined the Association, and I suspect many more will. Since we give out 6 $1,500 scholarships annually, put out a quarterly newsletter, hold an annual all-class reunion, etc., the dues and donations are much appreciated. As of now, we have 1,377 members, up from the 760 members we had in the summer of last year.

Finally, if you have stories or pictures about growing up in Garland or about the Garland schools, please send them by simply replying to this letter or by sending them directly to ghsalumni@yahoo.com since these are the subjects for the next few couple of newsletters.

On behalf of the GHS Alumni Board, we thank all of you for your enthusiastic participation and support, especially our hard working class reps.

Gig 'em Owls!

Steve

Steve Rhodes (Class of 65)

GHS Association Alumni President

Dear Mighty Owls Alumni,

We want to offer the opportunity for all Garland alumni to show their support for the 2013 football season or to advertise their business in the Football Program. I am attaching the 2013 Sponsorship form to this email. Please forward to friends and family that have attended Garland High School and

any businesses you are aware of that may want to advertise. We will accept ads throughout the season.

If you have any questions, please feel free to contact me.

Thank you,

Trish Wentz

Ads & Sponsorships

Garland Owls Booster

469.767.8093

The form is a PDF file click this link, when the file opens you can use the menu at the top to

print the form.

______________________________________________________________________________
Class of 67' 1st Annual Alumni Golf Tournament

The class of '67 is having a 1st Annual Alumni Golf tournament 10/5/13 at Firewheel GC.Proceeds will be used for student scholarships. For info contact garlandowls67@gmail.com or send me an email and I will send you the info. There is a get together that includes the game on Friday night. Thanks and hope to see you there.
Tommy
__________________________________________________
Regarding Patricia Dowell (Scimeca)
As many of you might know, Tricia has been battling cancer for several years. She was hospitalized in late February and is receiving hospice care now. She is at Calvary Hospital in the Bronx and would enjoy hearing from her friends. Tricia can be contacted at her email address: pscimeca@gmail.com
Ken Sprecher
7/6/2013
Garland High School graduate's new book brings to life memories of past days at GHS and the Garland community

GARLAND, TX — Garland High School graduate Kay Wheeler Moore (Class of 1966) has written a new book, "Way Back in the Gardenia Rows", recalling some of her GHS high-school experiences as well as other tales of her growing up in Garland.

The book, published by Hannibal Books and just released, is a combination autobiography and cookbook, with recipes that were served alongside key events that occurred during her childhood and youth as a Garland resident.

In her chapter, "Caisson, Cortege, and Catafalque", Kay describes learning of the JFK assassination during a lunch hour as students stood outside the GHS cafeteria on November 22, 1963. The earth-shattering events were aired via radio broadcast over the school's PA system as students waited outside to return to class after lunch. Kay tells how sophomore English teacher Marie Davis turned the occasion into a learning opportunity with a pop-quiz over vocabulary words such as caisson, cortege, and catafalque that students had heard during the Kennedy funeral.

The book is a tribute to Garland and the community which she says nurtured her from before her birth. The title relates to the fact that her mother, Mable Wheeler, snipped blossoms from her lavish gardenia bushes and pinned them to Kay's dresses as Kay departed for Vacation Bible School at nearby First Baptist Church, Garland. After VBS, Kay returned home to her mother's legendary tuna-fish salad sandwiches, the recipe for which is one of dozens featured in the book.

In the book, which has the subtitle, Everyday God-Moments and the Recipes that Accompany Them, Kay encourages others to preserve their own "God-moments"—which may be quiet, everyday life lessons as well as personal miracles that "make a permanent imprint on the human heart", she writes. Readers also need to write down the recipes that went along with such times, such as Salmon Loaf for Sunday lunch or Cheese Enchiladas baked to celebrate a daughter's miraculous graduate-degree pursuit, Kay says.

Among other Garlandites that Kay cites as pillars in her upbringing are the Rev. Charles L. Cockrell, the late pastor of FBC Garland, and Dr. Richard B. Hartin, who helped make an adoption plan for Kay when her birthmother visited here from out-of-state in 1948 and needed assistance with her pregnancy. Hartin arranged the adoption with Kay's parents, J.D. and Mable Wheeler. Her dad was Garland postmaster and her mother was secretary to former Garland School Superintendent H.D. Pearson.

Kay is a Pulitzer-Prize nominee whose two previous books, Way Back in the Country and Way Back in the Country Garden, promoted preserving family history through recipes. Her other previous books are When the Heart Soars Free, a book of Christian fiction, and Gathering the Missing Pieces in an Adopted Life, based on her newspaper series when she was a Houston Chronicle reporter. She and husband Louis are parents of two adult children and their spouses and are grandparents of three. They live in Historic Downtown Garland in a 1916-vintage home that backs up to Garland High School. Kay says she feels privileged to live on her "growing-up" street of South Eleventh just down the street from her childhood dwelling and in the house formerly occupied by her second-grade schoolteacher, Evelyn Walker, and her family.

Paperback ($14.95) copies of the book are available through online bookstores such as Amazon.com and Barnesandnoble.com. Hannibal Books also offers the book through 800-747-0738 and www.hannibalbooks.com. ISBN: 978-1-61315-025-2.
____________________________________________________________________
GHS All Class Reunion
Saturday October 19, 2013
_____________________________________________________________________
Junior Cook Passed away December 17 after a long battle with cancer,
Memorial service will be January 5th in Charlotte NC
Contact Bronnie & Patricia Helton email, Petey113@verizon.net for more details
JUNE 2012 NEWS LETTER YEAR DATES ON MAILING LABELS
IMPORTANT NOTICE
The year dates were not changed on the mailing labels, showing the last time our members paid their dues. So a lot of people have paid for 2012, but their newsletters mailing labels were not changed to reflect the payment.
thanks. Jay Jones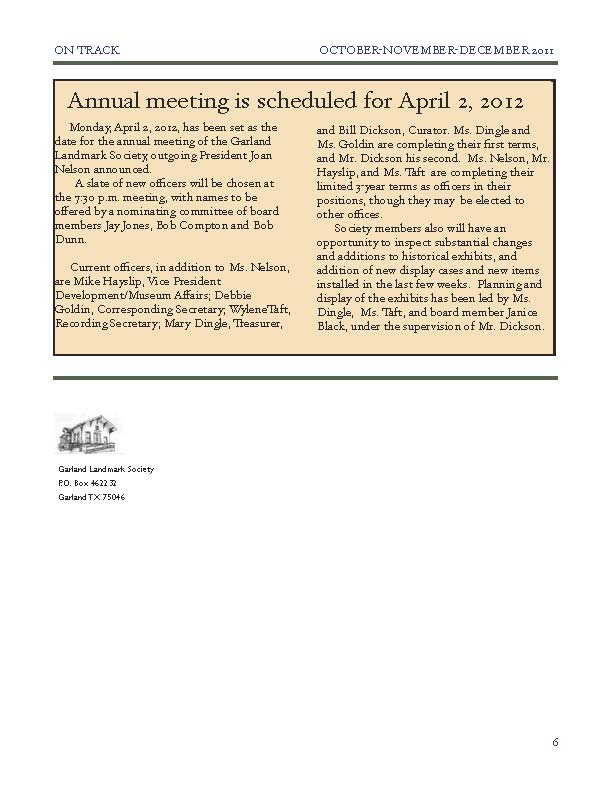 _________________________________________
I just got out of Zale Lipshy hospital on Tuesday of this week. I was in 3 weeks and 1 day. The bone marrow (stem cell transplant) appears to be a success. I will not be able to have a pet scan until 3 months to see if the cancer is still there. My body is making white blood cells on its own. They say it is like re-booting your computer. I had 16 rounds of chemo the 1st week in the hospital (that was in addition to what I had already had from March-Aug.) and then the transplant. Your body basically bottoms out and you start to make new cells, etc. and try to rebuild.
I go back today to check all my counts. For the first 6 weeks I have to be very careful since I do not have an immune system built up. Infection is the primary concern. I really feel good and so grateful.
I am hoping you can relay a message in your own words to our class. I am sure you could phrase it better that what I could.
I wanted to thank each classmate that took the time to say a prayer on my behalf. I feel God is what brought me through this. Without each prayer I would not be here. For those who might be diagnosed in the future ( I pray they will not ) please tell them not to give up hope. Stay strong, fight and believe in prayer. God will get you through a time that is dark and shower you with sunlight again.
Bless you all. And thank you from the bottom of my heart.
__________________________________________________________________
For those of you that didn't know due to my condition, I suffered a cerebral aneurysm that resulted in a stroke on September 23. I was in a Critical Care Unit for 8 days, then on to ICU. I am more than fortunate to have survived with a right cranium full of blood. Not out of the woods yet, but am grateful to God, his angels, and all the support and prayers from friends and family. Thank you all, Lana