Grayslake Community High School
Class Of 1960
Our Teachers
"I thought it was Ray Baker who was ousted in '59 in favor of Helphinstein [as varsity basketball coach]. I was working at the Grayslake Times by then and I had printed up a bunch of Ray Baker Fan Club cards, which I sold out of my locker for a nickel. Made a BUNCH of money (I think it was $10). Everybody had to have one. It was the nicest compliment that Ray ever got for his coaching chores and the ungrateful dumping into the trash heap he got from 'somewhere'." (Larry Leafblad email 3/2/09)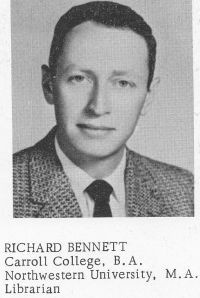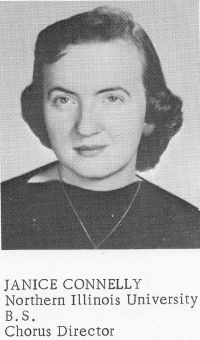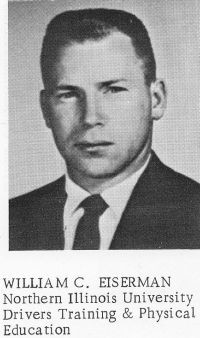 Dorothy Eiserman, 73, of Lake Villa passed away November 3...she is survivded by her husband, William Eiserman, the former football coach at Grayslake, children Tammy of Lake Villa, Dawn Karis of Kildeer and William Eiserman of Boulder Colorado. Services were held privately. (Email from Larry Leafblad 11/11/06)
Winifred Harrington
Girls' Vocational Counselor / Office Practice-Shorthand
Normal University, B.Ed., Northwestern University, M.A.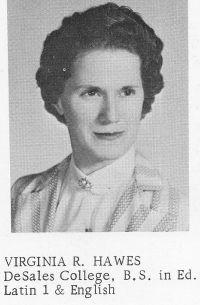 Dear Jerry,
I was glad to hear from you glad to hear that the class of 1960 is keeping things going at the High School. Congratulations to all of you and I hope you all have a wonderful time at reunions. We retired to Milton in 1972. We became active in golf, church, historical society and so forth, as well as traveled to see the world. After Howard died I moved to an apartment which is right across the street from our senior center so I have plenty to keep me busy. Mary Ann and family live in Richmond, Va. Nancy and Family live in Spokane Wa., and Jim and family live just outside of Milton in the county. So that is my story, not so very exciting but normal , I guess. I will be 95 years old in May , boy that is OLD! So greetings to all of you, stay healthy and Happy and maybe send me a note.
Sincerly, Esther Inwood, 710 Campus #3 Milton, Wis 53563 (Esther Inwood email to Jerry Davis 3/24/06)
Dear email friends,I have enjoyed your email messages and jokes for years however due to low vision I am signing off the internet as of May first. I know I will miss you all, however you can send messages to my son, Jim whose email is JInwood@CenturyTel.net. My address is 710 Campus St., Milton,Wi 53563, and phone number is 608 868 2557. Best Wishes, God Bless you all, with love, Esther Inwood. (Esther Inwood email 4/20/07)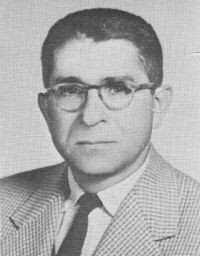 Paul Keller
Boys' Vocational Counselor / Biology Teacher
Wisconsin State, B.S., University of Wisconsin, M.S.
Paul G. Keller
Published June 1, 2017
Col. Paul G. Keller, AUS Ret., age 95, of Grayslake, IL, passed away Wednesday, May 31, 2017 at Libertyville Manor in Libertyville, IL. Born on October 2, 1921, Paul graduated from Oshkosh High School in 1940 and the University of Wisconsin-Oshkosh in 1949 with a bachelor of science degree in biology and mathematics. He received his Masters of Science degree in 1955 at the University of Wisconsin-Madison. On November 1, 1943, he married Jaunita Jones in the Old Post Chapel at Fort Sill, OK, and they were married 57 years, until she passed in 2001. They had two sons and a daughter. From 2002 to 2009, he had been a companion of Mariella Manville. After college, Paul taught biology at Grayslake High School in Illinois, until he retired in 1983. In addition he was varsity boys and girls tennis coach. In high school he had served as tennis captain during his senior year and was undefeated all season, winning the conference singles championship. In college he was tennis captain 1947-1949, was undefeated in conference competition, and won the state championship all four years. He was the first tennis player to be inducted into the University of Wisconsin-Oshkosh Athletic Hall of Fame. He served as a teaching professional for over 25 years. Paul was called into military service in July of 1942, graduating from OCS as a Second Lieutenant Field Artillery at Fort Sill, OK on May 6, 1943. He served four years in the U.S. and China-Burma-India Theater during World War II. Upon discharge he remained in the Active Reserve, was recalled to duty during the Korean War, 1951-1952, and served in Korea. He was retired as a Colonel after 37 years of active duty and Active Reserve and was awarded the Distinguished Service Medal. Paul was a member of St. Andrew Episcopal Church, Grayslake, IL and Trinity Lutheran Church in Ingleside. Survivors include his wife, Gretchen Gae Keller; his children, William Keller, Chloride, AZ, David Keller, Londonderry, NH, and Diana Barron of Grayslake, IL; and his grandchildren and great-grandchildren. Friends of the family may visit from 4:00 p.m. until 8:00 p.m. on Monday, June 5, 2017 at Strang Funeral Chapel & Crematorium, 410 East Belvidere Road, Grayslake, IL 60030. A funeral service is scheduled for Tuesday, June 6, 2017 at Strang Funeral Chapel at 10:00 a.m. Interment will follow at 2:30 p.m. at Abraham Lincoln National Cemetery, 20953 West Hoff Road, Elwood, IL. For information, please call 847-223-8122 or visit www.strangfuneral.org. (Extracted from Strang's Obituaries)
Newell L. Kessinger passed away in Winter Park, Florida on Tuesday, March 24, 2015. He was born on August 21, 1920 in Hillsboro, Illinois. He married Mary Ellen Price in San Marcus, Texas on December 16, 1944. She preceded him in death on September 16, 2014. He served his country in the United States Air Corps during WWII. He taught instrumental music for 33 years in Farmington & in Grayslake, Illinois. He loved traveling with his family and was an avid golfer. "Kess" had three sons, and six grandchildren.
(Newell Kessinger email to Larry Leafblad 3/22/06)
Hello Larry,
What a pleasure to hear from you. I'm swamped with E-mails and have a hard time answering all of them. Yes, those were the good old days and guys like you made them something to remember. Thank you for your kind words-they help make it all worthwhile.
>
Mary Ellen and I are well, considering our ages. All is fine with me except for my knees. Probably a result of hauling bleachers for concerts and carrying the timpani over my head.
>
I'm in the process of getting one knee replaced. Maybe then I'll get back to playing golf. I miss it and all the friends I made here on the
courses. None of them are musicians, so they don't mean as much to me as guys like yourself.
>
To catch up on me. I retired in 1980- drove a school bus for three years until I had enough quarters to receive Social Security. Mary Ellen taught until then and we moved to Winter Springs in Florida where our son, John, class of 1966 lives. What a great move. He had graduated from M.I.T. and worked for Westinghouse, then for Siemans-Westinghouse as a manager of a Power Generation Division. He has since retired but still lives here and does consulting for other companies.
>
Our next, Bill, class of '69' is a Band Director at North Scott high school in Iowa, just north of Davenport. What bands he has, the kind I always dreamed of having. He brings his bands to Disney and Universal near us every couple of years. This year he brought 180 kids to perform. They are unbelievable- two Concert Bands and two Jazz bands.
Our youngest,Tom, class of '71, is an Estate Attorney in Pittsburgh and plays sax in a group that plays for charity events and Nursing Homes.
>
John and Tom both fathered twins the same week in '80. What are the odds? We have six grandchildren. Five have finished college and are scattered all over. Steve,the oldest, graduated from the U. of Fla. and now works in Germany for Siemans. One of John' s twins (Danielle) taught English in Japan for two years and now works in N. Carolina. Matthew, his other twin is in Afghanistan, in counter-intellignce. He also graduated from U Fla. Toms twins graduated from Duke and Wake Forest and now work in Washington, D.C. His youngest, the son, is a senior at U. of Vermont.
M.E. and I are fine- still active in our church choir. I directed the handbell choir for twenty years. We went on a cruise to Alaska last
summer, the 50th state we have visited- for our 60th anniversary. If you ever get the chance, drop by. This is a great vacation area. We are just north of Orlando, so we are close to Disney, Epcot, Universal and Sea World etc.
Nice to hear from you- keep in touch.

Kess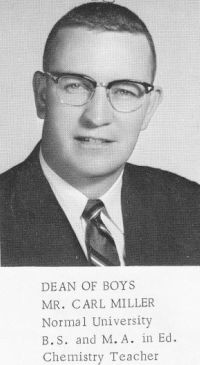 Carl V. Miller, an 83-year-old Grayslake resident, passed away Saturday afternoon, October 4, 2008 at his home. He was born in Bloomington to the now late Carl J. and Jenny Miller on April 13, 1925. Carl enlisted in the U.S. Army in 1943 and served under George Patton during World War II. He graduated Illinois State University in 1951, and was an educator at Grayslake High School for over 40 years. Carl taught math, chemistry, and was also part of the guidance department. He coached football, basketball, baseball, but his special love was track. Carl was also on the Grayslake Village Planning Commission and Zoning Board for over 40 years, as well as a past member of St. Gilbert's school board. (Extracted from Strang's Obituaries)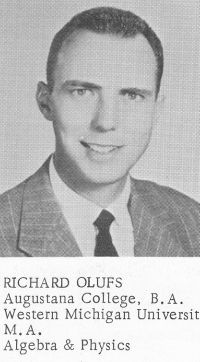 I remember weighing in for the freshman football team...I was 114 pounds! Coach Rooney would make us take salt tablets without any water...I still gag at the memory! Coach Olufs was a good man. He had a policy that if you joined the team and came to practice he would not cut you and would let you "dress" for every game. That led to an "extra" squad of players when we were juniors. That squad wore yellow vests and scrimmaged the frosh/soph football team every practice. Quarterback Ralph Schroeder would get under center. On his right he had Bill Koca and on his left was Joe Kania. And...across the line and staring Ralph full in the face, licking his chops with anticipation was linebacker Louis Pape. Ralph knew he was screwed, but gamely called the signal and took the lick!! (Message Forum posting Koca 11/10/08)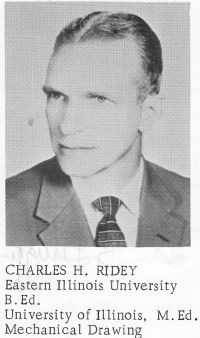 (Charlie Roberts email to Jerry Davis 4/12/08)
Hi. I just received an email from Roger Ridey, Charlie's son, stating that Charlie passed away April 10. He was in the hospital for only a week and passed peacefully. Mary was with him. Charlie was well into his nineties. I will send you the obituary when Roger sends it to me. Charlie Roberts
(Mary Ann Inwood (Cisne) email to Larry Leafblad 4/14/08)
Thanks for including me in this information. My mom is Esther Inwood teacher of home economics for years from the time the Grayslake Community High School was built in 1946 until probably l966 when she retired. She will be 97 on May 14 and lives independently in Milton, WI where she and my dad moved in the early 70's. She and Mr. Ridey kept in touch, so I will pass this on and especially would like to know any details of memorial, funeral, etc.
If anyone wants to send her a card her address is: 710 Campus Street, Milton, WI 53563. My brother Jim (who lost his hearing in 1952) also lives in Milton with his wonderful family. His wife has a hearing loss (they met through her brother while Jim was at Gallaudet College only college for the deaf in D.C.), but all three young adult kids are "hearing".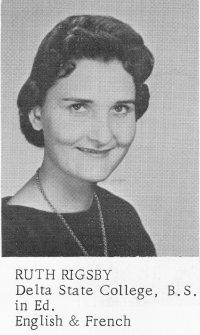 (Bill Koca email to Don Krumrey 4/23/05)
Whenever I think of Ruth Rigsby, I can hear her soft southern drawl. Here are a few memories that came from somewhere:
My brother Jim was a senior when we were freshmen. The subject of his junior term paper for her English class was "Brown v. School Board". I can still remember the red ink all over it and the grade he got...a c-minus. Ruth did not suffer liberal equal-rights Yankees lightly!
She was a passionate teacher. You all might recall our senior class in British Literature and the dreaded "reading list". We had to read 15 books chosen from her list. I still have my bookmark with the names of those I read: David Copperfield through Return of the Native. Anyway, I left the reading go until the last minute and then pulled some very late nighters to speed-read the list. Ruth accused me of lying that I read all those books in a week or so. My mother met with her at a parents' night and was very indignant that Ruth thought that I lied. Ruth told her that no one could read those classics from cover to cover in such a short period. My mother replied that she watched me stay up night after night to get it done and left in a huff. You might remember that we had a final exam on the books. I aced it; got the highest grade on the exam. Ruth looked me up in the hallway and apologized for doubting me. She was also sorry for having to give me a B in the class because I had been late on some assignments!!
She lived in a small house in Wildwood and was not a well person. She passed away I believe in the early 60s. She was a good person and an outstanding teacher.
I remember Miss Roberts with her high expectations for everyone and her utter disappointment in me for quitting Latin class after two years and then taking typing under Mrs. Johnston and...horrors...first period study hall so that I did not have to get to school until 9 o'clock! How lucky we were to have teachers such as she guiding us. I had the pleasure of chatting with her at our 20th reunion; the one thing that absolutely blew her away was learning that Donald Krumrey had at one time been, as she put it, a "saloon keeper"! (Bill Koca 10/3/2008)
Ah, Miss Roberts, with the cotton housedresses and cloth shoes. I took 4 years of Latin and delighted in her telling us how she worked each year in able to go to Rome. She took boats, scows, ships, menial jobs, etc. Was a discus thrower in one of the Olympics. Can just see her, with braids flying. Weren't the Roman banquets fun? Dying sheets, wearing jewels in one's hairdo, eating on the floor with your hands.....
When I finally got to Rome, thought about her everywhere I went. Wish she could have translated for me and told me the stories once again. (Sue Stock Kellogg 10/5/08)
I too have fond memories of Miss Roberts. She was the most inspiring teacher I've ever had. She made her class intersting with her stories of Rome and her travels there. I'm sure I would never had taken four years of Latin without her being my teacher. I will also never forget her hosting a Great Books Seminar in her home for some of us. She stimulated me intellectually and creatively and I'll never forget her. (Dick Bell 10/6/08)
Patrick Rooney
Kosh, Speaking of Mr. Rooney, that man could run. The only student to beat him in the 100 yard dash was Larry Reimers.----Mr. Rooney was the freshman baseball coach. One Saturday morning we had a game, with what school I don't remember, and we were suppose to be there at 8:00 A.M. Well, forgetfull me, I forget to set my clock to get up early enough to be there at 8:00. I hurried and ran over to the school, changed into my uniform and ron down to the field, at the corner of School and Lake streets. When I got down there Mr. Rooney asked me why I wasn't there at 8:00, I told him that I forgot to set my clock and he sent me to the locker room. He said " If you can't be here on time you don't play." Needless to say I was very disappointed. (Jerry Davis 11/13/08)
The hardest I ever got hit playing football was in the locker room. Coach Rooney was not happy that I let someone, can't even remember the team, score a touchdown pass in the last minute of the first half by missing my assignment. Thank goodness I still had my helmet on. He was a great coach and I learned a lot playing for him. (Pete Geraci 11/15/08)
Coach Rooney Memories
I am at the low point of a cold right now and that got me thinking about the "Rooney Treatment" for a chest cold. If you had the nerve to report to Coach Rooney that you were suffering with a cold he would first take a shower towel, fold it in two and cut a hole in the center so it could go over your head. Then he had you take off your shirt and lie down on the trainer's table. He would pick up the gallon can of "industrial strength" analgesic balm and smear a coat of it about a half-inch thick all over your chest. You sat up. He put the towel over your head and taped it in place with several rounds of wrapping tape. All day long, people would not come near you, your eyes burned and you just knew that when the towel came off you would be missing skin!! Coach Rooney was a firm believer in "if it doesn't kill you, it will make you stronger"! (Bill Koca 11/16/08)
I didn't know the baseball field was dedicated to Paul Subject. Very appropriate. Those of us who played for him probably appreciate him more now than we did then. His no-nonsense style was complemented by his fiery pal Ray Baker who was also very active in Ram baseball and just as dedicated to us kids--Pete, Dick Bell, Mahoney, Picket, Halek, Jerry Christ with his sinker ball, etc, etc., and of course Jim King, the best of our era.
"KEEEEng, KEEEng", Coach Subject would scream to get his attention. Jimmy had major league talent and a personality as strong as Coach's. You didn't want to get between those two--just kind of stand and watch the interaction. At least that was my perspective.
Coach Subject was at his best with pitchers, having nurtured old timers like Gale Peregrin, and Patsy Goza's older brother and, of course, Jay Hook who earned a degree in aeronautical engineering and pitched in the major leagues. I was in town about 20 years ago when the Lions Club happened to be having their annual Steer Roast. Besides seeing my old college roommate Chuck Lemke in an apron for the first time (it's etched), I saw Coach Subject there and I recollect talking to him about baseball and asked him how he became Head Coach at GCHS. I was really interested in what his answer would be, and I didn't want to talk about Math. He told me none of the faculty had coaching experience when they started the team so he took the job. I think he said for the money. Anyway I asked him how he learned how to coach all those great pitchers. He said, "I bought a book on coaching baseball and I learned from that. It was all in the book."
He was wrong. He was a great coach because he was a great man. (Ralph Schroeder 6/18/2006)
Paul R. Subject - Age 74 of Grayslake passed away Thursday October 22, 1998. He was born December 31, 1923 in Marion and had made his home in Grayslake for over 40 years. A veteran of WWII serving with the U.S. Air Force as a Bombardier. A member of the Grayslake Lions Club, American Legion Post 659 of Grayslake and the United Protestant Church of Grayslake. Mr. Subject served over 20 years of dedicated service to the Grayslake Community High School where he was employed as a math teacher, baseball coach and guidance director. He leaves his wife Barbara who he was united in marriage on January 23, 1943 in Chicago. His daughter Sandra Hopkins of Palo Alto, California and his son David of Naperville. Also surviving are his six grandchildren. (Newspaper obituary posted 3/31/09 by Bill Koca)
Administrators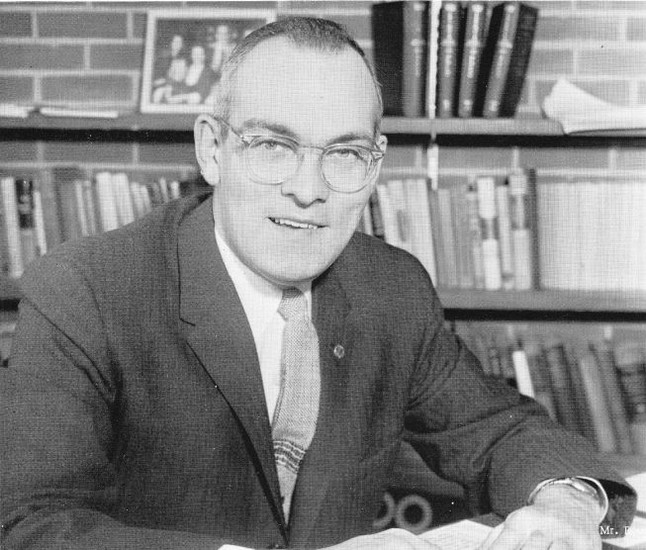 Larry Rouse
Phyllis Rouse was born Philomena Anastasia Oko on September 30, 1922 in Chicago, IL to Michael and Zofia Oko, first-generation immigrants from Poland. In 1944 Phyllis received a Bachelors degree in business education from Illinois State Teachers College in Normal, IL. She became a stewardess for United Airlines when the industry was less than 10 years old. While attending college she met and fell in love with Lawrence H. Rouse, originally of Mundelein, IL. In 1945 Phyllis and Larry married; she remained a devoted and loving wife until his death in 1999. Phyllis and Larry made their home in Grayslake where they raised a family of five children Michael, Karen "Willow", Julia, Philip, and Ralph. In 1963 they moved to their waterfront estate on Round Lake, which was to be Phyllis' home for the rest of her life. During her husband's tenure a Superintendent of Grayslake Community High School, Phyllis attended no less than 38 proms. It was one of the students who originally nominated her for the 1957 Mrs. Illinois competition. Crowned Mrs. Illinois, Phyllis was seventh runner-up for the title of Mrs. America that year-receiving first place for her chocolate frosting and ironing! Phyllis was a faithful parishioner and supporter of St. Gilbert Catholic Church in Grayslake for more than 60 years. Phyllis passed away on Easter Sunday, April 12, 2009, at Condell Medical Center in Libertyville, IL, the same hospital where she gave birth to all five children. She was 86 years old. Phyllis was preceded in death by her husband, parents, six siblings, and her daughter Willow Wood. She is survived by her son Michael Rouse of Jacksonville, FL, daughter Julia Rouse of Port Townsend, WA, son Philip Rouse of Bristol, WI, and son Ralph Rouse of Warrens, WI; as well as 10 grandchildren, and 3 great-grandchildren. (Extracted from Strang's Obituary for Phyllis Rouse 04/12/09)