Grayslake Community High School
Class Of 1960
In Memory
William Mumenthaler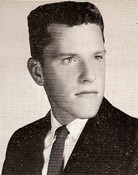 Born - September 5, 1941
Died - February 3, 2006
Bill was a veteran having served his country in the Army. He was survived by our honorary classmate Evelyn and daughters Nicole and Danielle. Bill's brother Ray is a member of the GCHS class of 1963.
(Source=Bill Koca, September 2008)
Mummy at Our 45th
(Larry Leafblad email Sunday, December 28, 2008)
On one September Day, 1954, we had a day off at Avon School because of a teacher's institute day, and as usual, lots of mischief happens on those days. That particular day, I walked from Edwards Subdivision over to Bill Mumenthaler's house in Shorewood. Bill's dad had left for work, and the family's1947 Dodge sat alongside the door of the house...WITH THE KEYS IN THE IGNITION.

Opportunity knocks.

So, picture this: I had learned to drive a few years prior (visiting family in the northwoods of Wisconsin). There we were. Two 7th-graders...me at the wheel giving Mummy on-the-fly instructions on "Fluid Drive..." -- driving around almost all day, sitting up "tall" in case we saw a squad car. The picture that is permanently imbedded in my mind is when we were stopped at the corner of Drury Lane/Shorewood Road and Route 83 (by the original Avon school building). The radio was blaring Chuck Berry's "Drivin' along in my Cadillac...My baby beside me at the wheel..." We were cool. Man, were we cool.
It's a story I've shared with the Eve Mumenthaler and their daughters countless times...but...with these images of the '40s vintage Dodge I'm forwarding to you this morning...it all came slamming back into my brain...and, I thought you might enjoy it.