Sad News X 2
Gary Steppler passed away on January 31. I remember way back at Chatham Park when I was on the sixth grade basketball team. We were going to play Brookline and we were told they had a really, really tall guy on their team. That was Gary. And when we were playing, Gary was not only "tall" but he could play well for sixth grade. That is how I always remembered Gary. Our thoughts go to his wife, Hope, and daughters Julie and Vicki as well as his grandchildren and extended family. More details are on Gary's In Memory page.
Terry Hershey passed away on January 15 in Middletown, MD. The full obituary can be found on his "In Memory" page. Our thoughts go out to his family. I remember Terry very well and his love - and proficiency - for tennis. As you read his obituary you will see that love for tennis followed him throughout his life. Please feel free to post comments on his page. He will be missed.
------------------------------------------------------------------------------
Message for 2022
I hope this finds you well and enjoying the start of a new year. Maybe we can get together this year!! Some of us who have stuck around the old neighborhood were able to meet for breakfast, lunch or dinner and reconnect. Sometimes Joel Perlish was there to record the event. Here is hoping these gatherings can continue.
Thanks to all who have supported this site with donations - they are greatly appreciated. It isn't an expensive undertaking but any contribution is welcome. We can also use these funds for a reunion.
I ask this every year ---- PLEASE update your profile. Some of you have relocated, changed email or phone numbers, added family members - retired. A current profile helps your friends keep up with you.
As we start the year --- happy birthday to our New Year baby, Gerry Curtin and our January 2 birthday Mary Jo Blasucci. I think this is the year a whole bunch of us reach the 3/4 century mark!
Be well. Stay safe. Stock up on Covid rapid tests. Keep in touch. See you in 2022.
Ted
____________________________________________________________________
Our site homepage has been "hit" 142,047 times.
_____________________________________________________
Our Site
Welcome to the Haverford Senior High Class Of 1965 web site. Back in October of 2010 we had our 45th reunion. We just held an amazing 50th reunion. I don't know what is next. In the meantime, we will be looking for "lost" classmates and allowing us all to interact through this site.
Please email or contact your friends and tell them to sign on. We are trying to build our list. Also, please fill in your profiles and upload some pictures. I get the statistics for activity on the site and it seems that most of us are reading the profiles and are re-connecting with long, lost friends. I am also looking for some old pictures - even as far back as 1-6 grade class pictures. Feel free to contact me if you have some or if you have any questions about the site.
And, finally, thanks to all you have made that small donation to support the site. I was able to purchase the domain and hosting service for an additional two years which takes us to 2016. Thanks for participating.
Ted Erfer
___________________________________________________________________________________________
HHS 65 Facebook Group
Please join us on Facebook. The class group is HHS65. Here is the direct link: https://www.facebook.com/groups/107660325987486. We have more "current" postings over on Facebook - especially birthday greetings.
____________________________________________________________________________________________
Pictures of the day
Oakmont School - Sixth Grade - 1959.
Thanks to Marianne Portelli D'Elia for posting this on our Facebook page. And a huge shout out to Hugh Johnston for knowing who everyone is/was. Starting from the front row left: Rick Chalmers (deceased), Allan Schatzell, Sally Reiss, Bob Thompson; Edie Campbell (deceased), Marianne Portelli, Bill Hutchinson; Don Fries, David Younger, Dorothy Inverso, Bob Wexler; Chris Seiss, Sara Bent, Aileen Heathman, Hugh Johnston; Leslie Small, Ann Kolson, Karen Perry; David Allen, Randy Clouser (deceased), Barbara Cram; Bill Murray, Carol Dornseif; Francis Philip Xavier Murphy.
A bunch of these folks didn't graduate with us - most likely moved to another school for Jr. High. We lost touch with a few of them - if you know their whereabouts, please let us know or contact them and ask them to join and catch up.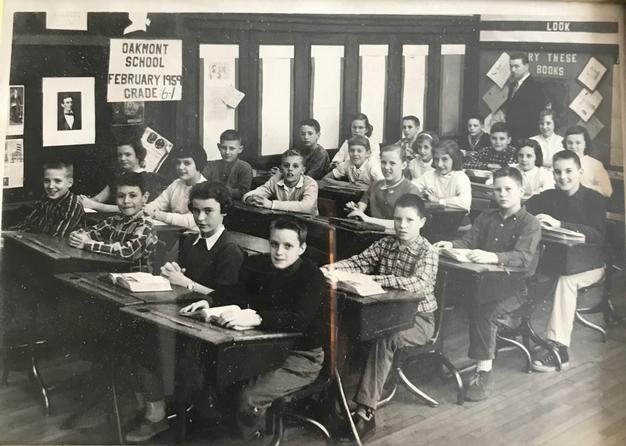 Feel free to comment on pictures in the User Forum Section
ANNOUNCEMENTS
Your Action Needed
A number of folks requested a "class list" which includes name, address, phone number and email address. I can produce such a list for anyone that would like a file they can view or print. All of this information is on the site but is protected from view. I just added an opt in/opt out question as part of the registraion on your profile page.
Please log on to your page and either opt in or opt out of this. Opt OUT if you don't want your information on the class list. I will give everyone until this Friday, June 26 to indicate their choice. I will assume it is OK to list you if you don't log on. Just go to "Edit Profile" on the left side of the home page.
The list will not be public and will not be allowed to be used for any solicitation. You can still reach anyone through this site. The list you have at any time may not be as current as the information on this site as people change contact information frequently - and new people come on board. Make sure you update any of your information.
I have gotten a lot of requests for such a list since everyone went home, sobered up, and rested from the reunion.
Let me know if you have any questions or concerns - and please log on ASAP.
Ted(dy)