Highland Park High School

In Memory
Roy Marinell** VIEW PROFILE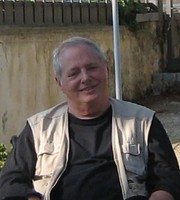 Roy, who wrote and backed up an enormous number of songs and albums over five decades, suffered a stroke about eight years ago and was paralyzed on his right side, yet courageously kept at the things in his life that he loved. He died Dec. 16, 2016, in a Highwood care center. He had joined our class senior year, transferring from Evanston.
He was perhaps best known for writing "Werewolves of London" with Warren Zevon and Waddy Wachtel. Others who have performed his music include Kid Rock, Mavis Staples and the Blind Boys of Alabama. "Werewolves" was in the 1986 Paul Newman movie, "The Color Of Money," with a soundtrack created by Robbie Robertson of The Band.
Royalties from his music allowed him to live part of the year in San Remo in Italy, which he began visiting 18 years ago. Eventually he kept an apartment there for six months a year. With other musicians he performed up and down the Riviera, playing guitar and singing. Italians loved to perform with him because he could sing "Purple Rain" like an American
Back in 1963 Roy was among the struggling young musicians playing folk in Chicago, where he became a friend of Roger McGuinn, later the front man of the Byrds. That year marked a second juncture in his music (the first being Elvis Presley's "Heartbreak Hotel"). On Dec. 26, 1963, he later told folk-rock historian Richie Unterberger, "I was home for Christmas in Chicago, driving north, right where Lake Shore Drive ends. I heard 'I Want to Hold Your Hand.' When they hit that lick, [I thought] 'Oh my God, what is that?' That was when it changed for everybody. Everybody started playing Beatles songs."
Soon he was one of the songwriters in Los Angeles' folk-rock community: "We were all young and poor, and most of us were trying to be independent, and not depend on our parents to go our and buy new guitars." Eventually they settled on the proper instruments to blend the volume of rock with folk's timbre. Musicians lived along on the Venice canals and in Ocean Park beach houses on the Santa Monica-Venice border. Old-fashioned coffeehouses. Hoot nights at the Troubadour. "Main Street is now one Starbucks after another," Roy recalled much later. "But in those days, it was all soup kitchens and bums sleeping in doorways." Among those living in the neighborhood back then were Linda Ronstadt and Don Everly.
Eventually Roy was writing hits with Zevon such as "Excitable Boy" (its line, "built a cage with her bones," comes from a taunt Roy had heard in the schoolyard as a boy). That 1978 album included musicians such as Jackson Browne, Karla Bonoff, Mick Fleetwood, John McVie, Linda Ronstadt, J.D. Souther and Jennifer Warnes—and "Werewolves." "Writing 'Werewolves of London" was a good lesson in never taking yourself too seriously," Roy said. They wrote it in 15 minutes, incorporating a riff that Roy had been toying with for months. "We did it as spontaneously as could be, and look what happened." On the album, Zevon displayed Roy's name differently on tracks--LeRoy P. Marinell, L. Marinel, L. Marinell, L. Marinelli, Le Roy Marinell, LeRoy Marinell, Leroy Marinell, Leroy Marinelli, LeRoy P. Marinelli, Marinell, Marinelli, Roy Marinell--as if to make it appear that he had no regular co-writer.
​Roy never married, but to the good fortune of Beryl Foreman '58's grandchildren, he would bring them to Italy in the summer to experience THE LIFE with him, and they used to say he was their non-biological "nonno" ("grandfather" in Italian). He was a smart, brave, determined and funny man. His humor is missed much by those who loved him.
Click here to see ROY's last Profile entry.