Highland Park High School

In Memory
Charles Trexler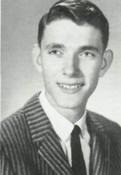 Date of death: December 3, 1989
Age: 48
Residence at time of death: San Antonio, Texas
Cause of death: cancer
Occupation: Graphic designer and artist
Family: Wife Sandy; two sons, Steve and Michael; 1 daughter, Michelle.
Chuck's life: His dad was an Air Force officer, most likely assigned to Fort Sheridan, and like a lot of the HPHS kids from military families he was only with us in school for a couple of years. But his time in Highland Park left a real mark on him from a curious direction. In addition to working as a "soda jerk" at Walgreens, Chuck got a job as an usher at "Theater in the Round," one of the venues for live shows we were fortunate enough to have available in our area.
The experience of working around show business gave Chuck the acting "bug," and he spent two years taking small parts in summer stock after high school in the hope of launching an acting career. He then joined the Air Force, which sent him to Columbus, Ohio, where he met his wife-to-be, Sandy. After his military enlistment was up, he started attending Ohio State University, where he received a degree in graphic design in 1972. Before long he was back at work for the Air Force as a civilian, designing displays used in military museums and recruiting programs.
That led to a job as a graphic designer for "Airman," the official magazine for Air Force uniformed personnel, published at Kelly AFB in San Antonio, Texas. Chuck stayed active in amateur theater productions in San Antonio, once auditioning for a part in a Hollywood movie. He didn't get the part, but got a kick out of the experience. He often directed and appeared in productions staged by his church.
Chuck also made it a point to be there for his three children when they took part in little league baseball or other youthful activities.