Highland Park High School

In Memory
Allen James Weitzenfeld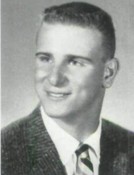 Date of death: October 21, 1977
Age: 36
Cause of death: Cancer
Residence at time of death: Arlington Heights, Illinois
Family: Wife Dianne, son David, daughter Stacie
Occupation: Marketing manager, IBM
Jim's life:
His classmates all remember him for his cool brand new blue Chevy convertible, his perfect flat-top haircut and his hard-charging play at quarterback on the football field. He was a natural athlete who had played in a kids' football league that played in exhibition games between the halves of Bear games. His dad was among the most dedicated of HPHS fans, bringing his motion picture camera to every game to record the action. Jim lettered in track and swimming as well as football. Along the way he also became an Eagle Scout and a Sea Scout.
He attended Purdue University, where he obtained a bachelor of science degree in electrical engineering and joined the Naval ROTC program, which automatically meant a two-year hitch in the service after graduation. From 1963 to 1965 he served as a lieutenant aboard the Seventh Fleet destroyer U.S.S. O'Brien, based in Japan.
When Jim returned to Chicago he enrolled in the MBA program at Northwestern U. After graduation he went to work for IBM, eventually becoming a marketing manager. He remained very close to his dad, and the two often went to Bears games together. Jim enjoyed playing bridge, listening to music and taking care of his automobiles, which for a time included a Jaguar.
He was the epitome' of the All-American guy, and he was taken from us too soon.