Since many of our classmates had earlier educational beginnings before coming to Houston High School, I have decided to dedicate a page to country schools. Anyone that has pictures they would like included, maybe from out of state, another county, etc..... please email me those and I will get them posted.
Ballard 1952-1953

Row 1: Betty Massey, Kenny Hutsell, Dennis Maxwell, Carol Baker, Esther Hutsell, Muriel Smith, Roy Brown, Ernest Hutsell, Lonnie Massey.
Row 2: Joe Brown, Imogene Crewse, Charlene Hutsell, Fern Leighty, Carole Smith, Charlotte Butts, Ermal Hutsell, Jerry Brown, Winferd Frey, Elster Butts, Charles Hutsell, Lucille Frey (teacher in back).

Brown Hill 1952-1953

Front Row: George Greeney, Joyce Daniel, Gail Longnecker, JoAnn Longnecker, Tommy Collins, Linda Rogers, Jimmy Brannam, Freddie Sutton, Steve Jenkins, Gary Lawrence.
Back Row: Patsy Perryman, Joe Perryman, Ronnie Cummins, Shirley Chappel, Carol Rogers. Darrel Thrash, Marilyn Daniel, Dolly Sutton, Jack Cooper, Mary Lou Steffens, Maggie Brannam. In Back: Virginia Copeland, teacher.


Brown Hill
Top Row: Virginia Fisher, teacher, George Greeney, Reta Daniel, Paul Lawrence, Ruth Hunter, Roy Hunter.
Middle Row: Roy Daniel, Ruth Rogers, Kenny Jones, Sheila Flowers.
Bottom Row: Leon Jones, Carol Greeney, Gary Lawrence, Kathleen Greeney, Joyce Daniel.
Coffey 1952-1953


Row 1: Ruth Massey, teacher, Joe Rosenfelt, Lonnie Reese, Barbara Ragain, Carolyn Sue Carter,
Shirley Rosenfelt(visitor)
Row 2: Jerry Stallcup, Judy Rosenfelt, Mary Baker, Karen Stallcup, Jimmy Jordan, Patsy Campbell.
Row 3: Ernest Fetrow, Kenneth Baker, Bill Roberts, Kathleen Campbell, Gayle Williamson, Karen Stallcup.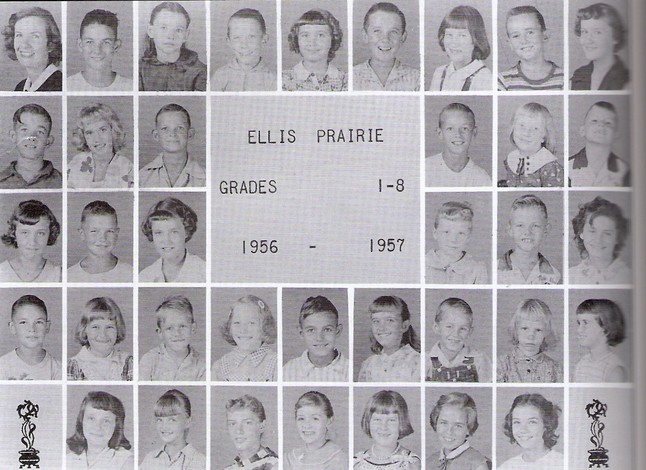 Ellis Prairie

Row 1: Carolyn Franks, teacher, Denferd Price, Dorothy Price, James Jackson, Shirley Hill, Johnnie Jordan, Jr., Barbara Garrett, Roger Shelton, Della Rosenvelt.
Row 2: Lloyd Earl Price, Patricia Kell, Robert Hayes Jr., DeWayne Hayes, Judy Jackson, Donald Hines.
Row 3: Wanda Shelton, Larry Hayes, Linda Rosenvel, Betty Jo Morphis, John Hines, Marilyn Campbell
Row 4: Roger Hayes, Bonnie Garrett, Tony Shelton, Joyce Jackson, Raymond Price, Judy Garrett, Billy Hayes, Donna Farley, Sharla Jeannie Shelton.
Row 5: Doris Farley, Judy Hayes, Lois Farley, Karen Collins, Beverly Garrett, Betty Lou Hayes, Jerry Hayes.
Friendship School
Row 1: Fay Jones,teacher, Kenneth Branson, Jean Kell, Vernon Jones, Joanne Branson, Coy Cooper
Row 2: Dean Smith, Glenadean Stoops, Ernie Stoops, Bonnie Patterson
Row 3: Bobby Lee, Cornelia Barton, William Barton, Bettie Cummins, Donald Creek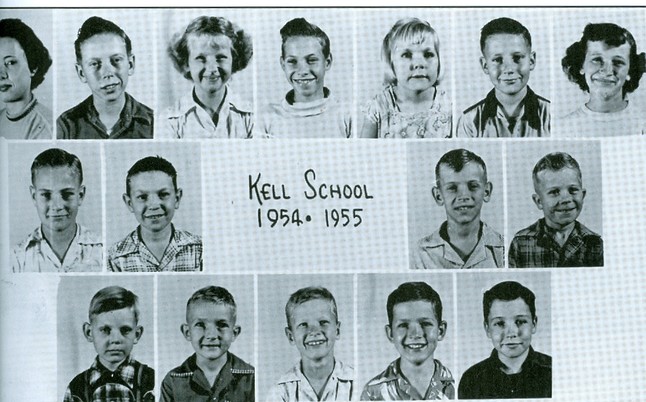 Kell School

Bottom Row: Doyle Heiney, Junior King,Paul Whitney,Duane Whitney, Harold Shafer
Plum Valley 1952-1953
Row 1: Robert Bever, Carrie Westfall, Donald Walker, Jim Thompson, Sharon McGowan, Ronnie Bever, Virgil Postlewait.
Row 2: Lois Postlewait, Byron Zook, Betty Thompson, Ray Coats, Charles Westfall, LeRoy Bever, Mary Meusch, Ruby Girdley, Marilyn Maiden, Shirley Postlewait.
Row 3: Frank Maiden, Larry Meusch, Ralph McKee, Eugene McKee, teacher, Fay Casebeer, Fred Walker, Edith Coats, Margaret Meusch, Joyce Postlewait, Jenny Lambert, Lonnie McGowan, teacher, Beulah Cox, Sonny Smith.
Timber Ridge 1952-1953
Row 1: Kenneth Hancock, Albert Foxworthy, Dwain Wade, Donald Prock, Carolyn Carter, Bob Burgener, Johnnie Hancock, Wilford Hall, Larry Foxworthy, Jimmy Hancock, Jack Burgener, Nellie Guynn, Lonnie Hutsell, Delores Sanders, teacher.
Row 2: Ralph Hancock, Leroy Swetnam, Cleta Sue Pearcy, Reatha Stilley, David Brown, Clois Wade, LaVerne Hall, Layne Roderick, Judy Hutsell, Margie Guynn.

Vollmar 1952-1953

Row 1: Theresa Wilson, Terry Courtney, Billie Wilson, Russel Creek, Blanche Price, Phyllis Barton, Linda Dowell, Clinton Copeland, Jimmie McColgins, Byron Dowell, Danny Copeland, Donald Kelley.
Row 2: Pete Wilson, Gene Courtney, Larry VanDeusen, Joyce Kelley, Bonnie McColgins, Keith Copeland, Darlena Wilson, Terry Krewson, Ray York, Jerry Price, Dean York, Dinsel McColgins, teacher, Phyliss Wantland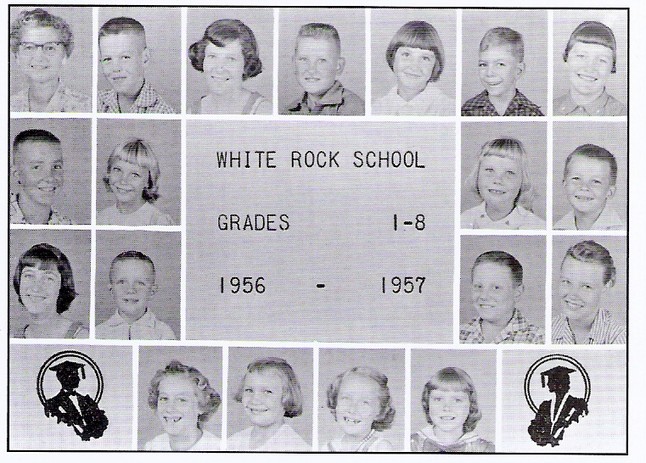 White Rock
Row 1: Carrie Harmon, teacher, Roger Norris, Fay Romines, Jerry Stilley, Kay Stilley, Junior Douglas, Betty Gentry.
Row 2: Lowell Stilley, Marilyn Douglas, Euleen Britzman, Billy Arthur.
Row 3: Kay Romines, Gary Koch, Gaylord Moore, Georgia Arthur.
Row 4: Nina Gale Douglas, Evelyn Douglas, Shirley Koch, Linda Stilley.


Yukon 1953-1954
Row 1: Joyce Lay, teacher, Sandra Holder, Carol Stark, Kay Skouby, Glen Williams, Freda Ward.
Row 2: Kenneth Skouby, Ronnie Bell, Marlys Dixon, Sharon Holder, Marlene Dixon, Paulette Turner, Charles Williams, JW Scheets, Roger Holder, Ben Scheets.
.