SPRING WOODS High School
CLASS OF 1968
In Memory
Bruce Byland
Lehman College mourns the recent death of Professor Bruce Byland of the Department of Anthropology. He was a member of the faculty since 1984, teaching introduction to the subfield of archaeology, as well as courses on the archeology of South America, the Caribbean, Mexico, and Central America.
Respected by his peers and beloved by his students, Professor Byland received the Excellence in Teaching Award last year. He often participated in the Freshman Year Initiative program, and was one of the first members of the faculty to participate in the Writing Across the Curriculum program. His contributions to the program included teaching other instructors at Lehman—as well as elsewhere—about the ways he used writing to teach theoretical concepts, with anthropology as the model.
In 1999, he led an excavation of an eighteenth-century African burial ground that was uncovered in lower Manhattan. His popular advanced excavation class, "Field and Laboratory Research," often found him and his students at the Jay Heritage Center in Rye, where students experienced a hands-on approach to learning.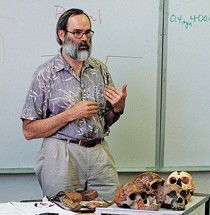 Off campus, Professor Byland was involved in a number of innovative teaching endeavors, including volunteer teaching at Bronx and Westchester middle schools and high schools about African-American history from colonial times to the Civil War. He also taught about evolution and archeological topics at Westchester public schools. In addition, he was one of two specialists teaching faculty and graduate students from the United States, Mexico, and other countries about Mixtec archaeology and ethnohistory at the annual Mixtec Gateway Conferences.
Services were held on May 19 at the Zion Memorial Chapel in Mamaroneck. The family plans to establish a scholarship at Lehman in Professor Byland's name.