SPRING WOODS High School
CLASS OF 1968
In Memory
Kathleen Marie Dixon (Sanders)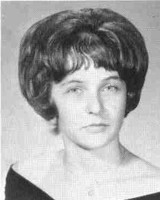 Kathleen Dixon Sanders, 21, 1941 Grossridge, passed away Thursday, December 24.

She was a member of St. Mark's Lutheran Church, a graduate of Spring Woods High School in 1968, past officer of the Teen Club of the S.P.J.S.T. No. 88.

Survivors include her husband, Clarence H. Sanders; son, Robert Wayne Sanders; parents, Mr. and Mrs. Abner W. Dixon; sister, Frances Elizabeth Dixon; brother, Ray Odes Dixon; maternal grandmother, Mrs. Winnie B. Vavra, all of Houston; and a number of other relatives.

Funeral Services were held at 2 p.m. Saturday at St. Mark's Lutheran Church with pastor R. H. Lawrenz and pastor Hobart Meyer officiating. Interment was in Woodlawn Garden of Memories, with arrangements by Waltrip Funeral Directors, 1415 Campbell Road.