Class of 1967
The World in 1967
"Golden Sands of Time . . . " Another graduating class
What was happening when these classmates graduated:
It was the Summer of Love.
Lyndon Johnson and Hubert Humphrey were in the white house.
Rolling Stone Magazine was in San Francisco.

The continued presence of American troops increased further and a total of 475,000 were serving in Vietnam and the peace rallies were multiplying as the number of protesters against the war increased. The boxer Muhammad Ali was stripped of his boxing world championship for refusing to be inducted into the US Army. In the Middle East Israel also went to war with Syria, Egypt and Jordan in the Six Day War and when it was over Israel controlled and occupied a lot more territory than before the war.

In England a new type of model became a fashion sensation by the name of Twiggy and mini skirts continued to get shorter and even more popular with a short lived fashion being paper clothing.

The Beatles continued to reign supreme with the release of Sargeant Pepper's Lonely Heart Club Band and The Doors album had just came out. Star Trek was on TV and The Graduate at the theatre. The Chevy Camero was just introduced, and the Amana Microwave Oven. The Age of Aquarius was born ... (along with Pamela Anderson and Julia Roberts.)

During this year new discotheques and singles bars appeared across cities and around the world; this year was also coined the summer of love when young teenagers got friendly and smoked pot and grooved to the music of "The Grateful Dead, Jefferson Airplane and The Byrds". The movie industry moved with the times and produced movies that would appeal to this younger audience including "The Graduate," Bonnie and Clyde" and "Cool Hand Luke." TV shows included "The Fugitive" and "The Monkeys" and color television sets become popular as the price comes down and more programs are made in color.
JHS Teachers during 1967 school year:
JHS Administration:
Donald Ellis
Joseph Blackstead
Johnell Powell
George Yoshida
Yukie Takahashi
Michael Butterbaugh
Language, Library, Social Studies:
Eugene Roberts
Gerald Hill
John Fortune
Robert Larson
Mary Moscinski
John Ahrens
Joann Bridges
Elizabeth Campbell
Viola Hilton
Carol Carlson
John Pierce
Eleanor Crenshaw
Mr. Kukbota
Math & Science:
Henry Matsomoto
Gilbert Leslie
The Arts: Music, Commercial Home:
Marilyn Goodrich
Arthur Hamaoka
Richard Moser
Larry Kisney
Barbara Glass
Lee Kirsch
Carole Woods
Edmund Ashir
Physical Education:
Bruce Blevins
Elizabeth Hale
Randy Parker, President
Jenny Balding, Vice President
Jeanne Katayama, Secretary-Treasurer
Coach Blevins
Buddy Franklin
Randy Hippinsteil
Steve Trout
Danny Yokely
Rick Tavares
Charles Dalton
Bob McKizzie
Stan Frazier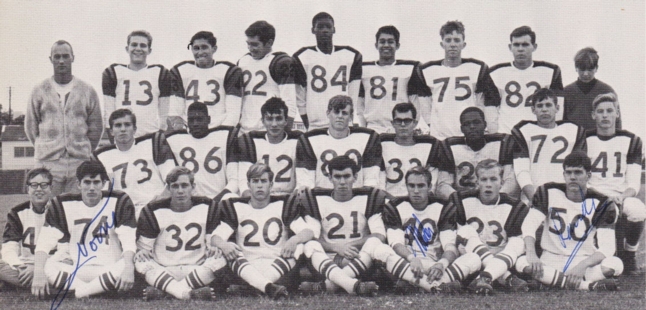 Coach Blevins
Captain Mike Rinard
Captain Mike Dailey
Captain Randy Parker
Captain Steve Pine
---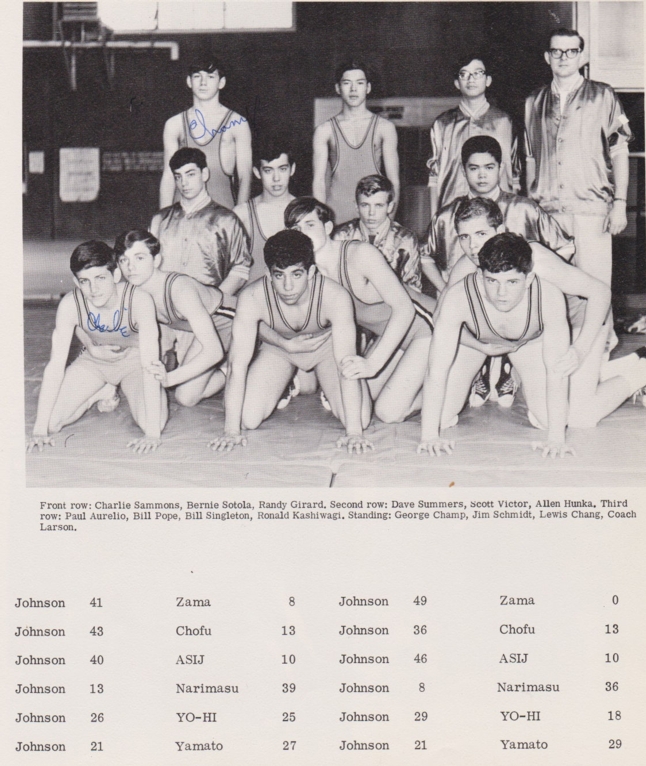 Coach Maher
Brian Garrett
David Anderson
Jim Schmidt
Leo Crabtree
George Champ
Charles Sammons
Phil Sacco
Ron Kashiwagi
Joe Daniels
Bernie Sotola
Mike Tornow
---
Coach Gene Roberts
Skip Echert
Tom Stevens
Rick Ensdorf
Jim Echert
Tom Rodby
---
Shirley Tomita
Tracey Romine
Bobbee Santee
Denise Brissey
Suzanne Douglas
Natalie Morgan
Dawn Carroll
---
1967 Songs
| To Sir With Love - Lulu | Happy Together - The Turtles | Light My Fire - The Doors | Windy - Association | Somethin' Stupid - Nancy & Frank Sinatra | Groovin' - Young Rascals | The Letter - Boxtops | Ode to Billie Joe - Bobby Gentry | I'm a Believer - Monkees | Respect - Aretha Franklin | I Was Made to Love Her - Stevie Wonder | For What It's Worth - Buffalo Springfield | Brown Eyed Girl - Van Morrison | Expressway To Your Heart - Soul Survivors | On a Carousel, Hollies - Hollies | The Rain, The Park & Other Things - The Cowsills | All You Need Is Love - Beatles | Ruby Tuesday - Rolling Stones | Silence Is Golden - Tremeloes | Never My Love - Association | The Happening - Supremes | Let's Live For Today - The Grass Roots | Love is Here and Now You're Gone - Supremes | Soul Man - Sam & Dave | Sunday Will Never Be The Same - Spanky and Our Gang.