East Forsyth High School, Kernersville, NC - Home of the Eagles
Class Of 1973
IN LOVING MEMORY
Carl (Ace) Clarke ((Teacher/Coach))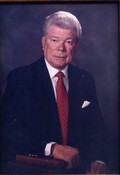 Carl Lewis (Ace) Clarke, 86, of Kernersville, died March 10, 2016 at Catawba Valley Hospice House. A native of Gaston County, he was the son of the late Cecil J. and Hester W. Clarke. His three younger siblings, Troy, Ralph, and Thelma also predeceased him. He was a graduate of Belmont High School, received a B.S. in English from Appalachian State Teachers College (later Appalachian State University) in 1952, and was a member of the varsity football team. He received an M.Ed in English from the University of North Carolina and an Ed.S in administration from ASU. He began his career at East Mecklenburg High School where he taught English, Drama, and Speech for two years. During that time he was active in the Charlotte Little Theater, playing the character Sefton in Stalag 17 and the title role in Mr. Roberts. In 1954 he came to Forsyth County and taught English and coached at Mineral Springs High School for three years. In 1957 he was named head football coach at Kernersville High School where he also was an English and Drama instructor. At Kernersville he compiled an enviable record of 39 wins, 12 losses, and 2 ties. He remained at Kernersville until 1962 when he became the first football coach at the new East Forsyth High School. He was twice honored as coach of the year, once at Kernersville and once at East Forsyth. He continued teaching English and coaching until 1971 when he retired from the classroom and went into administration. He served as assistant and interim principal at East Forsyth until 1977 when he was appointed principal at Glenn Junior High. He remained in that position and was instrumental in helping convert it in 1984 to Glenn High School, where he retired in 1990 after a 38- year career as a teacher, coach, and administrator. In 2009 Mr. Clarke was inducted into the Rhododendron Society of Appalachian State University, which recognizes Appalachian graduates whose service as teachers, librarians, human service professionals, or administrators has reflected great credit on themselves and the University. He was in the inaugural class of inductees to the East Forsyth Hall of Fame in 2012.
Mr. Clarke was involved in the Little Theater of Winston-Salem. He played the role of Big Daddy in Cat on a Hot Tin Roof, Doc in Come Back Little Sheba, and Proctor in The Crucible. He was in the original cast of Horn in the West in Boone, and was St. Paul in Thy Kingdom Come at Salem, Virginia. He also acted in The Home Road, a Moravian drama at Bethania; and in Till the Day Break, celebrating the 200th anniversary of Winston-Salem. Clarke directed the Kernersville Bicentennial Pageant in 1971. He was a member of the Shepherd's Center board of directors and Sedge Garden United Methodist Church, where he was past president of United Methodist Men, Sunday School Superintendent, Chair of the Administrative Board, Chair of the Council on Ministries, Sunday school teacher and usher.
He was honored by having the football field at East Forsyth named for him, and the road around Glenn High School bears his name. While a member of the varsity football team at Appalachian, Mr. Clarke played for Coach E.C. Duggins. The surviving teammates today are known as "The Duggins Boys," and they are still recognized annually during the Appalachian football season. These teammates remained friends for life and regularly hold a reunion each year. "The Duggins Boys" were part of the reason Ace was able to fight as long as he did and were with him until the end. The family wishes to express its sincere gratitude for the loving support of "The Duggins Boys".
Survivors include his wife of 63 years, Delores Stafford Clarke, daughters Laura Ann Clarke and Kim Stafford Clarke of Hickory, granddaughter Barrett Clarke Cauble of Hickory, and grandson William Luther Cauble IV of Louisville, Kentucky.
A service celebrating the life of Carl Clarke will be conducted March 13, 2016, at 2:00 p.m. at Sedge Garden United Methodist Church in Kernersville with the Reverend Dave Cash and the Reverend Karen Smith officiating, followed by a receiving of friends by the family. The interment will be private. The many expressions of gratitude by former students, players, and co-workers for the impact he had on their lives were a tremendous source of comfort to Mr. Clarke during his final days. The family is most appreciative of the outpouring of affection and love from those individuals as well as his friends from the Sedge Garden community who enriched his life. In lieu of flowers, memorial contributions may be made to the Kernersville High School Alumni Association (KHSAA)/ Carl Clarke Scholarship Fund at Kernersville High School Alumni Association, P.O. Box 761, Kernersville, NC 27285. Pierce Jefferson Funeral Home is assisting the Clarke family.