Dobyns Bennett High School

In Memory
James "Lynn" Taylor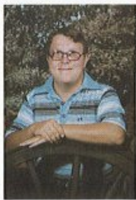 James Lynn Taylor, Passed away on January 10, 2019. He graduated from Dobyns Bennett High School class of 1978, and received an Associate's Degree in Accounting from University of Bristol.
He was preceded in death by his parents, James Hawley and Joyce Thomas Taylor, and his best friend Kevin Boesch.
He is survived by several Aunts, Uncles and Cousins.
A Memorial Service will Be held at New Hope Evangelical Presbyterian Church, 1116 Nelms Lane, Kingsport, on Sunday February 17th from 2 to 4 p.m.
In lieu of flowers donations can be made to New Hope Evangelical Presbyterian Church, c/o Mike Bellamy, 1515 Harmony Ridge Road, Kingsport, TN 37665
Please visit www.hamlettdobson.com to leave an online condolence for the family.
Hamlett-Dobson, Kingsport is serving the family of James Lynn Taylor.
https://www.timesnews.net/obituary/james-lynn-taylor/article_75f4cbb2-eb92-5031-b26f-0351ada3c22d.html