Lincoln Northeast

High School




Class of 1969
ANNOUNCEMENTS
REGISTER FOR REUNION EVENTS SOON!
DEADLINE HAS BEEN EXTENDED
NOTE: SHIRTS AND KOOZIES MUST BE ORDERED NO LATER THAN OCTOBER 4 TO ENSURE THEY WILL ARRIVE BEFORE THE REUNION
Greetings Classmates,
Registrations are still open to attend any of the Rockets Class of 1969 reunion events. It is a huge help to the committee members preparing the events to have as accurate a count of attendees as soon as possible, so please register and send in your payment as soon as you can. It will truly help.
There is NO prize for the last person to register, so procrastination scores no points

There is an option to register even if you aren't able to attend, just select "UNABLE TO ATTEND" That helps our planning, too, so please register even if just stating regrets

The web site registration process is not perfect and changes are often a pain in the keister. If you have any problems, just send an e-mail through the site or to lneclassof69@gmail.com and we'll help you out

Signing up for golf doesn't require you to pay in advance. You can pay at the course. Registering for golf helps us make the necessary Tee-time reservations, though, so if you are a little white ball whacker, do please register
If you have ANY questions about the events, logistics, whether or not you can bring your service Llama to the dinner venues, etc., please contact us via e-mail at lneclassof69@gmail.com. We're all committed to making this a wonderful event of old friends, new friends, and interesting strangers (a.k.a., spouses and partners) so do let us know if we can help in any way.
See you in October.
Sam Knight and the Class of '69 Reunion Committee
REUNION EVENT SUMMARY
Our 50th reunion is coming together extremely well thanks to the hard work of a number of our fellow classmates. Registration is open (see the link at the left). Please register as soon as your plans are firm to help planning. Payment is not due immediately,
Friday evening get together, October 18, 7:00 p.m.: Hillcrest Country Club, Informal get together with food (heavy hors d'oeuvres), cash bar, DJ music, prizes and more...
Saturday morning school tour 10:00 a.m.: tour of the Lincoln Northeast high school building led by our very own Reed Stephenson. Group photo at the Rocket
Golf outing Saturday at noon: Mahoney golf course
Saturday evening reunion dinner 7:00 p.m.: Isles Pub and Pizza in Havelock, informal with pizza, salad, soft drinks and cash bar, entertainment, prizes, selfie photo opportunities, music and more...
HOTEL OPTIONS
Hi Classmates.
Hotel options for reunion stay in Lincoln are below. All but one are within walking distance from one another in downtown Haymarket area. We have two hotels with a rate guarantee time frame. Rates for other hotels can be determined by calling or through hotel website. There are many more hotels available in Lincoln; these were chosen with regard to proximity to airport and downtown venues and the other hotel is between our two reunion venues. If you have questions, please let me know.
See you in October! Mona
Lincoln Haymarket (click the map to open in your browser) - Haymarket parking fees may apply: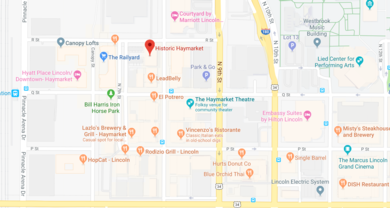 Hyatt Place 600 Q Street, 888.492.8847. Ten rooms with rates available until 09.18.19 for Oct 18 and 19: king, $149 (5 rooms), double queen, $159 (5 rooms). Code G-NER9 (www.hyattplacelincoln.com).
Courtyard by Marriott 808 R Street, 877.678.4105.
Hilton Gardens 801 R Street, 402.475.9000.
Embassy Suites 1040 P Street, 402.474.1111.
Northeast Lincoln:
Staybridge Suites 1501 N 86th Street (86th and Holdrege), 402.484.6000. Fifteen rooms in a block at these rates until 09.18.19: queen $114.99, king $129.99, double queen $149.99. Rate includes breakfast. Code NR1. Free parking.
Welcome to the Lincoln Northeast Class of 1969 Web Site!
We're coming up on 50 years since we were classmates at Lincoln Northeast High School and it is time for a reunion to celebrate that milestone. This web site will help us be organized, enter and find out information about classmates and spread the word about the event.
The key to our site and reunion success is YOU! We need you to let us know you found the site by registering and letting us know how to contact you.
Select the "

JOIN HERE

" option then find and click on your name NOW!
Enter your e-mail address and create a login account so we can keep in touch
Upload a recent "Now" photo so when we get together we can recognize one another
Add more information any time convenient including photos, videos, memories, and other bits of your life you'd like to share with your classmates under the "Edit Profile" option. Your e-mail is NOT shared with anyone, including classmates, unless you authorize it.
So, WELCOME, and do your bit by entering your contact information NOW.
Even more vital, invite classmates that you are still in contact to come to this site and register as well.
Be well, all, and we look forward to hearing from you,
LNE Class of '69 Reunion Committee
lnehsclassof69@gmail.com