In Memory
Edward Jenkins Wages - Class Of 1963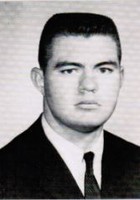 Edward Jenkins Wages
"Eddie"
Class of 1963

April 1945 - April 2014
survived by his wife - Melody Wages
Ed Wages enjoyed his Myrtle Beach High School years. His cousins, Pat and Betty Johnson, and his friends could tell you some stories about Ed that are legendary.
He married a soul mate named Melody and they had a son named Scot Edward Wages. He returned to Myrtle Beach after his military career and lived in the home where he grew up. In his retirement he enjoyed planning and attending his Myrtle Beach High School Class Reunions, working on his vast collections in the "War Room", his family and friends. He collected everything including weapons of every description, tools, books, stamps, coins, antique fishing rods and Marine memorabilia. His home was party central and he and Melody hosted many former classmates often.
Major Wages served in the USMC both as enlisted and as an officer with specialties including Engineer, Shore Party and Civil Affairs. Assignments included two tours in Vietnam and the evacuation of Vietnam. His final tour was as Procurement Officer for Headquarters Marine Corps.
He developed a Reverse Osmosis Water Purification Unit for the Marine Corps that was later used in the Gulf Wars.
He received numerous awards and decorations for his military service including Bronze Star with V for Valor, Meritorious Service Medal, Navy Commendation Medal with Combat V, Purple Heart (both enlisted and Officer), Republic of Vietnam Meritorious Unit Citation Civil Actions.
He was buried in Arlington National Cemetery with full Military Honors on November 4, 2014.