In Memory
Melvina "Mel" Hinton Divine (Davis) - Class Of 1956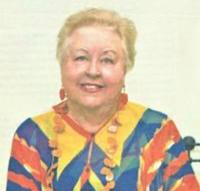 Melvina "Mel" Hinton Divine
MBHS Class of 1956
March 30, 1939 - May 1, 2021
Mount Pleasant, South Carolina - Melvina "Mel" Hinton Divine Davis, age 82, went to her heavenly home May 1, 2021. Mel grew up in Myrtle Beach and loved working in her father's sporting goods store. She claimed that her first words were "May I help you". When her brother brought his Admiral Farragut School roommate home for spring break, Mel met the love of her life, William "Bill" Lee Davis. That first summer she was too young to date, yet Bill continued to visit and following her 1956 graduation from Myrtle Beach High School, Mel and Bill married and moved to Winston-Salem where Bill was a junior at Wake Forest University. Mel loved to say she "went" to Wake.
Following Bill's graduation, they moved to Virginia and eventually settled in Gloucester. There Mel enjoyed a successful real estate career serving as the managing broker for the local Sotheby's office. It was exciting when she sold a home to Yoko and John Lennon. She made lifelong friends who helped her discover her love of playing cards, in particular bridge and poker. Active in her church, she served as President of the Presbyterian Women, volunteered with Junior Women's Club, served as Cub Scout Leader, and never missed any of her children's activities.
After the children were grown, Mel and Bill moved to the family beach home near Myrtle Beach where she opened a ladies' boutique, "Simply Divine", that she owned and operated until she retired at age 79. She enjoyed going to market and helping her customers look their best. When not in her shop, Mel treasured her time in the inlet crabbing and fishing with Bill and her son.
In her 70's, she began painting using her strong sense of color and spatial orientation and was a member of the SC Watermedia Society. Her first and only entry in their annual exhibit was selected as one of the 30 paintings accepted to tour the state for one year. She was a prolific artist and loved that she was the only one who had to be happy with what she painted.
After retirement in 2018, Mel relocated to Mount Pleasant, to be near her daughter. She became an active member of Mount Pleasant Presbyterian Church. Her Sunday School and Small Group members appreciated her wit and looked forward to her colorful contributions. She met others who loved playing bridge at the Senior Center and also was warmly welcomed by her Wakendaw neighbors.
Mel had a great sense of humor and quick wit. She enjoyed meeting people wherever she went and making them laugh. She loved her family and always said they were the greatest joy of her life. She is predeceased by her parents, John Sidney Divine II and Kathleen Welch Divine; husband, William Lee Davis; son, William L Davis II; brother, Tyler Welch Divine. She will be sorely missed by those who survive her: daughter, Maryanne Arlene Davis; sister, Paula Divine Altizer of Boca Raton, FL; brother John Sidney Divine III (Sylvia) of Myrtle Beach, SC; and many adoring cousins, nieces and nephews, and their many friends who also loved "Aunt Mel".
A memorial service in celebration of Mel's life will be held Thursday, May 6, 2021 at 11:00 am in Mount Pleasant Presbyterian Church, 302 Hibben Street, Mt. Pleasant, SC 29464.
In lieu of flowers, please send memorials to Mount Pleasant Presbyterian Church at the aforementioned address or at https://mppc.net.
"Grieve not, nor speak of me with tears, But laugh. And talk of me. As if I were beside you. I loved you so. 'Twas heaven here with you."
A memorial message may be sent to the family by visiting our website at www.jhenrystuhr.com.