ODESSA High School, Odessa, TX
"CLASSES OF 1958 & 1959"
In Memory
Richard L. Porter
RICHARD L. PORTER, OHS 1958
(b 1-23-1940 - - d 12-23-2020)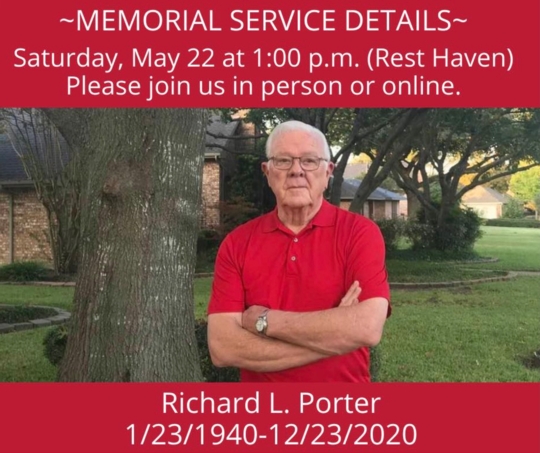 To view Video of Richard's Memorial:
(1) CLICK ==> RICHARD PORTER SERVICE
(2) SELECT: WATCH YOUR SERVICE
(3) EVENT ID IS: RESTHAVENROCKWALL
(4) PASSWORD IS: NBYHKQ
---
---
Richard Louis Porter, 80, a 28-year resident of Rockwall, Texas, passed away on December 23, 2020. Richard was born January 23, 1940, the third son to Robert Percival Porter and Nettie Lillian (Thames) Porter in Pampa, Texas. Because his father was away in the South Seas during most of WWII while Richard was an infant, Richard's "Uncle Alvin" McElrath became a beloved father figure in his life.

Richard leaves behind two brothers, Robert B. "Bob" Porter and Gary L. "Bud" Porter, both of San Angelo, TX, and one sister, Jacklyn "Jackie" Porter Antweiler of Evergreen, CO, who preceded Richard in death. Richard also has a half-sister, Jeudi Lee of Arlington, and a half-brother, Hugh "Andy" Porter of Grand Isle, LA.

Richard attended grade school in Pampa and Big Spring, TX, and junior high and high school (Class of 1958) in Odessa, TX. In his ninth-grade year, he attended Bend (Oregon) High School while living with his loving grandparents, Hugh and Earl Porter.

Richard taught himself to play the guitar as a youngster. At Odessa High School, he organized a rock 'n' roll garage band called The Poor Boys. They played a variety of venues in Odessa and the surrounding areas during the mid-to-late 1950s.

He joined the Naval Reserve at age 17 and served six years. Richard attended Southern Methodist University on a football scholarship but left in 1960 after two years to go on active duty in the U.S. Navy. He proudly served our country for two years before he was honorably discharged as a yeoman third class in 1962.

While on active duty, Richard met the love of his life, Elizabeth "Liz" Bentley at Avondale Baptist Church in Jacksonville, FL, where they were married on December 22, 1962. They were blissfully married for 58 years.

They had three children, Leslie Porter Wilson, married to Bret; Brian Porter, married to Claudia; and Carol (aka Tiger) Porter.

In addition to their biological children, Richard unofficially "adopted" Larry Warner, who preceded Richard in death, Warner Bouzek, Rebecca Bartel Farrow and Shawn DeMoss, as well as dear Cuban friends, many of whom became more like family.

While in Dallas, Richard returned to SMU to finish his undergraduate degree (BBA, 1966). Following that, he attended the School of Law at the University of Florida where he graduated in 1969. He was a member of the Florida Bar and the Bar Association of the District of Columbia. Hired by West Publishing Company after law school, he set numerous records during his nearly-25 years as a sales representative.

Richard's work at West Publishing took the family to Tennessee, Georgia, Texas, and Colorado. They lived 17 years atop "Porter's Perch" in Evergreen, CO, where they made many lifelong friends.

After the birth of their first grandchild, Richard and Liz moved back to Texas. His grandchildren brought him much delight, and he followed their every move from sports to music to acting/modeling to academics. Those grandkids are now grown: Charlie Wilson is married to Lindsy, and they have two daughters, Ellie and Lucy; Molly Hatley is married to Chris; and, Reese Wilson is married to Brittany.

Richard and Liz lived for many years in a beautiful home in Chandler's Landing in Rockwall, TX. They took advantage of lakeside living and, through the years, they hosted many Sunday school parties and family get-togethers. An active member of First Baptist Church of Rockwall, Richard loved his Sunday school class and the preaching.

Though he retired from West Publishing Company in 1993, he kept extremely active. The Porters had a love for the people of Cuba. For more than 25 years, Richard and Liz made dozens of mission and humanitarian trips, where he helped support the First Baptist Church of Santa Clara and the seminary there.

In addition to their mission work, Richard and Liz traveled extensively, visiting all 50 states and over 105 countries on six continents. The couple frequented their condos in Evergreen, CO, and Branson, MO, and happily shared them with family and friends. Richard had an affinity for road trips—and during 2020, he made at least five of them, including the Winter Dance Party in Clear Lake, IA, in February and a trip to the Oregon coast in August with Liz and their three children. The Porters used their extensive travels as opportunities to connect and reconnect with family and friends who lived in various parts of the U.S. and the world.

Speaking of driving, Richard was very proud of the fact that he got his hardship license at age 14! He jokingly warned the family that he wouldn't want to be the one to take away his keys..., so his family decided that, if push came to shove, his car might just happen to disappear one day instead.

One of his favorite things was bringing people together—and he didn't mind an audience. He was known for many pickin' and grinnin' sessions at family reunions, parties, and even Bible study. Most every gathering involved Richard's guitar playing and singing. He wouldn't take no for an answer if he asked a guest to accompany him in a duet.

Richard made his profession of faith at age 12 in Big Spring, TX. He was a man of great faith, which he lived out day by day with his kindness and generosity. He never met a stranger—literally. If he didn't know the person in line behind him at the post office, he would strike up a conversation, ensuring that they were fast friends by the time they reached the counter.

If you ever needed a guitar pick or a Swiss Army knife, Richard had one in his pocket. He usually carried a little change as well, which came in handy for his trick of making a dime disappear. Many of you are familiar with his "fruitcake for people who didn't like fruitcake" or one of his other recipes that started with "Richard Porter's World Famous…."

To say that Richard will be missed sounds so cliché. It would be impossible to replace a man of such character, a man so full of life. His family knows that Richard will be separated for only a short period of time from his loving family, which includes many in-laws, cousins, nieces, and nephews.

Richard is now with Jesus—and is no longer suffering from the Covid that had attacked his body so swiftly. We are heartbroken over this loss, but we rejoice in the knowledge and hope that we will see him again one day. Until then, Richard—and as you were also known, Dad, Granddad and Uncle Jug—please say hello to your family members, bandmates and dear friends who preceded you in death.

As we close, Richard would definitely want us to remind you, "Don't be late for church."

Memorial services and a graveside ceremony are scheduled for Saturday, May 22, 2021, at 1:00 p.m. at Reflections at Rest Haven Funeral Home, 2500 Hwy 66 East, Rockwall, TX, 75032, with a celebration of Richard's life to follow at their daughter's Rockwall home.

The family requests that in lieu of flowers would you kindly consider making a donation to the Cuba ministry they loved so much. We are so grateful to those of you who have chosen to do this already.

Please go to the First Baptist Church of Rockwall website or click this link: (https://pushpay.com/g/firstrockwall?src=hpp).
- Click "Give One Time"
- Select "Miscellaneous--Specify in Memo" from the drop-down menu
- Use "In Memory of Richard Porter's Cuba Ministry." in the memo space.
You may send a check or donate online 100% of your donations will benefit the Cuba mission Richard Porter worked on a supported for so many years. Thank you, and God bless!

The service will also be live-streamed; please go to www.oneroomstreaming.comand click on the "watch your service" icon and use Event ID: resthavenrockwall and password: NBYHKQ

---
Richard L. Porter,OHS 1958
(b 1-23-1940 - - d 12-23-2020)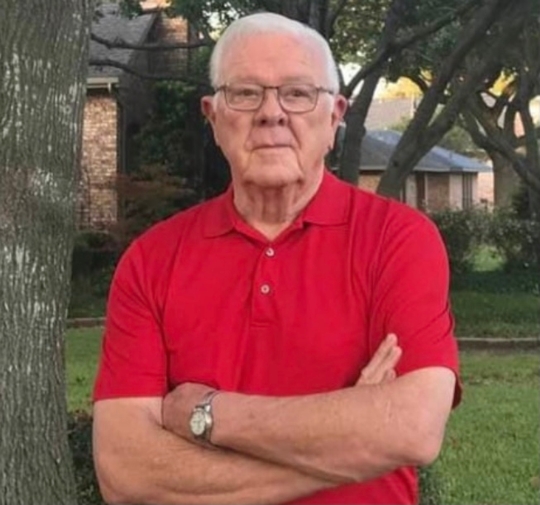 Sad News from Richard L. Porter's daughter (Leslie Porter Wilson) of Richard's Passing last night (12-23-20)
12/24/20: "This morning, we are filled with both tremendous sorrow and indescribable peace and joy. Dad flew headlong into the arms of Jesus last night around 10:30 p.m. last night, December 23, only a few minutes after a phone call with Mom, Carol, and me, in which we were able to share our love for him and our joy that he would no longer suffer on this earth. God is good.
Given the quick timing following the call, we cannot help but think that he heard our words and understood that we were releasing him from the pain he was experiencing. God is faithful.
In the meantime, please pray for healing for our family, as we will certainly do the same for you—our faithful prayer warriors. Though our hearts are grieving, we fully trust in the sovereignty of God.
As a family, we have decided that we would be most blessed if, in lieu of flowers or other gifts, you would donate to the Cuba mission that is such a big part of Mom and Dad's lives. For more than 20 years, Dad visited Santa Clara, Cuba, approximately twice a year. He worked closely with the seminary and the First Baptist Church of Santa Clara there, helping supplement salaries of the pastoral staff, house, feed, train, and educate students and professors at the seminary, build and repair their church building, and provide financial aid to the very poor members of the congregation and city.
If you would like to join in this tribute to Dad and his passionate mission work, please make a donation to FIRST BAPTIST CHURCH OF ROCKWALL and note "CUBA MISSIONS." 100% of your donations will benefit the Cuba mission Richard Porter worked on a supported for so many years. Thank you, and God bless!
And, once again, thank you for praying fervently and faithfully on our behalf. What a blessing you have been!"
Leslie & the Porter family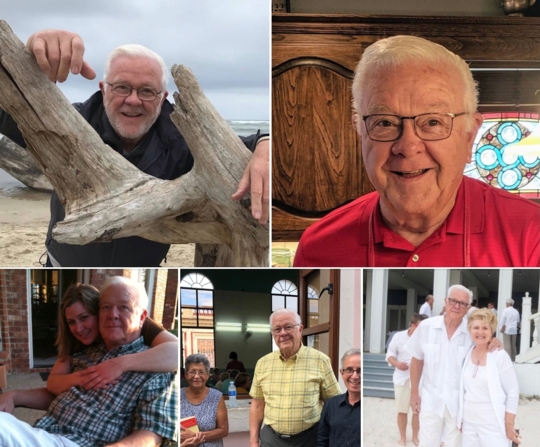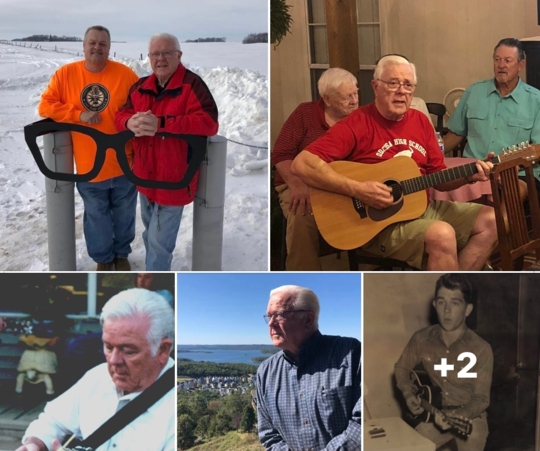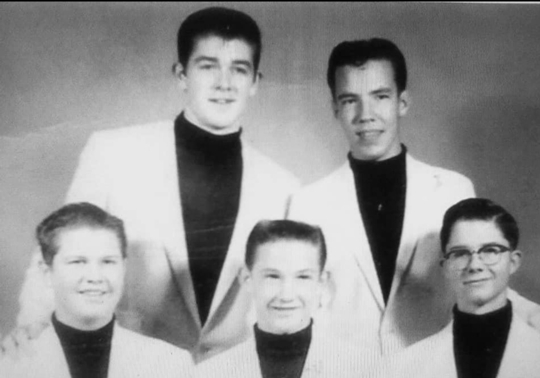 ---
---
To access Richard's Cuba Trips Click Link Below. http://www.ohs58.net/member_survey_form.cfm?SurveyID=15966