ODESSA High School, Odessa, TX
"CLASSES OF 1958 & 1959"
In Memory
Doug Willmann
William Douglas Willmann, OHS'58
(March 24, 1940 - November 07, 2019)
Douglas "Doug" Willmann passed away at his home near Mason on Thursday, November 7, at the age of 79. Survivors include his wife Sheryl "Shery" Willmann of Mason. At his request, his body will be cremated and his ashes will be buried at the Gooch Cemetery at a later date.

Click link below to access Doug's Obituary.
https://www.masonfuneralhome.net/obituary/william-doug-willmann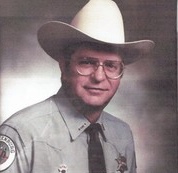 William "Doug" Willmann
March 24, 1940 - November 07, 2019
I was born on March 24, 1940 to Gladys (Matthews) and Walter "Pinkie" Willmann with the help of a mid-wife in a house in Mason, Texas.
First through Sixth grades attended Austin Elementary in Odessa, Tx. Seventh through Ninth was at Crockett Junior High and Tenth through Twelfth was as Odessa High. Went to summer school and graduated in 1958. In the fall, went to Odessa Junior College on a Baseball scholarship for one semester. Then attended Blinn College for a couple of months. Enlisted in the U.S. Air Force and went through Basic Training at Lackland A.F.B. in San Antonio, then was sent to Lowery A.F.B in Denver, Colorado. Upon completion of Aircraft Armament Technical Training was assigned to Luke A.F.B. in Glendale, AZ. Received an Honorable Discharge in 1964 and went to work for Lockheed Aircraft Service.
I married Sharroyn Whitely of Odessa December 1964. She had two daughters, Christi and Cathi. In December 1965 Kelli Sue was born.
I worked part time with the Maricopa County Reserves and went to Glendale College on the GI bill studying Criminal Justice. In 1975 I had a chance to work part time at Youngtown Police Department where in 1976 went to full time leaving Lockheed.
Sharroyn and I got a mutual divorce in 1978. On December 24, 1978 moved to Wickenburg Police Department as Patrolman and worked my way through the ranks and was appointed as Police Chief in 1988.
I umpired many years for the Little League Organization and joined the staff of Coaches for a year for Pop Warner Football. Was involved in the continuance of the Easter Egg Hunt by the law enforcement personnel after the Wise Owl group had decided to quit doing this project for the children. Was also involved in starting the organization of "Cops Who Care".
I met and married Sherry Stephens Bowie and her five children on January 2, 1982. In 1995, our daughter Kelli died of cancer in Odessa.
Upon time to retire, Sherry and I moved out to a cabin on James River to help "Poodle" and Evelyn Zesch for five years with the cattle. "Poodle" died in 2000 and Evelyn passed away in 2008. We then moved closer to Mason.
Leaving behind my wife, Sherry, children and great-grandchildren, Sheretta Drescher (T.J., Vanessa and Gerald); June and Chuck Antos (Chaz, Audrey and "little" Charlie); (TyceLee and Chris Ryan); Yvette Bowie (Chan and Colton); Shawn Bryne (Tyler and Sammy); Jimmie Joe and Angela Bowie (Isabel); Thurman Bowie (Michael), Erika (Eric and Sedona), Samantha and Ray Acosta (Cruz and Cortez) (Great-Granddaughter Zoe Carr killed in an ATV accident in 2016). Niece Jessica and Jesse Cummins and families and Nephew Chester Bowie.
Also my sister, Sue Caldwell of Lamesa, Tx. Three nieces and one nephew. Lisa and Stanley Brow (Aaron); Christy and Randy Lambright (Julie with Austin and Presley); Cindy (Lynzee and Delario); Mark and Wendy Oates (Chad and Lindsey (Carter, Parker and Gracelynn) and Garrett and Kaylee; Christi and Cathi and their families. Sister-in-law Roxie and James of Ca.. Two nephews and one niece, Rodney and Shannon (Cameron and Jordan); Ryan and Laurie (Lily and Locklan); Robin and Mark Millan (Ryan and Austin Campbell). Niece, Felicia Stephens and Robert Smith (Dakota).
I was very blessed to have had many family members and Law Enforcement friends in Arizona and enjoyed playing games and arguing politics with them and keeping up with my old classmates from Odessa on Face Book.
There will be no service but memorials may be sent to the organization of your choice:
Mason County Nutrition OR HCM Hospice
PO Box 1726 PO Box 835
Mason, Tx 76856 Fredericksburg, Tx 78624
OR
Cops Who Care
155 N Tegner St
Wickenburg AZ 85390
Written by Doug.
---

(From Doug's wife, Sherry Willmann, Sunday, 11-10-2019)
"Dear Ralph and his Classmates—Doug did not want a Service as he was being cremated!! He was very happy to see you all in Rockwall and tried to keep up with you all on FB when he felt up to it! He loved sending you funny jokes and tried to instill into some how important this 2020 election is coming up!! We do not want a Socialist Country in his beliefs!! Love to you all!! There are three organizations that were on his list to send Memorials in his name!! His obit will be in the paper this week—Thank you for your service 💕💕Sherry & families"
Doug Willmann served in the United States Air Force. He wrote the following regarding his USAF service.
"Entered Air Force in 1960 and was stationed in Luke AFB in Glendale,Az. Discharged in 1964 and went to work for Lockheed Aircraft Service on the Base. Left that position in 1975 and started working as a policeman in Youngtown,Az. In 1978, moved to Wickenburg,Az and worked in that department. In 1987 was appointed Chief of Police. Retired in 1995 and moved to Mason,Tx. Will add more later."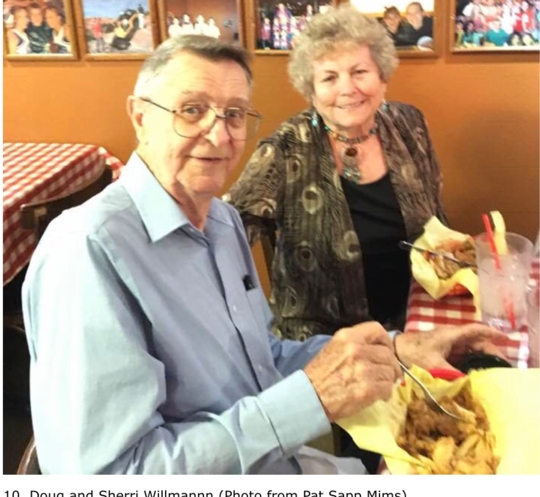 Doug and Sherry at the OHS 1958 60th reunion in Rockwell, Texas, Oct 5-6, 2018.
---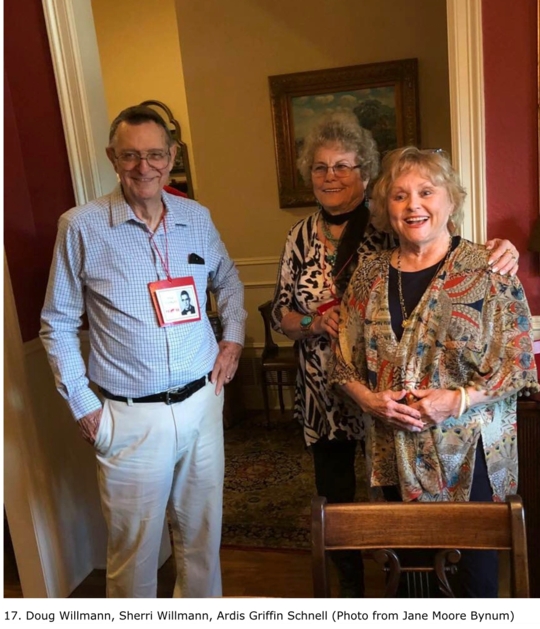 OHS 1958 60th reunion in Rockwell, Texas, Oct 5-6, 2018)
---

OHS 1958 60th reunion in Rockwell, Texas, Oct 5-6, 2018)
---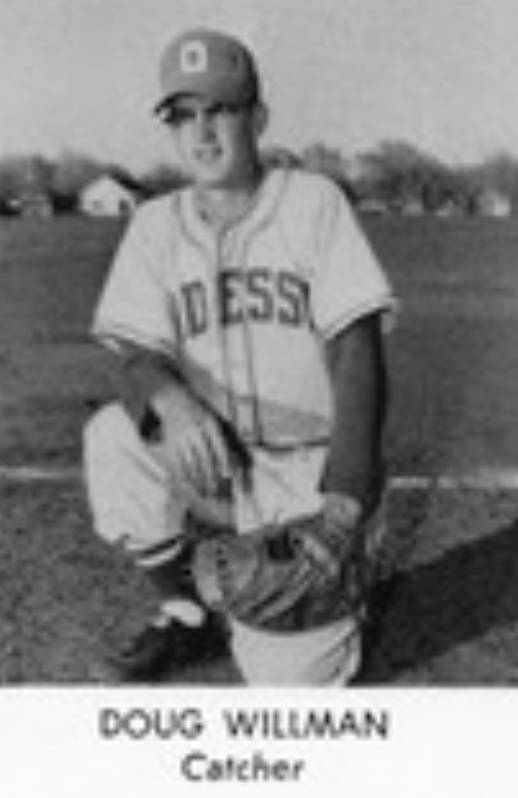 ---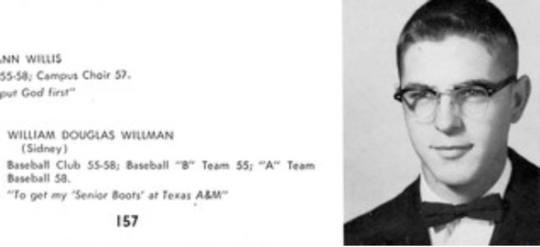 OHS Senior Photo from OHS 1958 Corral Yearbook.

---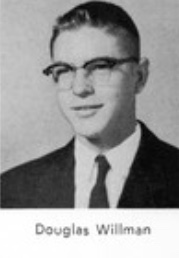 Doug Willmann, OHS Junior Photo from OHS 1957 Corral Yearbook.
---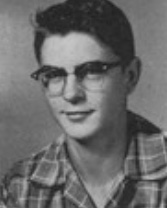 Doug Willmann, OHS Sophomore Photo OHS 1956 Corral Yearbook
---
https://www.masonfuneralhome.net/obituary/william-doug-willmann