ODESSA High School, Odessa, TX
"CLASSES OF 1958 & 1959"
In Memory
William (Bill) H. Holland
WILLIAM "BILL" HOLLAND, OHS 1958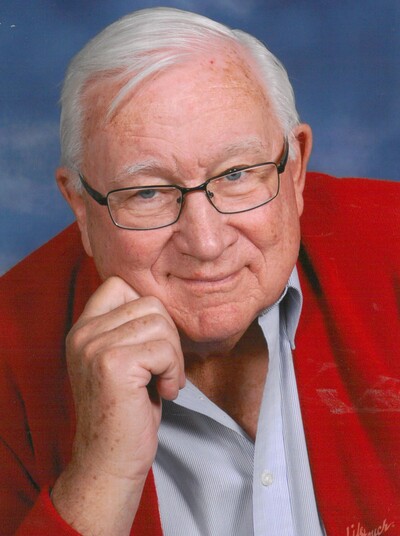 William (Bill) H. Holland, husband, father, grandfather, architect, joined the Church Triumphant on Saturday, November 14, 2020, after a month-long illness. Bill was known for his great sense of humor and the love for his wife and family, as a snazzy dresser in his pin-striped button-down shirts, for his love of trips to Disney World, and for his passion for movies and reading.
Bill was survived by his wife of 56 years, Beverly (Carothers) Holland, two children and five grandchildren – Gregory C Holland (wife Lisa) of San Antonio, and Melissa A Glouchkova (husband Vlad) of Round Rock, Texas: grandchildren Brittany A Holland, Dylan C Holland, Trevor S Holland (Carmella), Misha S Glouchkova, and Maia B Glouchkova. He also is survived by nieces and nephews and a past foreign-exchange student, Lara Jachan (Samir).
Bill was born in Highland Park, Illinois, February 26, 1940, eventually settling in Odessa, Texas, where he graduated from Odessa High School in 1958 and continued his education in Lubbock, Texas, at Texas Tech University for a degree in Architecture. Bill was a founding member of the Kappa Alpha Fraternity and served as the first president of the Tech chapter
Bill spent two active years in the United States Army, having received his commission from ROTC at Tech. He was stationed at Ft Belvoir, Virginia, and Ft Benning, Georgia, before receiving orders to Viet Nam in 1966. Upon his return from Viet Nam, Bill remained active in the Army Reserves retiring as a Major.
Best known for his Design-Build acuity, Bill worked for several architecture firms in Corpus Christi, Texas, before starting his own firm. With several different partners, Bill designed and built shopping centers, churches, banks, medical facilities, and custom homes. He and Beverly lived in Corpus Christi from 1967-2004. It was then that they moved to Sun City Texas in Georgetown. While there, Bill continued work in his career field, building around the Georgetown area – churches, a funeral home, and an auto repair business. As retirement approached, Bill became the Architectural Lighting Consultant for Ringdale, Inc.
In 2019, he and Beverly retired and moved from Sun City into Provident Crossings, an independent-living retirement community in Round Rock, where he was well known around the community for his wit, conversation, and love of games.
His life would be best remembered for his ability to throw himself into his volunteer work. He served in leadership capacities in the public schools in Corpus Christi, with the American Institute of Architecture and Texas Society of Architects, with the Texas Tech Ex-students Association, and as ordained elder in the Presbyterian Church USA and representative to Mission Presbytery.
In lieu of flowers memorials may be sent to San Gabriel Presbyterian Church, 5404 Williams Drive, Georgetown, Texas 78633, or the Irene Holland Nursing Endowment through the Texas Tech Ex-students Association, PO Box 4501, Lubbock, Texas 79409. Memorial messages may be left on the Ramsey Funeral Home website.
A private family service is scheduled for Sunday, November 29, 2020.
You may leave a message of memory in the online guestbook at www.RamseyFuneral.com

To plant Memorial Trees in memory of William Holland, please click here to visit our Sympathy Store.
https://www.ramseyfuneral.com/obituary/william-holland?fbclid=IwAR0ie9Wbv56PXPnfgcJpwOFOCkeGKOeagTbULtDNlL6L1mO5oTVUTsmqWq0