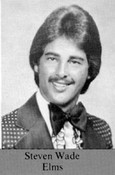 STEVEN W. ELMS SERVICES PLANNED
The Dallas Morning News
- April 13, 1988
Author:
The Dallas Morning News (DAL)
Services for Steven Wade Elms, president of Remington Development Co. and former partner in Carlisle Properties of Dallas, will be at 11 a.m. Wednesday at the First Baptist Church in Odessa.

Elms, 27, was killed at 3:10 p.m. Sunday when he was struck by a vehicle while trying to put gasoline in his Jeep Wagoneer, which had stalled on Interstate 635.

He was born Jan. 22, 1961, in Odessa and graduated from Permian High School in 1979. He graduated from the University of Texas in Austin in 1983, where he was a member of the Texas Cowboys and Sigma Nu fraternity.

Elms came to Dallas in 1983 and was a partner in Carlisle Properties until recently. In January 1988, he founded the Remington Development Co. and was president at the time of his death.

He is survived by his parents, Bill G. and Anita Elms of Odessa; two grandmothers, Lorene Elms and Marjorie Childress, both of Odessa; two brothers, Tracy K. Elms of Midland and Clark C. Elms of Memphis, Tenn.; and a sister, Terri Phelps of Austin.

Memorials may be made to the Texas Cowboys-Steve Elms Memorial Fund, Box 7338, Austin, Texas 78713.
(ESA-ELMS) Steven Wade Elms Memorial Scholarship
For a current or entering student from the Midland-Odessa area who has made significant contributions to The University of Texas and/or to the community through charitable and volunteer activities. Applicants should exemplify leadership, entrepreneurship, ambition, and strong ties to family and friends. Financial need will also be considered, and recipients may reapply. ($1,250 /1 recipient)