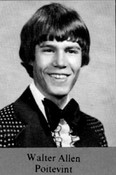 Walter Allen Poitevint, 54, of Midland died Saturday, November 16, 2013 in Kermit. Walt was born in Pecos to Warren and Eleanor Poitevint on September 16, 1959 and moved to Odessa in 1960. He was a 1979 graduate of Permian High School. He moved to Midland in 2005 and was a hot shot driver for Schlumberger. He was preceded in death by his father on April 14, 1996.
Survivors include his mother, Eleanor Poitevint of Midland; sister, Becky Bragg of Midland; three nephews; one great nephew; numerous aunts and uncles and his dog, Tinsley.
Visitation will be Thursday, November 21, 2013 from 5:00 to 7:00 PM at Sunset Funeral Home. Funeral services will be at 4:00 PM Friday, November 22, 2013 in the Chapel of Sunset Funeral Home with Pastor Jonathan Purkey officiating. Burial will be in Sunset Memorial Gardens.