Ben Lomond High School
Class Of 1963
Wall Of Fame & Other Awards
Classmates who have been awarded with
BLHS Wall of Fame recognition
and other awards

Orluff Opheikens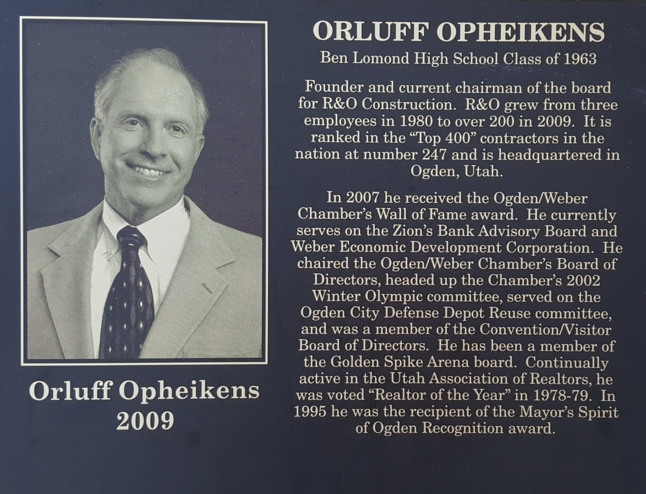 In 2011 Orluff was awarded an Honorary Doctorate Degree from Weber State University,
the following was posted on their Website.
Opheikens is the founder and president of R&O Construction, which ranks as
the fifth largest commercial contractor in Utah. Contracting with major projects
throughout the western United States, R&O Construction's annual gross
revenues exceed $260 million.
Over the years, Opheikens not only has built a reputable business, but he has
participated in community efforts. He played a key role in statewide economic development efforts and has served on boards of directors and committees
such as the Ogden/Weber Chamber of Commerce and the Ogden/Weber
Convention and Visitors Bureau.
As a supporter of higher education, Opheikens established annual funds for
scholarship and internship opportunities for WSU construction management
students. His philanthropy also has benefited Weber State through the
construction of recreation, meeting and lecture facilities. Opheikens serves
as a member of the Weber State University National Advisory Council
and the WSU Alumni Association.
Opheikens has received numerous awards, including "Realtor of the Year"
in 1978-79, Ogden/Weber Chamber Wall of Fame in 2007, and
Ernst & Young Entrepreneur of the Year in 2008.

We all are very proud of you Orluff!

*************************************************
Nancy Stowe Kader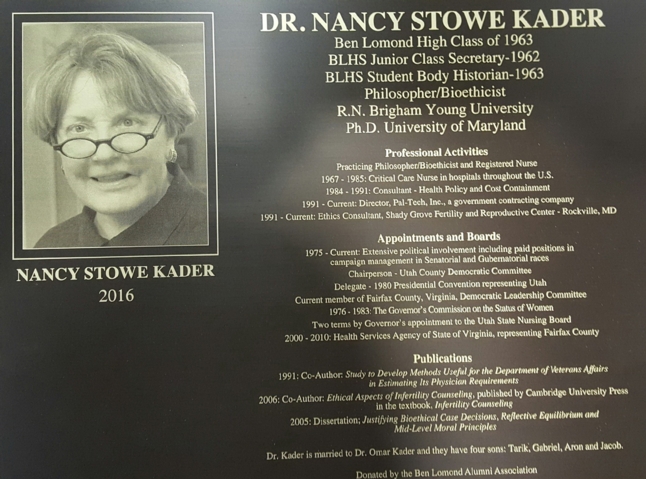 The Assembly with all of the students was
amazing. A flag presentation was held with a
beautiful rendition of our National Anthem. That was followed
by the schools own Bagpipe and Drum Corps.
The School spirit was terrific and even with all of the students
present you could hear a pin drop when the
Awards were being given and the speeches made.
Orluff Opheikens, (who is a previous Class of 63
"Wall Of Fame" recipient), introduced Nancy and
she followed with her own acceptance speech.
Nancy included reading some of the inscriptions in her
High School Year Book. She
talked about how "choice" many of the
remarks were. She noted how very much we all
used that word "choice" in our communications with
each other. Nancy's speech was excellent.
We couldn't be more proud of you Nancy!!