In Memory
Amy Brown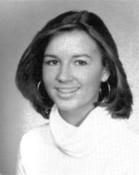 Amy Marie Brown, 30, Bonner Springs, died July 13, 1992, at St. Luke's Hospital.
Graveside services will be at 1 p.m. Thursday at Antioch Cemetery. Friends may
call from 6:30 to 8 p.m. today at Newcomer's Overland Park Chapel. Mrs. Brown
was a lifelong area resident. She was a waitress for the Parkway 600 Grill.
She attended Shawnee Mission South High School and was a 1979 graduate of Blue
Valley High School. She received a graphic arts degree from Johnson County
Community College and was enrolled in the arts program at the University of
Kansas. Survivors include a daughter, Alexandra Brown, and her mother and
stepfather, Nancy and Steve Prosser, all of the home; two brothers, Patrick
Brown and Nicholas Brown of Kansas City, Kan.; a sister, Sandy Brown, Kansas
City; and her maternal grandparents, John and Irene Rice of Blue Springs.