In Memory
Nancy Kelly (Patterson)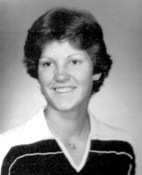 Date Deceased: July-18-2004
Cause of Death: Non Hodgkins Lymphoma
Where: Vancouver, WA
Survived By: Twin Sister, Sue Kelly Husband, Bob Patterson Daughter, Skye Marie Kelly Patterson Son, Griffin Seamus Kelly Patterson Son, Keagan Kelly Patterson

Nancy was a brillant student, teacher, mom and sister! I miss her every day. She loved living in the Pacific Northwest and she loved being a Mom. She was loved well and lived well. Here is a poem she wrote in college: "I seek a home that's far away yet almost within reach I glimpse it from the mountaintops and in sunsets on the beach My Father awaits me there where my heart has always been To climb into His lap and tell the sorrows I have seen I hope that I may soon be found in the warmth of His embrace To know, at last, that all is well and cared for by His grace"