Paris

High School




Class Of 1965
Welcome to the PHS Class of '65
Reunion Website!
* * * * * * * * * * * * *
PARIS HIGH SCHOOL GETS NEW
ATHLETIC FACILITY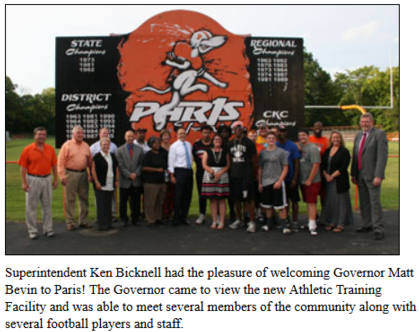 If you wish to help with the cost of equipping the new facility,
you can make a contribution to the
THE PARIS GREYHOUND FOOTBALL FOUNDATION, INC
P. O. BOX 1453
LEXINGTON, KY 40588-1453
Contact: Bill Alverson for details
billalverson@traditionalbank.com
We sure had a great time at our 50th Reunion.
* * * * * * * * * * * * * * * * * * *
Charlotte Terry Kearns wrote a poem for our reunion.
A "PARIS-ODY"
With profound apologies to Henry Wadsworth Longfellow
Listen my children and I'll tell thee
Of a tale that started in '53.
On a Tuesday morn in that September
Very few of us can now remember
As the brain's not what it used to be.
Some went to Southside and some to Seventh Street
Some went to Western and waited to meet
When all were herded into junior high
What a treat!
We tromped through the halls of that very old school
Notes were passed at the water fountain, wasn't that cool.?
New friends were made and old were kept.
Secrets shared and tears were wept.
Then we climbed the steps of PHS
And left our marks there, more or less.
Four years just went flying by,
Time it was to say good-bye.
Though fifty years have flown away
We've kept in touch from day to day.
But when the call does go out that reunion is near,
We all gather round with a great Greyhound cheer.
You all know the rest in the lives we have shared
How the '65 graduates have done what they dared.
And so through our history and down to the last
We will all share the tales of our past, what a blast!
* * * * * * * * * * * * * * * * * * * * * * * * * *
H. C. Morris keeps his life private
but we have the proof!
H. C. Morris has been very busy over the past decade or so building a large recycling business which he has now passed onto his children. But H. C. has always had an interest in old cars and motorcycles. He loves to restore the old modes of transportation and shares his restored pieces of art with others at car and motorcycle shows.
Below we see H. C. talking with another person who enjoys restoring old cars. But this person is none other than Jay Leno. Leno has a very large collection of old cars and motorcycles and has a television show that talks about restoration.
I had the pleasure of seeing H. C.'s collection which he keeps in a very large garage near his home. H. C. has some very rare and beautiful motorcycles as well as cars.
H. C. Morris visits with Jay Leno at a Boca Raton, Florida Concours Show.
While at the Boca Raton Show, H. C. won first and best of class. High honors for a guy who loves what he does.
Though H. C. retired from the business he started, he hasn't been sitting still. He no sooner left his business that he started another business related to recycling. He works with paper manufacturers by showing them how to save money on waste through recycling..
So many of our classmates have worked hard and found happiness and satisfaction doing so many different things. Who knows who may show up next on our site.
Here is a link to an article that was done about H. C. and his business with his son. No too long ago, I saw H. C. on a production on the Science Channel about the recycling business.
http://envrecycling.com/news_ar_eri.html
* * * * * * * * * * * * * * * * * * * * * * * * * *
The Paris Public Library Burns
The building was struck by lightning starting a fire in the roof. The building had been vacated of all books and materials for remodeling. Fortunately, the damage was limited with several fire departments responding from other communities saving the structure from total destruction.
The Paris – Bourbon County library building in downtown Paris is an original Carnegie Library that opened in November 1904; it has welcomed patrons almost continuously since that time. Although some renovations have been made along the way, the classical proportions and features of the original building are still very much in evidence. Few of us didn't visit this building at some time during our education in the Paris school system.
At the turn of the 19th century, several local clubs with a strong literary and self-education focus found their personal libraries inadequate for the studies they undertook, and so the dream of a public library was born. All these clubs, with the common interest of a public library, formed a city federation for the purpose of raising funds to establish a library. Through fund-raising events and individual gifts, members raised around $10,000 — a considerable sum for that time.
Fortunately, at this time Mr. Andrew Carnegie was assisting cities in building public libraries. Several persons wrote to him; at the time he was living in Scotland at Skibo Castle. Mr. Carnegie's secretary replied that it was customary for the Mayor of the town to take the initiative in these matters. Paris Mayor Benjamin Perry immediately wrote a personal request, and Mr. Carnegie agreed to give Paris $12,000 for a library, provided the city would maintain the library at a cost of not less than $1,200 per year.
Early in 1903, the present site on the corner of Seventh and High Streets was purchased from the Misses Annie and Ellen Kelly, "noted tailoresses of the day." The original building was erected at a cost of $23,000, including furnishings. Opened in November of 1904, a contemporary account describes it as a structure of "handsome French flat pressed brick with trimmings of carved Bedford stone. The interior has hardwood floors, solid oak woodwork, and paneling. The reading rooms, being corner rooms, permit the best light effect." The architect for the building was Raymond Stamler. Miss Celeste Lucas was the first librarian, replaced a few years later by Miss Imogen Redmon.
On May 4, 1967, the library became a tax-supported institution, freely available to all residents of Paris and Bourbon County. Soon after, a renovation project was begun and the former basement was enlarged to become the first floor of the building. During this period, the original library reading room was used for library programs, civic meetings, and storage. Currently the interior is being remodeled plus an addition is being added.
* * * * * * * * * * * * *
Our classmate, Rod Woods, an avid golfer, was given the assignment to experience The President's Cup from a journalistic perspective. The tournament was held October 1-6, in Columbus, Ohio. Congratulations to our classmate Rodney (Rod) Woods. Click on the link below the read this interesting article.
http://africanamericangolfersdigest.com/
* * * * * * * * * * * * *

THE PARIS GREYHOUND FOOTBALL FOUNDATION, INC
P. O. BOX 1453
LEXINGTON, KY 40588-1453
Supporting the Paris High School football program to lessen the risk factors for youth. Contact Bill Alverson to support this worthy group.
* * * * * * * * * * * * * * * * * *
Many of us spent many hours of our youth at Teen Square. This place was a great gift to us as a safe and fun place to meet, dance, socialize and goof-off.
* * * * * * * * * * * * *
Do You Recognize This Building?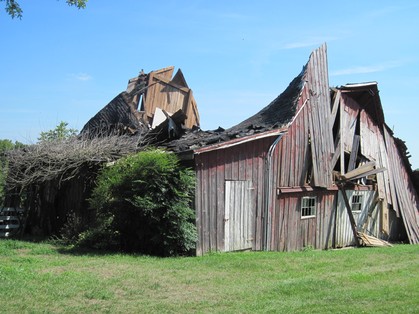 To many, it would appear to be an old barn that has seen better days. In some ways it symbolizes how I feel some days. But it is actually the hay barn behind Robert L's house where many of us played basketball or played in the hay. Many fond memories are tied up in this old barn. Robet says a wind storm blew it down. Sorry to see the old barn go.
* * * * * * * * * * * * *
Two of our Classmates Recognized
Louis Foster is inducted into the Greyhound Hall of Fame.
Bill Barlow is inducted into the Greyhound Hall of Fame
Congratulations to Bill and Louis for this accomplishment and the well deserve recognition.
Paul W. Polly inducted into PHS Hall of Fame
If you have not visited your profile page in awhile, please update the information, add new information and please upload pictures. Everyone enjoys seeing what you are doing in your life with work, play, grandchildren, travels, etc.
The Class of 1965
First Grade Class, Sept., 1953
To see a larger copy of this picture, go to the Photo Memories link look at the bottom of that page.
Some members of our graduating class began their school years over at Southside. Here is a picture of the 6th Grade Class 1958 - 1959. Can you identify your fellow classmates? What happened to those kids who didn't move over to Paris Middle School? If you know, let me know.
For a larger version of this picture, open the
Photo Memories link found on the left-hand side of the homepage.
Who is this classmate in
the cowboy hat?
Click on 45th Reunion Pics and see if you are correct!
Find below a picture from many years ago.
Can you name everyone in this picture?
Click on Photo Memories for more
pictures from 1962 - 1963
Pictures from the Past
1964 PHS Beta Club
For more pictures from the past...see
Photo Memories link left-hand side of
home page
* * * * * * * * * * * * * * * * *
See all the Lexington Mini Reunion Pictures
(Also, check out Tom Harlan's Pictures!)
Music of the 1960's