Plainview High School
Class Of 1964
In Memory
Stacy Givens (Cognasi)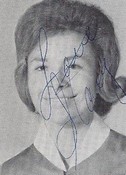 Stacy Karen Cognasi

April 27, 1946 - January 17, 2013
Stacy" Karen Cognasi, 66, entered into eternal peace on Thursday, January 17, 2013 in Dallas, Texas. Stacy was born April 27, 1946 in Amherst, Texas, the daughter of AJ and Bettye (Hammer) Givens. She grew up in Texas, moving to Dodge City, Kansas in 1980. She married Ray "Spike" Cognasi in 1982 at the First United Methodist Church in Dodge City.
Stacy graduated from St. Mary of the Plains College, Dodge City in 1993. Stacy worked for Ford County Attorney's office as the first Victim Witness Coordinator, Santa Fe Community Corrections as a probation officer, Ford County Sheriff's Office CEO, Sixteenth District Juvenile Services, Juvenile Probation Supervisor, Ford County Court Services, and finished her career as a 7th/8th grade Reading Teacher at the Dodge City Middle School. She owned and operated Spike's Inc. with her husband. She volunteered at the Round up Rodeo Arena for many years with her sorority. Stacy enjoyed spending time with her dearest friends, Marie Gilchrist, Lynette Ackerman-Hessman, Karen Ebeling, Kelly Marshall and Pam Foos. She bowled on Wednesday Night with team "Right On/Cattleman's". She also enjoyed spending time with her children and grandchildren. Stacy was a generous, loving mother and friend.
Stacy is survived by her son, Marshall Huggins and wife Martha of Portsmouth, Rhode Island; daughter, Shelly Buehne of Dodge City; son, Will Haggard of Carrolton, Texas; stepdaughter, Cindy Cates and husband John of Plainview, Texas; grandchildren, Liam, Wyatt, and Ramsey Huggins, Kyelee, Sydnee, and Baylee Buehne, Lily Haggard, RaeAnn King, Kristi Lee Ballesteros and husband Jerry; four great grandchildren, Jazlee and Talon Ballsteros and Kelan and Koley King; brother, Tony Givens and wife Nadine of Irving, Texas; niece, Katherine Edwards and husband Sal of San Antonio, Texas; and nephew Austin Givens of Irving Texas. She is preceded in death by her beloved husband Spike and her loving parents.
Memorial service will be held Saturday, January 26, 2013 at 11:00 AM at the First United Methodist Church in Dodge City with Mr. Jeff Hiers officiating. The family will receive friends on Friday, January 25, 2013 from 6:00 - 8:00 PM at Swaim Funeral Home, Dodge City. Burial will take place at a later date in Plainview, Texas. Cremation has taken place. In lieu of flowers, memorials may be made to Hospice of the Prairie or the Goddess Fund-Stroke Research for Women in care of Swaim Funeral Home. Thoughts and memories may be shared in the online guest book at www.swaimfuneralhome.com.