Plainview High School
Class Of 1964
In Memory
La Veta Sinclair (Campbell)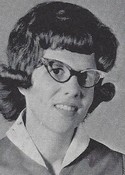 LaVeta Dea Sinclair Campbell
Memorial services for LaVeta "Veta" Dea Sinclair Campbell, 64, of Pasadena, Calif.,
were held Friday, May 14, 2010, at First United Methodist Church, Pasadena. A celebration
of life service was held at 2 p.m. Saturday, June 5, 2010, in the home of her cousins,
Rural and Carolyn Young, 4603 88th, in Lubbock. Mrs. Campbell died April 19, 2010, at
San Antonio Community Hospital in Upland, Calif.
A graduate of Plainview High School, she received a bachelor's degree in education from
McMurry University in Abilene and a master's degree in education from East Texas State
University in Commerce. She married the Rev. Dr. Jerry Campbell in 1967. She was a
member of First United Methodist Church in Pasadena where she started and co-taught
an adult class and was chair of the redesign of the church's historic chapel. She served as
a trustee of the Pasadena Methodist Foundation.
Survivors include her husband; a daughter, Denise Renee Campbell of Pasadena; two
brothers, John Sinclair of Salinas, Calif., and James Sinclair of Muleshoe; and a sister,
Francis Griswold of West Monroe, La.