Plainview High School
Class Of 1964
In Memory
Barbara Williams (McDonald)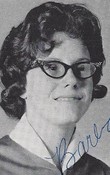 Barbara Sue McDonald
August 5, 1946 – September 1, 2014
Barbara Sue McDonald was born August 5, 1946 in Seminole, Oklahoma to William Austin and Esther (Northam) Williams. Barbara and her family moved to Plainview, Texas when she was eight years old where she grew up and graduated school.
On June 19, 1964 Barbara married Gary McDonald and they made their home in Plainview until 1968 when they moved to Amarillo. In June of 1988 they moved to Darrouzett, where they lived until 2012 when they moved to Whitehouse, Texas.
Barbara began her teaching career in Amarillo and when they moved to Darrouzett she taught in Perryton, Follett and Darrouzett. Barbara will be remembered for her caring and compassion; always putting others before herself.
Barbara passed away on September 1, 2014 at the age of 68, her parents and four brothers Ralph, Lee, Warner and Dean Williams, and a grandson Ian Patrick McDonald precede her in death.
Funeral services will be held on Thursday September 4, 2014 at 2:30 pm in the First Baptist Church of Darrouzett, Texas with Dr. Ray Davis and Pastor Steve Ammons officiating. Interment will follow at the Darrouzett Cemetery under the direction of Good Samaritan Funeral Service Booker, Texas.
Barbara is survived by her husband Gary of the home; a son Gary Wade McDonald and wife Arlene; a sister Judy McDonald and four grandchildren Gary Cayden, Spencer Lee, Esther Sincaire, and Ainsley Kay McDonald.
The family requests memorial donations be made in Barbara's memory to the Whitehouse First Baptist Church Building Fund 801 East Main Street Whitehouse, Texas 75791.
Good Samaritan Funeral Service will host a gathering for family and friends on Wednesday September 3 from 6 pm – 7:30 pm at the funeral home in Booker.