Plainview High School
Class Of 1964
In Memory
Randy Pannell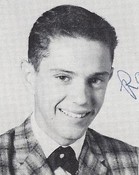 Phillip Randall Pannell
January 19, 1946 - March 14, 1969
Phillip Randall Pannell was born January 19, 1946 and was killed in action from an incident on March 14, 1969 while performing the duty of pilot of an AH-1G helicopter. The crash site was northwest of Nui Ba Den in the Tay Ninh Province, South Viet Nam. Randy served with the AV branch of reserve component of the US Army, 1st Calvary Division. After his death, he was posthumously promoted to CWO2 and awarded the Purple Heart and Air Medal.
From Shirlene Juno (Randy's sister):
The following is a quote shared by Shirlene from a telegram received by their parents, "Since the aircraft your son was piloting was operating over enemy controlled territory at the time of the incident and still is under control of hostile forces, the death of your son has been determined to be a result of hostile action."