El Camino High School
Class of 1965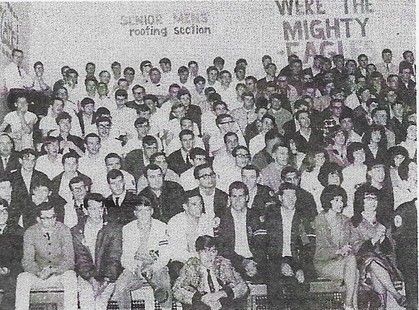 Welcome to the El Camino High Class of 1965 web site. Here you will find a lot of interesting information about our class, as well as "profiles" for many classmates. But first you will need to sign in and creat a password for yourself. All instructions and answers to many questions can be found by clicking the "First Time Visitor " button at the top of the page . (There is no cost to the classmate.) After reading instructions for First Time Visitors , you can creat your profile by clicking on "classmate profiles" , find your name, click on it and enter information about yourself. This will help others who are looking to reconnect with you as well as classmates being able to find out what you have been up to for the last fifty years and what you are up to currently.
Our last reunion was held on October 2-4, 2015 at the Del Paso Country Club in Sacramento with about 200 classmates and spouses in attendance. We have posted pictures from the event, and you can see them by clicking on the link titled "Past Reunions" which is in the column of links on the left of this page.You can also view photos of the 2012 "Class of 65 Turns 65" and "Back in the Day".
This website is being maintained to help us stay in touch with each other, and to learn more about each others lives since High School. Please take advantage of the site by exploring the profiles that have already been posted, fill out your own profile including any pictures and visit the "In Memory" section to add rememberances for classmates who have passed away. We also encourage you to add whatever information or photos is appropriate to other galleries listed on the left side of the page. If you have any questions, please contact one of the site administrators: Linda Lemon Powers (gmapowers10@gmail.com) or Valerie Spooner (vspooner@comcast.net)