El Camino High School
Class of 1965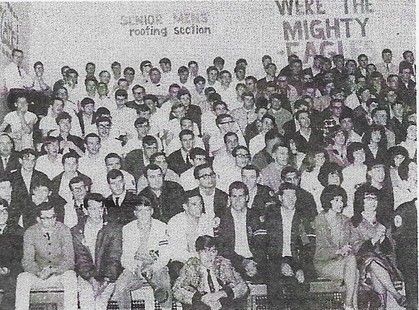 Welcome to the El Camino High Class of 1965 web site. Here you will find a lot of interesting information about our class, as well as "profiles" for many classmates. But first you will need to sign in and creat a password for yourself. All instructions and answers to many questions can be found by clicking the "First Time Visitor " button at the top of the page . (There is no cost to the classmate.) After reading instructions for First Time Visitors , you can creat your profile by clicking on "classmate profiles" , find your name, click on it and enter information about yourself. This will help others who are looking to reconnect with you as well as classmates being able to find out what you have been up to for the last fifty years and what you are up to currently.
Our last reunion was held on October 2-4, 2015 at the Del Paso Country Club in Sacramento with about 200 classmates and spouses in attendance. We have posted pictures from the event, and you can see them by clicking on the link titled "Past Reunions" which is in the column of links on the left of this page.You can also view photos of the 2012 "Class of 65 Turns 65" and "Back in the Day".
This website is being maintained to help us stay in touch with each other, and to learn more about each others lives since High School. Please take advantage of the site by exploring the profiles that have already been posted, fill out your own profile including any pictures and visit the "In Memory" section to add rememberances for classmates who have passed away. We also encourage you to add whatever information or photos is appropriate to other galleries listed on the left side of the page. If you have any questions, please contact one of the site administrators: Linda Lemon Powers (gmapowers10@gmail.com) or Valerie Spooner (vspooner@comcast.net)
ANNOUNCEMENTS
Cathy (Cathleen) Anne Carter Fowler of Joshua Tree, CA (formerly of the Bay Area) transcended on June 25th, 2021.

The journey began for Cathy (and twin Cristen) on August 13, 1947 in San Francisco, CA, when she was born to the late Gerry and Nick Carter, renowned Bay Area tennis players.

As a young girl, Cathy was a junior competitor in the Sacramento/Bay Area tennis circuit from 1959-1965. Sisters Denise and Cris both remember Cathy as a youngster playing guitar and singing with their dad Nick. They both loved music!

Cathy was a teenage force in the California music scene, playing with The Svelts, The California Girls, The Apartment 4, and later went on singing and playing guitar as a solo artist. In 1960s Lake Tahoe, she would perform with all the bands and artists that came through town. Her former bandmates remember Cathy as the golden goddess with a guitar, and a voice of a twinkling angel.

When Cathy was around, the energy was elevated. She loved life! She loved the wind in her hair, and would stick her head out the car window while driving, and smile as big as she could! She wanted to heal the world and spread love to all. She was always moving to the beat of her own drum.

For years, Cathy sang and hosted weekly karaoke around the Bay Area. She dedicated her life to music until she was diagnosed with Lewy Body Dementia, when she moved to be with her daughter Cristie and husband Jamie, in Joshua Tree, CA.

Cathy's heart of gold will live on in all of us.

Cathy was preceded in death by her husband Robert; mother Gerry, and father Nick. Cathy is survived by her daughter Cristie and son-in law Jamie; sisters Cristen and Denise; brother-in-law Austin; nephews Aric, Ryan, Nick and Charlie, and her niece Holly; her first husband E.J., and the many people Cathy loved and knew all around the world.

Cathy was a huge animal lover, so in lieu of flowers contributions may be sent to the no kill shelter here in Joshua Tree. Click on link below or send a check to MBHS, PO Box 1234, Joshua tree 92252.

http://www.mbhumanesociety.com/donations.html
here are no events scheduled at this time. You can still show your support by planting a tree in memory of Cathleen Anne Carter.
© Wiefels Cremation and Funeral Services | Palm Springs, Yucca Valley, Twentynine Palms and Desert Hot Springs, CA - Funeral Home Website Design By Frazer Consultants, LLC & TA