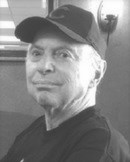 We celebrate the life and mourn the loss of Gaylord L. Berry, beloved husband, father, grandfather-to-be, and friend. Gaylord left this world on Sunday, October 8, 2017 after a miraculous 5 year-long battle with cancer. His family surrounded him with love and support throughout his journey. He was born on November 15, 1948 in Novato, California to Bridget and Lionel Berry. He spent most of his life in Salt Lake City, Utah attending school, raising a family, working, and enjoying the inspiration of the local landscape of the Wasatch Mountains. Gaylord was a graduate of the University of Utah where he earned a Bachelor's degree in Biology and Master's degree in Biomedical Engineering. He was passionate about his career in the medical device industry and worked many years at Abbott Laboratories and CardioPulmonics. Gaylord enjoyed movies and music and was an avid gamer and programmer.
He is survived by his wife, Julie Berry; four children, Emily Berry, Jessica (Jeremy) Javier, Corbett (Katarina) Berry and Michael Berry.
Services will be private for the family. Donations in lieu of flowers are requested in Gaylord's memory to the
American Cancer Association
at
https://www.cancerresearch.org/donate
or the Brain and Behavior Research Foundation at
https://www.bbrfoundation.org/donate
. Arrangements were made by Burnett-Dane Funeral Home. For Info: (847) 362-3009 or please sign the guestbook at
www.burnettdane.com
.