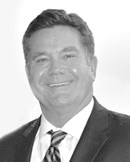 David Creer
1947 - 2020
You were lucky if you knew Dave Creer. Our unforgettable husband, father, grandfather, brother, uncle, and friend, David Moyle Creer passed way early Wednesday morning, April 22, 2020 after a 3 1/2 year battle with Leukemia. Dave was larger than life and touched many with his unbridled optimism and gregarious personality - he will be dearly missed by all who knew him.
Born November 14, 1947 to Frank Brockbank Creer and Sarah Moyle Creer in Salt Lake City,Utah. Dave was the youngest of six siblings whom he remained close to throughout his life. He graduated from East High School and the University of Utah where he was affiliated with the Beta Theta Pi fraternity. He received a graduate degree from Harvard Business School.
Dave's life journey was spent with his best friend, Joan Nelson, whom he married January 20, 1971 in the Salt Lake Temple. Together Dave and Joan spent a life filled with love and laughter. Their lives were blessed with six children and 20 grandchildren. Family was at the very center of Dave's life. He was especially close to his nieces and nephews. Sports and athletics were a passion for Dave. During his youth he was a 3-time state champion as a swimmer and football player at East High School. He loved golf, water skiing, and snow skiing - especially with his grandchildren. Dave was a Crimson Club member and life-long fan of the University of Utah athletics.
Dave spent most of his career in business management and sales. During his early career he managed the family business, Utah Idaho School Supply. Later he worked at Ikon Office Solutions and for many years was the Executive Director of the Utah Trucking Association. As a lifelong member of the Church of Jesus Christ of Latter-Day Saints, Dave served faithfully, mostly with the young men whom he loved, in two bishoprics and as Bishop of a Young Marrieds Ward. Dave served three full-time missions for the church - as a young man, Dave served in the South Andes Mission (1967-1969) He had a life-long love for the Bolivian people. Dave also served two full-time missions with his wife Joan, Temple Square (2012-2013) where they loved the sister missionaries with whom they served, and in England (2015-2016), until he was hospitalized with Leukemia.
Dave had many passions and loves in his life - friends, hobbies and associations. An active member of the Salt Lake Rotary Club and lifelong member of the Democratic party. He loved his beautiful cherry red 1965 Ford Falcon convertible. Dave had many amazing collections - political buttons and bumper stickers, bobblehead dolls and baseball cards.
Throughout his life, whether serving in the church, in the community, or participating in athletics or in any of his passions, Dave was known as a friend to all - he treated everyone as his best friend, regardless of their status or situation. A big hug was his famous trademark!
Dave is survived by his wife Joan, children Josh (Katie), Kathryn, Susannah Wixom (Nate), Laura Ball (Brad), Dan (Caitlin), and James (Ashley). Sisters Alice Marsh, Sally Grant, Caroline Pinney, brother-in-law Mike (Peggy) Nelson and special sister-in-law Margaret Reiser. 20 grandchildren-Harrison, Weston, Sam, Amanda, and Mary Katherine Creer. Isaac, Jonas, Cannon and Miles Wixom. Abby, David, Ben, Jacob and Sarah Ball. Winston, Elliott, Emmy and Penelope Creer. Andrew and Rosemary Creer. He was preceded in death by his brother John, sister Elizabeth (Fuzzy), his parents, in-laws, and boxer dogs Mike, Butch and Sam.
Special thanks to Loveland Clinic at LDS Hospital for their care. They became dear friends.
Due to the Covid-19 pandemic, a private family graveside service will be held at 1pm Saturday, April 25 at the Salt Lake Cemetery. In lieu of flowers please send donations to the missionary fund-Church of Jesus Christ of Latter-Day Saints.