Give'em Biz
First Name

Last Name

Classmate Link or Blog

Larry

Abbey

Tom

Ackerman

Hank

Adams

Ralph

Adams

Hope

Aguirre

Rodney

Aikens

David

Alexander

Don

Alger

Carole

Alldredge

Suzanne

Allen

Trina

Amundsen

Windsor

Amundsen

Morgan

Andersen

Sue L.

Andersen

Cathy

Anderson

Cherie

Anderson

Don

Anderson

Kevin

Anderson

Leslie

Anderson

Melanie

Anderson

Pam

Anderson

Peggy

Anderson

Rich

Anderson

Shauna

Andrus

Doni

Aplanalp

Peggy

Applonie

Alan

Asay

Terry

Astle

Chris

Atkin

Diane

Aune

Vince

Badger

Evelyn

Bailey

Bruce

Baker

Glade

Baldwin

THE BEST PHARMACY IN SLC!!!

Patron Testimonial

I have been a patron of Hyland Pharmacy for years. If I ever have a question, I ask Glade Baldwin, the owner. Glade is not only very personable, but is very intelligent when it comes to prescriptions, Medicare, and health in general. My father had some major heart complications and I mentioned them to Glade and he suggested that my father ask his physician about different medications and so forth....My father was EXTREMELY GRATEFUL! I like that the pharmacy has a family feel to it and I can sense that Glade has genuine concern and gratitude for his clients. Trying getting that at Rite Aid or Walgreen's! Glade, you have a customer for life. Thank You!!!

Apothecary West (801) 966-4269

4188 West 5415 South
Salt Lake City, UT 84118


Hyland Pharmacy (801) 485-9281

1295 Miller Ave Suite 6
Salt Lake City, Utah 84106

Glade Baldwin

Jeff

Baldwin

Roland L.

Baldwin

Allyson

Balli

Gary

Barker

Robert

Barnes

Debbie

Barraclough

Judy

Barrios

Vicki

Barrus

Dave

Barton


Click My Card for My Market Approach

davebarton@timerealestate.com

Syd

Barton

Ellen

Baserman

Cathy

Bashore

Rhonda

Basket

Bruce

Bateman

Russ

Bateman

Patti

Beck

Kim

Beglarian

Jacque

Bell

Gary

Bennion

Marie

Bennion

Sheri

Benson

Harold

Bertagnole

Gregory

Beuchert

Brenda

Beuk

Bill

Beveridge

Byron

Billeter

Sherry

Billeter

Shaune

Bills

Shelly

Birch

Susan

Bird

Linda

Black

Randy

Blake

Richard

Bloomfield

Jeff

Blosch

Jan

Bodily

Ed

Bonner

Rob

Bonner

Irene

Bortolussi

Jan

Bournstein

Cathy

Bowden

Mike

Bowers

Mark

Bowyer

Jeanenne

Boyce

David

Bradford

Pamela

Bradley

Ty

Bradley

Carol

Braithwaite

Pam

Brewer

Kathy

Bridge

Bill

Bridwell

Mark

Briggs

Mike

Brigham

Colleen

Brimley

Aliene

Bronson

Holly

Broome

Karen

Brower

Becky

Brown

Bob

Brown

Kathi

Brown

Kathleen

Brown

Tracy

Brown

Keith

Bruderer

Dan

Bryant

Janice

Buchanan

Jeff

Buhlman

Tom

Bullen

Debbie

Bullough

Jan

Bullough

Laurie

Bult

Mark

Bult

James

Bundensen

Jeff

Bundensen

Joy

Bunt

Linda

Burke

Kent

Burningham

Ralynn

Burnside

Dan

Bush

Kim

Bushman

Cheryl

Buxton

Alexis

Cairo

Eldon

Call

Lloyd

Call

Richard

Call

Richard D

Call

Cindy

Campbell

Laura

Cannon

Cindy

Cantrell

Chris

Caprin

Greg

Capson

Susan

Capson

Annette

Carroll

Barbara

Carstensen

Rick

Casper

Dave

Castleton

Tully

Cathey

Becky

Chalmers

Muriel

Chamoux

Mike

Chaus

Gayle Maria

Checketts

Gayle Checketts

Friend of:


Craig

Chlarson

Craig

Chleerson

Keith

Chojnacki

Beth

Christensen

Betty

Christensen

Bonnie

Christensen

David

Christensen

Sue

Christensen

Teresa

Christensen

Edd

Clark

A celebration of the wonderful music of the Christmas and a perfect way to get into the spirit of the season. The CD features new takes on familiar holiday carols, and songs that are destined to be new holiday classics.

Genre:

Holiday: Easy Listening

Joan

Clark

Richard

Clark

Debbie

Clement

Rick

Cluny

Julie

Cobb

Gina

Coccimiglio

Chris

Coleman

Jean

Coleman

Rick

Coleman

Corey

Coles

Jana

Collett

Julie

Collett

Steve

Colman

Patricia

Combs

Steve

Cornia

Earl

Cottrell

Leeana

Cox

Marann

Craven

Carolyn

Crofts

Jolynn

Crosland

Bill

Cross

Layne

Croxford

Cliff

Cructhfield

Helen

Cunningham

Richard

Dahlquist

Eugene

Dall

Geraldine

Davidson

Becky

Davis

Cindy

Davis

Ed

Davis

Ilene

Davis

Mark

Davis

Paul

Davis

Tom

Davis

Wayne

Davis

Michael

Dean

Peggy

Dean

Rebecca

Dean

Bret

Decker

Bob

Dewitt

Ron

Dickson

Gary

Diehl

Vicki

Divine

Debbie

Dixon

Todd

Dixon

Faith

Dolney

Jeff

Done

Michele

Done

Barbara

Doolin

Steve

Dorius

Kevin

Draper

Marc

Draper

Mike

Droubay

Brad

Duckworth

Don

Duffy

Mary

Dunn

Dave

Eaton

Sue

Ebbert

Dan

Eby

Steve

Eddings

Joycelyn

Egan

Dorothy

Elggren

Mike

Ellerbeck

Mary Lou

Emerson

Drew

Empey

Ilene

England

Claudia

Evans

Nadine

Eyre

Mike

Fairbanks

Cathy

Faldmo

Steve

Falk

Paul

Farnsworth

Jeanne

Fauntin

Judy

Fauntin

Debbie

Featherstone

Ron

Fechter

Scott

Felix

Gail

Fenstermaker

Alan

Fenton

Greg

Ferguson

Craig

Fisher

Craig

Fitch

Seri

Fitzgerald

Debbie

Flandro

Donna

Flarity

Jim

Florence

Julia

Florence

Kathleen

Florence

Carl

Flygare

Blaine

Foster

Nancy

Fox

Dave

Frandsen

Gloria

Franks

Shauna

Frenette

John

Fruin

Jim

Fullmer

John

Fullmer

Andy

Gabrys

Pete

Gallegos

Mary

Gammell

Bryson

Garbett

Jay

Garrett

Jim

Gemmill

Randy

George

Lettie

Gerstner

Cynthia

Gessel

Jim

Giles

Heidi

Gillette

Phil

Gipson

Bruce

Glade

Randy

Glaus

Lori

Glick

Steve

Glick


Basic Information

Founded

About

We help businesses market unique and interesting products.

As your direct response partner, we can provide you with the highest probability of success.

Find out more: http://www.xclosure.com/

801-438-2110

Company Overview

Marketing leader performing online marketing, web development and direct response marketing.

If you don't know how to market your product, we can help.

Mission

Returning credibility to direct response advertising.

Products

Online marketing, web development, SEO, SEM, campaign management and more...

Website

Email

Susan

Godbe

Brent

Goddard

Pat

Gowens

Corinne

Graf

Jeff

Graham

Kelvin

Graham

Janet

Grant

Jeff

Grant

Andy

Gravitt

Dennis

Gray

Linda

Gray

Randall

Gray

Scott

Grayson

Chris

Green

Kerrie

Green

Kris

Green

Ralph

Greenburg

Walt

Gregory

Daniel

Griffee

Joanne

Griffiths

Steve

Gustaveson

Marti

Gygi

Bob

Haag

Rory

Hackett

Carrie

Hale

Kathryn

Hale

Jalene

Hall

Kanedace

Haller

Karen

Halliday

Nancy

Halliday

Richard

Hamik

David

Hammer

Dale

Handley

Dave

Handley

Barbara

Hanks

Eric

Hansen

Richard

Hansen

Steve

Hansen

Vickie

Hansen

Diane

Hanson

Gary

Hanson

Greg

Hanson

Wade

Harman

Jess

Harper

Suzanne

Harrington

Amy

Harris

Betsy

Harris

Roy

Harris

Stephanie

Harris

Barry

Hart

Cheri

Harward

Eric

Hash

Susan

Hassard

Pam

Hatch

Alanna

Hauck

Jeffifer

Hebertson

Jolene

Heeren

Gunn

Helland

Jeff

Hellotes

Debbie

Henderson

Spike

Henderson

Perry

Henriksen

Julene

Hibbard

Jeri

Higbe

Jerry

Higgins

Ty

Higgs

Chris

Higley

Jerrie

Hill

Kris

Hill

Eyecare Associates

Allow us to welcome you to Eyecare Associates, the Optometry office of Dr. Angela Hill and Dr. Kris Hill.
We take great pride in providing you with state of the art eyecare paired with personal attention from both our doctors and staff. Your quality of life is our goal and we believe healthy eyesight is vital to achieving it.

We offer a full range of services including routine eye exams, contact lens services, LASIK consultation and co-management, designer frames, and eye disease management.

We look forward to the opportunity of serving you and your family's eye care needs. We are conveniently located in the Fort Union area in Midvale, near Cottonwood Heights and Sandy, and would be delighted to have you as a patient.

7400 Union Park Ave, Suite 202
Midvale, UT 84047
Map it

Located in the South Union Buisness Park on the west side of Union Park Ave. in the Fort Union area. For easy acess from anywhere in the valley take the Union Park Ave exit off I-215 or from Draper and Sandy take 13th East north. Please call for more detailed directions.

Phone: 801-569-3698

Fax: 801-569-0578

Mon, Tue, Thu 9:00 am - 5:00 pm
Wed 11:00 am - 7:00 pm
Fri 9:00 am - 4:00 pm

Saturday morning available by appointment.

Kris Hill

Jan

Hiller

Becky

Himstreet

Jane

Hinckley

Carol Ann

Hinds

Joel

Hobbs

Suzanne

Hock

Kay

Holm

Frank

Holte

Thomas

Hook

Suzette

Hopkinson

Gladys

Horiuchi

Dan

Horne

Ron

Horrocks

Dave

Houstan

Cynthia

Howe

Murray

Howell

Scott N.

Howell

David

Hughs

Jill

Huntsman

Kim

Hyatt

Jan

Hyer

Janet

Hyer

Renee

Hyer

Michele

Hygh

Shawn

Ince

Charlene

Jackson

Tony

Jacobs

Chris

Jacobsen

Randy

James

Jayne

Januzzi

Julie

Jarrard

Brian

Jarvis

Ralph

Jencks

Richard

Jenkins

Denise

Jenks

Cory

Jensen

Gary

Jensen

Larry

Jensen

Larry Jensen

Newcastle School in Draper, Utah

Newcastle Preschool is an age appropriate preschool for children ages 3-5 in the southern Salt Lake Valley. Established in 1984, Newcastle is a four-time Best of State Winner in Early Childhood Education in Utah. Newcastle's carefully balanced curriculum is regarded as Salt Lake's most comprehensive Pre-K experience. Enjoy the website but take time to visit during school hours to truly appreciate the culture of this unique Utah preschool.

Call Us

801-553-0622

Kathleen or Larry Jensen


E-Mail Us

larryjensen@newcastleschool.com

We are typically online all day long and we answer e-mails promptly. This is a great way to contact your child's teacher as well.

Vicki

Jensen

Kim

Johanson

Darrel

Johnson

Heidi

Johnson

Jeff

Johnson

Wendy

Johnson

Lamar

Jones

Pam

Jones

Rick

Jones

Robert

Jones

Val

Jordan

Keith

Joseph

Carlie

Judd

Dave

Judd

Brigette

Kalt

Gary

Karpowitz

Phillips

Kearns

Joe

Kelleher

Karen

Keller

Fred

Kempe

Susan

Kenny

Jackie

Kersh

Dee Dee

Ketchie

Debra

Kidd

Mindy

Kilgore

Debbie

Kimball

Joanne

King

Toni

Kingston

David

Kinneburg

Deann

Kirby

Ula

Kirkman

Alan

Kirsch

Craig

Knight

Diane

Knight

Ron

Knowlton

Kathie

Knudson

Scott

Knudson

Jeff

Koehler

Peggy

Kohler

Karen

Koller

Becky

Lallman

Brent

Lambson

Dirk

Lamprecht

Lyn

Landgren

Steve

Langford

Gail

Lapetina

Brent

Larsen

Debbie

Larsen

Patricia

Larsen

Jeff

Larson

Tom

Larue

Paul

Latimer

Todd

Laver

Brad

Lawrence

Deborah

Lawrence

Sandy

Leahy

Dave

Leatham

Jeff

Leavitt

Mike

Leavitt

Karen

Lemoine

Kevin

Lemon

Linda

Lennertson

Chris

Lerch

Linda

Lerch

Fred

Leslie

Mindy

Levy

Cindy

Lewis

Pam

Lewis

Gord

Liebmann

Linda

Lifsey

Bill

Lindblom

Diane

Lindsley

Janet

Ling

Connie Rae

Lives

Cori

Lloyd

We provide customized interior enhancements which include artwork, plants and accessories that aesthetically capture your corporate culture, spirit and philosophy.

www.professionalartservices.com

We can be reached by:

Email:

caralee_powers@cox.net Phone: 949 489-9840
Professional Art Services, Inc.
33551 Valle Road
San Juan Cap, CA 92675
US

Caralee (Cori Lloyd) Powers

Rand

Lock

LuAnn

Lodder

Mary

Loeffler

Suzanne

Loomis

Dave

Loritz

Robb

Lowe

Lisa

Lund

Mike

Lund

Marianne

Lupo

Michael

Lyon

Bill

Lytle

Ted

Mabey

Kathy

Madison

Cynthia

Madsen

Michael

Madsen

Dana

Maiben

Pam

Majeska

Tom

Malin

Carol

Mallory

Cheri

Mansfield

Cheryl

Margetts

Pam

Markham

Scott

Marler

Lois

Marsing

Michelle

Martin

Tom

Martindale

Susan

Matheson

Kathy

Maw

Deanne

Maxfield

Sharon

Mayes

Cheryl

McBride

Allen

McCandless

Daryl

McCarty

Cathy

McCully

Renae

McCune

Peggy

McDonald

Bruce

McDonough

Lex

McGarry

Mike

McGlone

Mark

McGregor

Suzanne

McKay

Cathy

McKinney

Donita

McMahon

Bill

McNiel

Steve

McPhie

Dan

McQuarrie

Deanna

Meacham

Janice

Mendenhall

Mike

Menlove

Kevin

Merrell

Shane

Merrill

Blaine

Michaelis

John

Mickel

Linda

Mihlberger

Merry

Milczarek

Larry

Miles

Theresa

Miller

Doug

Minor

Miles

Minson

Jeff

Moon

Diane

Moormeier

John

Morgan

Reed

Morgan

Richard

Morgan

Robyn

Morgan

Alex

Morris

Pat

Morris

Robert

Morris

Todd

Morris

Craig

Morrison

Richard

Morrison

Randy

Mortenson

Annette

Morton

Stephanie

Morton

Richard

Moss

Rick

Moss

Casey

Mower

David

Mower

Mike

Mueller

Rosemary

Mulcock

Mike

Munnerlyn

Sharon

Murden

Dian

Murray

Debbie

Muse

Bruce

Myler

Sherry

Nance

Sandra

Neilson

Kay

Nelsen

Cathy

Nelson

Cheryl

Nelson

Harvey

Nelson

Jeffrey

Nelson

Carol

Newton

Luann

Nicholes

Connie

Nielsen

Kent

Nielsen

Kurt

Nielsen

Nancy

Nielsen

John

Nielson

Ryan

Nielson

Doug

Norberg

Terry

Norman

Kim

Noyce

Connie

O'Brien

Dwan

Oborn

Val

Olsen

Debbie

Olson

Duff

Olson

Kevin

Olson

Shirin

Omana

Marc

Orlob

Marjori

Orvin

Marsha

Orvin

Alan

Osguthorpe

Jan

Osterstock

Harley

Ostmark

Dave

Ott

Fay

Ottley

Gaye

Ottley

Joann

Ottley

Bev

Pack

Rod

Packer

Bart

Palmer

Brad

Palmer

Scott

Pannier

Steve

Pantuso

Jan

Parker

Steven

Parker

Debbie

Passey

Paula

Pearson

Suzanne

Perkins

Brent

Petersen

Kathie

Petersen

Sherrie

Peterson

Terri

Peterson
(Purles)

Terri Peterson (Purles)

A Passion for Sugar Free Chocolate

Amber Lyn Chocolates is single minded in its dedication and passion for creating superior quality sugar free chocolate & low carb chocolate confections. Our chocolate is made from finest cocoa beans grown in equatorial Africa and South America. Our select cacao beans are naturally aged, blended and roasted to perfection by highly skilled chocolatiers, thus allowing the distinctive and delicious aromas and flavor notes to fully blossom. Then, according to our rigorous standards, the ground and roasted beans are meticulously combined with other natural ingredients to make Amber Lyn world-renowned sugar free Belgian dark chocolate and no sugar added milk and white chocolate. Our chocolate is then carefully shipped to the red rock, blue sky country of Southern Utah where it is made into sugar free chocolate bars, sugar free truffles, sugar free chocolate covered almondsand a host of other healthy lifestyle chocolate delights.

Only The Best

In the crafting of our products, we use only the best natural flavors and essences money can buy and the finest nuts and inclusions available on the world markets.

Our Guarantee

If you want all natural, great tasting sugar free chocolate that can be part of a carb-controlled, healthy lifestyle, then Amber Lyn Chocolate is for you. In fact, we guarantee it's the best sugar free chocolate you've every eaten.

Brad

Petrucci

Jeff

Phelps

Paul

Philips

Nancy

Pia

Mark

Pickett

Less

Pipella

Denise

Pisto

Jim

Pitkin

Ruth

Platt

Thomas

Platt

Linnea

Ploch

Virginia (*Gina*)

Plowgian
*McCullough*

Gina Plowgian McCullough

Xocai Healthy Chocolate - Yes! It is possible for chocolate to be healthy and taste great. Learn more about how my chocolate is unique and the health benefits from eating it regularly will help with cardiovascular, diabetes, inflammation, and weight loss; and the list goes on.

Margie

Poll

Ann

Pollei

Lisa

Pollish

Kathy

Pope

Bryant

Porter

Kerry

Posey

Laurie

Potter

Steve

Poulos

Ginny

Poulsen

Tony

Poulsen

Roni

Powell

Kenneth

Prater

Mike

Prater

Sandra

Pratt

Terrilyn

Preston

Scott

Prince

Sidney

Prodnuk

Kathi

Prokasky

Robert

Pruitt

Tom

Quayle

Mark

Quilter

Kelly

Quinn

Marcel

Ramjoue

Kent

Rappleye

Julie

Rayner

Martha

Redenbaugh

Bob

Rees

Richard

Reese

Cory

Reichert

Kathleen

Reid

Cydee

Retallick

Bill

Rice

Joanne

Rich

Joe

Richards

Marianne

Richards

Mike

Richards

Nancy

Richards

Vicki

Richards

Sharmon

Richardson

Bradley

Riches

Pam

Richmond

Kevin

Ridd

Vicki

Ridd

Rita

Riddle

Steve

Rider

Julie

Rimmasch

Doug

Riter

Marta

Roark

Leslie

Robbins

Delilia

Roberts

Ken

Roberts

Michelle

Roberts

Dana

Robinson

Craig

Rodgers

Jane

Rogers

Vicki

Roghaar

Tye

Romney

Paul

Root

Kevin

Roper

David

Roth

Cherise

Roundy

Chirley

Roundy

Darla

Ruby

Susie

Rudd

Debbie

Russell

Karen

Russell

Todd

Rytting

Tony

Sage

Denise

Saline

Diane

Saltas

Paul

Schaaf

Ann

Scheffrahn

Linda

Schmidlkofer

Jeff

Schmidt

Brian

Schmutz

Brooke

Schofield

Karl

Schoofs

Stephanie

Schorow

Chris

Schrauf/Pfaff

Rochelle

Schriver

Mark

Schvaneveldt

Floyd

Scott

Jan

Scott

Candy

Seager

Jeff

Seders

Rene

Sedgwick

Alan

Seko

Layne

Self

Cynde

Service

Sue

Seyboldt

Steve

Shaw

Suzie

Shaw

Larry

Sheffield

Lyndsay

Sheppard

Paul

Shields

Charles

Shupe

Mell

Shurtliff

Pamela

Shurtliff

Nancy

Sigler

Jane

Skurzynski

Stephanie

Slagle

Craig

Smith

Debra

Smith

Greg

Smith

Lee

Smith

Linda

Smith

Scott

Smith

Jessie

Snow

Todd

Snow

Craig

Soelberg

Jill

Solie

Erika

Sonnborn

Jean

Sorenson

Lee

Southam

Dale

Southard

Robert

Spafford

Rod

Spalding

Cheryl

Sparks

Rick

Spedden

Alan

Spendlove

Mardi

Spratley

Stephanie

Stagle

Becky

Stauffer

Joan

Steneck

Jim

Steorts

John

Stevens

Wallace

Stevens

Louise

Stevenson

Cindy

Stewart

Dave

Stewart

Louny

Stillman

Wendy

Stillman

Pam

Stone

Debbie

Storrs

Charles

Stout

Rondie

Strand

Bonnie

Strong

Rick

Strout

Rick Strout Consulting Services

With nearly 40 years in employee management and motivational speaking, Rick is excited to present his new consulting program for all businesses and staffing alike.

Does your team need a boost?

Does your business operation feel stuck?

Is production down and employee morale flat?

Is the energy in the office off?

Are you getting the best you can from your employee team?
Rick brings a new perspective to employee morale. Whether they are seasoned veterans or new rookies on your team, they can use Rick's motivation to enhance their perspective in work and in life. Rick's technique is interactive with the team and invites them to see just who they are, and who they can become.

Every business, no matter how big or small needs an edge in this difficult economy. That edge comes from your staff! Their professionalism, their attitude, their communication skills and their perspective in not only their work environment, but their daily home life as well.

Give your employees a chance to believe in who they really are, and your business, along with your team, will flourish. Employee attitude can make or break your business. Overcome the obstacles of this slow economy and get the edge on your competition...

Rick has had over 39 years of management experience. Growing nine Health Club operations and three Day Spas in the Salt Lake Valley. Rick has been responsible for the training of hundreds of employees in customer service and sales. Motivational training for businesses across the country and advising managers on positive approaches to their staff and for their customers.

Experience

Consulting services for - Business team building, Operational systems and Motivational directives. Specializing in Health Club, Fitness and Day Spa Operations. Educational training and marketing for business owners and staff.

Education

1972 – 1978 University of Utah
Organizational Communications, Humanities

During which time I was also in the Air Force Reserves from 1972-1978

Honors and Awards:

Utah State Racquetball Hall of Fame member... Racquetball titles include Utah State Open Singles and Doubles Champion. State Champion in 5 age divisions. Successfully completed the St. George Marathon twice.

Contact Rick for:

career opportunities

consulting offers

new ventures

job inquiries

expertise requests

business deals

reference requests

getting back in touch

Contact Rick Strout:

For more information contact Rick Strout Consulting Services at:

Mobile Phone: 801.554.1524
Email: rickstrout@yahoo.com

John

Stucki

Doug

Sullivan

Jenefer

Summerhays

Sue

Summerhays

John

Sundloff

Rick

Sutherland

Ann

Swensen

(Sweeney)

Ann Swensen (Sweeney)

801-756-3241

http://www.distinctiveengraving.com/

Mary Ellen

Swenson

Shelly

Swenson

Vicki

Swonson

Rob

Sykes

Karen

Sylvester

Calvin

Tabata

Alison

Tanner

Scott

Tarbet

Keith

Tarver

Kim

Taylor

Scott

Taylor

Stephen

Taylor

Nancy

Tedesco

Mark

Teerlink

Helen

Tennant

Karen

Tew

Fred

Thaller

Jeff

Thelin

Nik

Ther

Russell

Thoman

Dave

Thomas

Holly

Thompson

Michael

Thompson

Mike

Thompson

Michelle

Thorn

Clive

Thorpe

John

Thurman

Marilyn

Tiller

Alan

Tinge

y

We are a professional investment management firm. We help individuals and institutions invest and build portfolios that enable them to reach their financial goals.

We charge a fee based on the amount of assets that we manage. We are not paid commissions nor do product providers compensate us. We have worked hard to insure that there are no conflicts of interest or sales pressure in our relationships. Our clients best interests are our best interests.

We are not affiliated with any bank or brokerage company. We value our independence and have found that it gives us the ability to search out and invest in the finest companies at the most appropriate times.

We are excited participants in the telecommuniations and information revolution that is sweeping over the world. These changes allow us not only to provide our services at a very low cost, but we also have access to an ever expanding universe of data and can efficiently provide our clients with the information that is important to them.

The three principals of our firm have over forty years of investment management experience between them. We have seen both good and bad markets and we have been by our clients sides through both. Our experience is that the fully informed client is essential for a strong relationship. Our goal is to continue to build these relationships with our clients by taking advantage of every change and opportunity that the future presents.
http://cannontingey.com/

Judy

Tolley

Robyn

Tomlinson

Shane

Topham

Robyn

Tregeagle

Reid

Turley

John

Turman

Robyn

Turnbow

Kristi

Turner

Mary

Turpin

Melanie

Twitchell

Treesa

Tyler

Julie

Ulmer

Janice

Ulrich

Lillie

Ungricht

Spencer

Van Leeuwen

Jack

Van Schelt

Juliann

Vance

Keith

Vanorden

John

Varanakis

Kevin

Vernon

Debra

Vom Dorp

Randy

Vorhees

Robert

Vredenburg

Tim

Vrontikis

David

Wagstaff

Rebecca

Wagstaff

Gail

Waite

Fred

Walker

Mike

Walker

Wendy

Walker

Rebecca

Wallin

Sherry

Walsworth

Sue Ann

Walters

Karen

Warren

Richard

Watkins

Joseph

Watts

Chris

Webb

Dru

Weggeland

Lu Ann

Welch

Colleen

Weldon

Rebecca

Wells

Nancy

Welti

Bruce

Wesley

Debra

Westbrook

Lorrie

Westenskow

Scott

Whipperman

John

Whipple

Geoffrey

White

Robin

White

Cynthia

Whitehead

Patti

Wicks

Kent

Wiggins

Linda

Wightman

Merilee

Wilburn

Scott

Wilkinson

Richard

Willden

Blaine

Williams

Clayt

Williams

Darrel

Williams

David

Williams

Kay

Williams

Roberta

Williams

Susan

Williams

Margie

Wilson

Roger

Wilson

Vernarr

Wilson

Layne

Wilton

Cassandra

Winn

Ann

Winterton

Ann Winterton (Harrington)



THE UTAH FEDERATION OF MUSIC CLUBS IS PART OF ONE OF THE WORLD'S LARGEST MUSICAL ORGANIZATIONS WITH CLUBS AND MEMBERS OF ALL AGES. WITH TOTAL STATE MEMBERSHIP OVER 9,200, UTAH HAS THE LARGEST STATE MEMBERSHIP IN THE NATIONAL ORGANIZATION.

I am so happy to welcome you to the new Utah Federation of Music Clubs (UFMC) website! The UFMC Board of Directors created this site in an effort to unite all UFMC members and provide you with the tools you need to become better informed and more effective teachers and leaders.

Albert

Witkamp

John

Witkamp

Janet

Wolcott

Wolcott Optical Service

(Janet Wolcott)

(801) 485-4474

3145 South Highland Drive, SLC
(off I-80 at 13th East and south to Highland Dr.)

Famous for our everyday expertise, quality and value - nobody fits you like Wolcotts! Come in and see the difference today!

Welcome spring in with style this year with Wolcott Optical's wildly popular Sun Xpo! Our Sun Xpo features premium sunglass designers and brands at incredible discounts!

This year Sun Xpo is the third week in May

Thursday through Saturday - the 17th, 18th & 19th
from 9 to 5:30 Thursday and Friday / 10 to 5 Sat.

Sun Xpo not only offers remarkable prices – 20 to 70 % off retail – but is also a great opportunity to preview new releases from the best names in eyewear and lenses.

Skip

Wolfe

Russell

Wood

Joyce

Woodbury

Mark

Woodruff

Roger

Workman

Joe

Worthen

Emily

Wright

Randy

Wright

John

Young

Mark

Young

Mary

Ziakas

Scott

Zogg

Christine

Zundel
Art Services
We provide customized interior enhancements which include artwork, plants and accessories that aesthetically capture your corporate culture, spirit and philosophy.
www.professionalartservices.com
We can be reached by:
Email:
caralee_powers@cox.net
Phone: 949 489-9840
Professional Art Services, Inc.
33551 Valle Road
San Juan Cap, CA 92675
US
Caralee (Cori Lloyd) Powers
Back to Top Menu
Attorney - Law Practice
Back to Top Menu
Candy/Chocolates
Terri Peterson (Purles)
A Passion for Sugar Free Chocolate
Amber Lyn Chocolates is single minded in its dedication and passion for creating superior quality sugar free chocolate & low carb chocolate confections. Our chocolate is made from finest cocoa beans grown in equatorial Africa and South America. Our select cacao beans are naturally aged, blended and roasted to perfection by highly skilled chocolatiers, thus allowing the distinctive and delicious aromas and flavor notes to fully blossom. Then, according to our rigorous standards, the ground and roasted beans are meticulously combined with other natural ingredients to make Amber Lyn world-renowned sugar free Belgian dark chocolate and no sugar added milk and white chocolate. Our chocolate is then carefully shipped to the red rock, blue sky country of Southern Utah where it is made into sugar free chocolate bars, sugar free truffles, sugar free chocolate covered almondsand a host of other healthy lifestyle chocolate delights.
Only The Best
In the crafting of our products, we use only the best natural flavors and essences money can buy and the finest nuts and inclusions available on the world markets.
Our Guarantee
If you want all natural, great tasting sugar free chocolate that can be part of a carb-controlled, healthy lifestyle, then Amber Lyn Chocolate is for you. In fact, we guarantee it's the best sugar free chocolate you've every eaten.
Gina Plowgian McCullough
Xocai Healthy Chocolate - Yes! It is possible for chocolate to be healthy and taste great. Learn more about how my chocolate is unique and the health benefits from eating it regularly will help with cardiovascular, diabetes, inflammation, and weight loss; and the list goes on.
Back to Top Menu
Consulting
Rick Strout Consulting Services
With nearly 40 years in employee management and motivational speaking, Rick is excited to present his new consulting program for all businesses and staffing alike.
Does your team need a boost?

Does your business operation feel stuck?

Is production down and employee morale flat?

Is the energy in the office off?
Are you getting the best you can from your employee team?
Rick brings a new perspective to employee morale. Whether they are seasoned veterans or new rookies on your team, they can use Rick's motivation to enhance their perspective in work and in life. Rick's technique is interactive with the team and invites them to see just who they are, and who they can become.

Every business, no matter how big or small needs an edge in this difficult economy. That edge comes from your staff! Their professionalism, their attitude, their communication skills and their perspective in not only their work environment, but their daily home life as well.

Give your employees a chance to believe in who they really are, and your business, along with your team, will flourish. Employee attitude can make or break your business. Overcome the obstacles of this slow economy and get the edge on your competition...

Rick has had over 39 years of management experience. Growing nine Health Club operations and three Day Spas in the Salt Lake Valley. Rick has been responsible for the training of hundreds of employees in customer service and sales. Motivational training for businesses across the country and advising managers on positive approaches to their staff and for their customers.
Experience
Consulting services for - Business team building, Operational systems and Motivational directives. Specializing in Health Club, Fitness and Day Spa Operations. Educational training and marketing for business owners and staff.
Education
1972 – 1978 University of Utah
Organizational Communications, Humanities
During which time I was also in the Air Force Reserves from 1972-1978
Honors and Awards:
Utah State Racquetball Hall of Fame member... Racquetball titles include Utah State Open Singles and Doubles Champion. State Champion in 5 age divisions. Successfully completed the St. George Marathon twice.
Contact Rick for:
career opportunities

consulting offers

new ventures

job inquiries

expertise requests

business deals

reference requests

getting back in touch
Contact Rick Strout:

Mobile Phone: 801.554.1524
Email: rickstrout@yahoo.com
Back to Top Menu
Engraving
Back to Top Menu
Interior Design
Back to Top Menu
Investment Advisors
Alan Tingey

We are a professional investment management firm. We help individuals and institutions invest and build portfolios that enable them to reach their financial goals.
We charge a fee based on the amount of assets that we manage. We are not paid commissions nor do product providers compensate us. We have worked hard to insure that there are no conflicts of interest or sales pressure in our relationships. Our clients best interests are our best interests.
We are not affiliated with any bank or brokerage company. We value our independence and have found that it gives us the ability to search out and invest in the finest companies at the most appropriate times.
We are excited participants in the telecommuniations and information revolution that is sweeping over the world. These changes allow us not only to provide our services at a very low cost, but we also have access to an ever expanding universe of data and can efficiently provide our clients with the information that is important to them.
The three principals of our firm have over forty years of investment management experience between them. We have seen both good and bad markets and we have been by our clients sides through both. Our experience is that the fully informed client is essential for a strong relationship. Our goal is to continue to build these relationships with our clients by taking advantage of every change and opportunity that the future presents.
Alan Tingey
alan.tingey@tingeyadvisors.com
Back to Top Menu
Music
THE UTAH FEDERATION OF MUSIC CLUBS IS PART OF ONE OF THE WORLD'S LARGEST MUSICAL ORGANIZATIONS WITH CLUBS AND MEMBERS OF ALL AGES. WITH TOTAL STATE MEMBERSHIP OVER 9,200, UTAH HAS THE LARGEST STATE MEMBERSHIP IN THE NATIONAL ORGANIZATION.
Message from the President
WELCOME TO THE UTAH FEDERATION OF MUSIC CLUBS' WEBSITE!
I am so happy to welcome you to the new Utah Federation of Music Clubs (UFMC) website! The UFMC Board of Directors created this site in an effort to unite all UFMC members and provide you with the tools you need to become better informed and more effective teachers and leaders.
I would like to personally thank Sandra Preysz, Monika Hopper, Jaynan Hansen (Newsletter) and Cheryl Rytting (Website Chairman) for all their time and effort to make this website a reality. They have spent many hours making sure the website is accurate and informative for the benefit of all UFMC members. Their help in making this dream become a reality has been invaluable. Eric Huber built this website and we offer him our sincere gratitude! He was always ready with suggestions about how to make things better and more effective. This website would not be a reality without his unwavering assistance and constant patience.
Please take your time browsing through our new site. This new site is still evolving and we are certainly open to any suggestions about how we could make it better and more informative. If you have any suggestions about how we could improve this site, please feel free to contact me.
Please read our UFMC State Newsletter on the UFMC News page first. It will guide you through all the different pages on our new UFMC Web-site.
Kind Regards,

Ann W. Harrington
UFMC State President
762 East 5900 South
Salt Lake City, UT 84107
(801) 269-1212
A celebration of the wonderful music of the Christmas and a perfect way
to get into the spirit of the season. The CD features new takes on familiar holiday
carols, and songs that are destined to be new holiday classics.
Genre:
Holiday: Easy Listening
Back to Top Menu
Network Marketing
Gina Plowgian McCullough
Xocai Healthy Chocolate - Yes! It is possible for chocolate to be healthy and taste great. Learn more about how my chocolate is unique and the health benefits from eating it regularly will help with cardiovascular, diabetes, inflammation, and weight loss; and the list goes on.
Back to Top Menu
Optical
Wolcott Optical Service
(Janet Wolcott)
(801) 485-4474
3145 South Highland Drive, SLC
(off I-80 at 13th East and south to Highland Dr.)
Famous for our everyday expertise, quality and value. Nobody fits you like Wolcotts! Come in and see the difference today!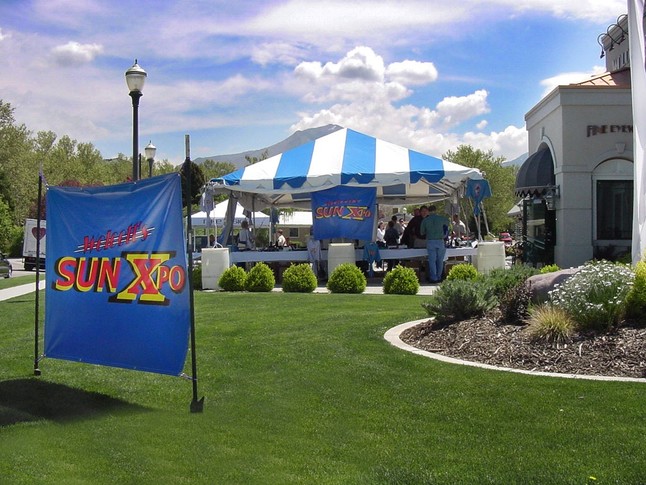 Welcome spring in with style this year with Wolcott Optical's wildly popular Sun Xpo! Our Sun Xpo features premium sunglass designers and brands at incredible discounts!
This year Sun Xpo is the third week in May
Thursday through Saturday - the 17th, 18th & 19th
from 9 to 5:30 Thursday and Friday / 10 to 5 Sat.
Sun Xpo not only offers remarkable prices – 20 to 70 % off retail – but is also a great opportunity to preview new releases from the best names in eyewear and lenses.
Back to Top Menu
Optometry
Eyecare Associates
Allow us to welcome you to Eyecare Associates, the Optometry office of Dr. Angela Hill and Dr. Kris Hill.
We take great pride in providing you with state of the art eyecare paired with personal attention from both our doctors and staff. Your quality of life is our goal and we believe healthy eyesight is vital to achieving it.
We offer a full range of services including routine eye exams, contact lens services, LASIK consultation and co-management, designer frames, and eye disease management.
We look forward to the opportunity of serving you and your family's eye care needs. We are conveniently located in the Fort Union area in Midvale, near Cottonwood Heights and Sandy, and would be delighted to have you as a patient.
7400 Union Park Ave, Suite 202
Midvale, UT 84047
Map it
Located in the South Union Buisness Park on the west side of Union Park Ave. in the Fort Union area. For easy acess from anywhere in the valley take the Union Park Ave exit off I-215 or from Draper and Sandy take 13th East north. Please call for more detailed directions.
Phone: 801-569-3698
Fax: 801-569-0578
Mon, Tue, Thu 9:00 am - 5:00 pm
Wed 11:00 am - 7:00 pm
Fri 9:00 am - 4:00 pm
Saturday morning available by appointment.
Kris Hill
Back to Top Menu
Preschool
Larry Jensen
Newcastle School in Draper, Utah
Newcastle Preschool is an age appropriate preschool for children ages 3-5 in the southern Salt Lake Valley. Established in 1984, Newcastle is a four-time Best of State Winner in Early Childhood Education in Utah. Newcastle's carefully balanced curriculum is regarded as Salt Lake's most comprehensive Pre-K experience. Enjoy the website but take time to visit during school hours to truly appreciate the culture of this unique Utah preschool.
Call Us
801-553-0622
Kathleen or Larry Jensen

E-Mail Us
larryjensen@newcastleschool.com
We are typically online all day long and we answer e-mails promptly. This is a great way to contact your child's teacher as well.
Back to Top Menu
Marketing
We Help Businesses Market Unique and Interesting Products.
As your direct response partner, we can provide you with the highest probability of success.
Find out more:
http://www.xclosure.com/
801-438-2110
Back to Top Menu
Pharmacy
Glade Baldwin
THE BEST PHARMACY IN SLC!!!
Patron Testimonial
I have been a patron of Hyland Pharmacy for years. If I ever have a question, I ask Glade Baldwin, the owner. Glade is not only very personable, but is very intelligent when it comes to prescriptions, Medicare, and health in general. My father had some major heart complications and I mentioned them to Glade and he suggested that my father ask his physician about different medications and so forth....My father was EXTREMELY GRATEFUL! I like that the pharmacy has a family feel to it and I can sense that Glade has genuine concern and gratitude for his clients. Trying getting that at Rite Aid or Walgreen's! Glade, you have a customer for life. Thank You!!!
Apothecary West (801) 966-4269
4188 West 5415 South
Salt Lake City, UT 84118

Hyland Pharmacy (801) 485-9281
1295 Miller Ave Suite 6
Salt Lake City, Utah 84106
Glade Baldwin
Back to Top Menu
Real Estate

Click My Card for My Market Approach

Wonder what your home is worth in today's market?
Let me do a free market analysis on your home.
Now is a great time to buy real estate. That is if you buy at the right price. Interest rates are at all time lows. Purchasing bank owned properties, foreclosures, short sales or distressed properties provide a way to reduce the potential losses from decreasing property values.
Demands for residential rental properties are high. This might be the right time for you to look into purchasing an income producing property that could supplement your 'retirement years'.
I would love to work with you on all your real estate needs. Please feel free to call anytime!
801 580-9383
Back to Top Menu
Back to Top Menu
Singing Groups
Gayle Checketts
Friend of:

Back to Top Menu