Lee Faculty
Mrs. Bobbie Abbott
Journalism
Mrs. Abbott's first teaching job out of college was at Lee in 1959. She "published" the Bugle Call and the Traveler until she left in 1965-66. Mrs Abbot is "only" 77. She lives in Blanco where her home overlooks the river. She is quite proud of the number of students she taught who made journalism their career...one of her students from the '65 class is publisher and owner of the Fredericksburg newspaper.
Miss Rebecca Barstis(Tanner)
Commercial Arts
Miss Barstis, now 72, lives in San Antonio. She was born in Washington, D. C., the only daughter of military parents who were later transferred to San Antonio where she attended high school. Miss Barstis graduated in 1958 from MacArthur HS in the Northeast School District. At Mac she had Mrs. Hicks, Mrs. Williams, and Charlie Walker who all came to Lee when it opened in September, 1958. Mr. Walker was her typing teacher at Mac.
Miss Barstis graduated from Southwest Texas with a degree in business administration and a minor in English, plus she also received her teacher certification. She came to Lee in September, 1963 and left in May, 1966. At Lee she taught in the business department and fondly remembers Mrs. Hicks and the influence she had on her life. She remembers several of her students at Lee including one who started a fire in her class with a magnifying glass. She said Mr. Morrow was quite upset when he came to her classroom door!
After leaving Lee, Miss Barstis taught various business courses at St. Philip's College in San Antonio and later taught at Incarnate Word High School. Upon leaving the teaching profession, Miss Barstis worked for an attorney for 30 years and officially retired in 1998. The attorney just happened to be Don Saunders, who was the first president of the student council at Robert E. Lee in 1958-59.
Today Miss Barstis spends her time playing duplicate bridge and is the secretary-treasurer of her homeowners association. Miss Barstis is currently single and has no children.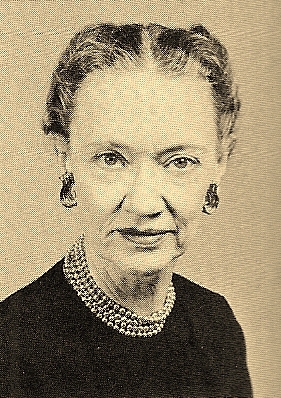 Mrs. Alta Bennett
Librarian
October 3, 1908 - July 4, 2001
Alta William Bennett, born in Floydada, Texas October 3, 1908 passed away at the Brackenridge Hospital in Austin on July 4, 2001. She taught school in Kenedy and Castroville and was librarian at Robert E. Lee High School in San Antonio for many years. She was a member of the Jefferson United Methodist Church in San Antonio. Alta was also a member of the American Association of University Women, Retired Teacher's Association, the Texas State Teachers Association, the Woman's Club of San Antonio, a life member of the Salvation Army Auxiliary, and the Daughters of the American Revolution. She was preceded in death by her husband of 39 years, Milton, in 1977, her cousin Idell Roberts on November 19, 1998, and her cousin, Alma Lawson on January 8, 2000. Survivors include her niece, Joan Richardson of San Antonio; grandnephew, Mark Richardson and his wife, Kim and daughters of Bandera; cousins, Opal Parsons of Alpine, TX and Wynona Clement of Weatherford, TX. Mrs. Bennett is buried at Sunset Memorial Park in San Antonio.
Mrs. Melvoe Melinda Thompson Blount
English
January 10, 1903 - April 30, 2002
Melvoe Melinda Thompson Blount, age 99, was born to C.F. and Nancy Melinda Bonner Thompson on January 10, 1903 in Lufkin, TX. She passed away on April 30, 2002 in Yancey, TX at McCrea Retirement Home. She was a resident of San Antonio for 49 years. She attended Sullins College in Virginia and received a Master's Degree at Stephen F. Austin University. She taught in public schools in East Texas and San Antonio for 60 years. She was preceded in death by her husband of 39 years, Wilfred G. Blount in 1968. She is survived by a niece, Frances LaRue Nerren and her husband Chuck Eckhart; a nephew, Nick Charles Nerren and his wife Terry Nerren; a nephew, Stephen W. Blount and his wife Mac. She is also survived by two great-nieces, five great-nephews and many friends and students.
Mr. Doyle Brown
Fine Arts
Mr. Brown was born in Austin, Texas on February 12, 1929. He later moved to San Antonio and met his wife Naomi, originally from Gillette, TX, while attending Brackenridge High School. After both graduated in 1947, they married in 1948. Mrs. Brown says that her parents gave them the down payment on the same house where they have lived for all these years.
Both Mr. and Mrs. Brown attended Trinity University in San Antonio, graduating in 1951. To further his art career, an artist friend of Mr. Brown's recommended the Chicago Art Institute, so the newly married couple moved to Chicago where Mr. Brown began taking classes while Mrs. Brown worked her husband's way through school. The Korean War interrupted his Master's work, so he enlisted and ended up serving for 2 1/2 years in Europe as a photographer for the army. Mrs. Brown accompanied him, and they lived in Frankfurt with a German family who spoke no English. As a result, they both learned to speak German fairly well.
After Mr. Brown's tour of duty, they returned to San Antonio where he finished his Master's degree at Trinity University. Mrs. Brown taught school in the Edgewood ISD, and Mr. Brown began teaching at Lee in 1964. While teaching at Lee, he also taught part-time in the art department at San Antonio College. Mr. Brown left teaching in the late 70's and began doing commercial art for several advertising companies in San Antonio.
Mr. and Mrs. Brown have two children and one adopted grandchild. Sadly, Mr. Brown is now in an Alzheimer's facility in San Antonio.
Miss Pat Bucholz
English
Mrs. Nell Bueker
Algebra
November 3, 1913 - December 3, 2010
Nell Frances Boatright Bueker, the daughter of Leslie G. Boatright and Nelle Walker Boatright, was born November 3, 1913, in Herndon, Missouri. She graduated with a Bachelor of Arts from Missouri Valley College, Marshall, Missouri in 1936. Later, after moving to San Antonio, Texas, she received a Master of Arts degree. Mrs. Bueker taught math at Lee High School from the opening of Lee in 1958 until 1967 when Churchill High School opened. At Churchill she was Head of the Math Department and later became Assistant Principal in charge of Instruction and Curriculum. She was a pioneer for women in High School Administration for the North East Independent School District. She was an active member of St. Andrew's Methodist Church. She supported the Retired Teachers Association, the Technical Training Retirees, the homeowners associations of Whispering Oaks and Canyon Lake. Mr. Chester L. Bueker preceded her in death in 1988. She is survived by a son, James Boatright Bueker and wife, Penny Mings Bueker, of Houston, Texas. She is survived by three grandsons, Richard Alan Bueker and wife Shannon Spoor Bueker of Pittsboro, North Carolina, Ronald Scott Bueker, Gregory James Bueker and great-grandson, Gregory James Bueker, Jr., all of Houston, Texas.
Mrs. Bueker was highly thought of by all her students, so much so that she had a steady stream of visitors up until the day she passed away on Dec. 3, 2010 at the age of 97. At the time she was residing in Stone Oak in an assisted living facility. She was given a surprise birthday party on her 97th birthday by former students, mainly from the class of 1965. She never forgot any of her students. Her mind was still sharp to the end. Her one last request was that Bill Knippa, class of '65 and a minister, speak at her Memorial service when the time came.
As a side note, Mrs. Bueker went to high school with Virgil Blossom, and when he came to NEISD, he called and asked that she become a teacher at the new Robert E. Lee.
Mrs. Helen Butler
Secretary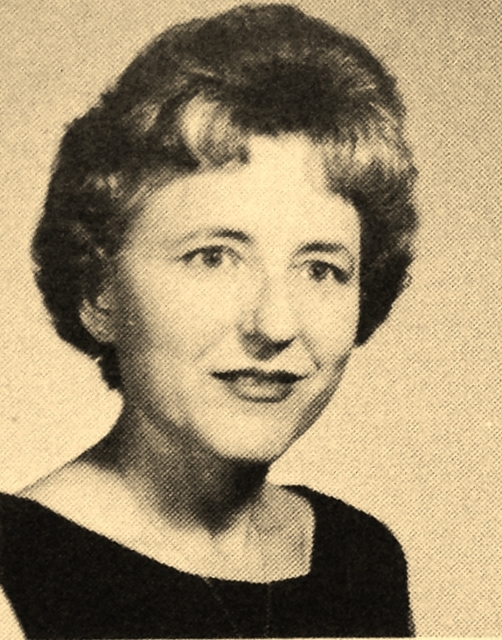 Mrs.Catherine Carson
Foreign Language
Mrs. Catherine Carson, born in 1922, will be 92 on July 28th! Mrs. Carson was born in Athens, Greece and came to the United States in 1945 when she was 23 years old. She said at that time she came aboard a Swedish ship which was returning many Americans to the United States after the war. Her father was an American, so she was a naturalized citizen. Mrs. Carson came with her brother, and their mother joined them a few years later. Their last name was Dimotsis. Mrs. Carson says she has been back to Greece at least 20 times over the years.
Mrs. Carson came to Lee in 1961 and taught Spanish and French there for five years before going to Churchill where she taught French for 15 years. She received her education at Trinity University at its old campus near St. Mary's St. in San Antonio. She said she was married at the time and had no children and was a little bored, so she decided to go back to school and teach a foreign language since she already had the background.
Retired for almost 30 years, Mrs. Carson lives on Audrey Alene near Oblate. She says that she doesn't drive any more because of vision problems, but on good days, she enjoys reading. She also substitutes in bridge groups when needed. Her address is 113 Audrey Alene if you would like to send her a card, and her phone number is 210-342-2743.
Mr. William Connell
History
Mr. R. Y. Corder
Math
Robert Young (R.Y.) Corder
January 20, 1901 - July 13, 1974
Mr. Corder's life is fully documented on the Internet by his wife Willie, now deceased, in a book called God Blessed a Teacher. What an amazing life he led, and what a beautiful story his wife wrote of their life together. The complete story with dozens of photos can be found at
http://godblessedateacher.blogspot.com/2011/05/he-was-born-in-dugout.html
Mr. Corder was born near Jayton, TX in a dugout to a father who could neither read nor write and a mother who had little education beyond grammar school. Mr. Corder's grandfather had been a traildriver during the days of the cattle drives. His parents owned a store run by his mother, and Robert and his brothers worked in his father's sheet metal shop. They eventually moved to Portales, NM in three covered wagons and then to Arkansas for awhile.
In 1920 Robert enrolled in West Texas State Teachers College at Canyon and took a teaching job before he finished his degree. At this job he was a teacher, nurse, counselor, and janitor. He and his wife Willie were married on December 24, 1922. He eventually finished his degree.
By 1951 the Corders were in Pleasanton near San Antonio where Mr. Corder was principal of the elementary school and taught 6th grade math. After seven years he went to San Antonio to teach at the newly opened Robert E. Lee HS, and Mrs. Corder began teaching first grade at Castle Hills Elementary and later Olmos Elementary.
The Corders traveled the US in their travel trailer, and because of his traveling experience and his teaching experience, he was contacted by the University of Texas to man their engineering mobile display van and travel to high schools around Texas. By 1968 he and his wife had visited 208 Texas schools.
Mr. Corder passed away on July 13, 1974 in Austin, TX.
Mrs. Laura Curry
English
June 6, 1919 - September 25, 1997
Born Laura Joan Pavone in Rockford, Illinois, Mrs. Curry graduated from Rockford HS in 1937. She began her formal education at Northern Illinois University where she received a Bachelor of Education degree. Early on, she taught in Illinois at Roosevelt Jr. High in Rockford.
Mrs. Curry taught English at Lee until the spring of 1966 and then transferred to Roosevelt High School when it opened in the fall of 1966. The 1981 Rough Rider annual was dedicated to her after 15 years of service there. At that time she was sponsor of the senior class.
Mrs. Curry passed away at the age of 78 in Lubbock, Texas. She and her husband James R. Curry, who was a major in the US Army, are buried at Ft. Sam Houston Cemetery in San Antonio.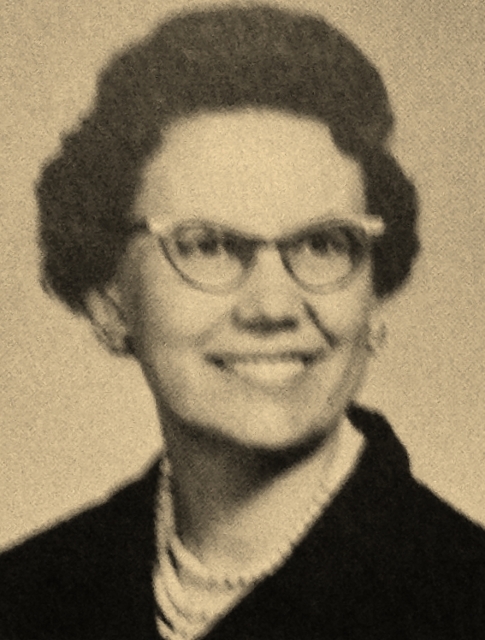 Mrs. Mary Lou Davis
PE and Lee-ette sponsor
Mary Lou Davis, former Lee-ette sponsor, is deceased. Mrs. Davis, a graduate of Trinity University, taught at North East Junior High before transferring to Lee in 1958. According to one source, Mrs. Davis passed away about 15 years ago from throat cancer. Her husband Jim was also a teacher in North East, and it is thought that he lives somewhere in the Bandera area as does their son Dwight, who was born in 1952. They also had an adopted son Alvin who attended Lee. It was Mrs. Davis who called a group of former students together to form the Lee Alumni Association which was disbanded several years ago.
Miss Jeanette Day (Carter)
English
Miss Day was born in Alexandria, LA on June 8, 1943. She graduated from Thomas Edison HS in 1960 and then attended Baylor University where she received a B.A. in English and a history certification in Secondary Education in 1963. She furthered her education at UT in Austin where she received a MLS in 1968. In 1984 she attended the University of Houston at Clear Lake and received a certification in School Libraries.
Miss day began her teaching career as a sophomore English teacher at Lee in the 1963-64 school year. She married Daniel Carter on June 8, 1965 and moved to Austin where she taught for one year before beginning graduate school at UT. She spent the first part of her library career as an academic librarian in several Texas cities, Virginia, and Pennsylvania.
Mrs. Carter and her husband lived in the Netherlands and Northern England for 4 1/2 years in the late 70's and 80's. They then moved to Houston in the early 80's and have lived there ever since. Mrs. Carter retired in 2001 from Alief ISD where she had been a librarian. She and her husband have two daughters, one born in Houston and one born in Rotterdam.
Mrs. Carter sends along this message: "Congratulations to the class of 1964. I can't believe it has been 50 years."
Mrs. Muriel Dennis
English
Mrs. Dennis was born on May 6, 1938 in Corsicana, Texas. She received her undergraduate degree in English from North Texas State and taught at Lee from the fall of 1963 to the spring of 1968. At that time she returned to college at SWT in San Marcos to pursue her Master's Degree. During that time she also taught two classes at the college.
In 1970 Mrs. Dennis and her husband moved to Dallas, Texas where she taught at North Mesquite HS until she retired in 1994. Mrs. Dennis and her husband now live in Kemp, TX which is in northeast Texas. They have two children, a son who is a golf pro in Plano, TX and a daughter who lives in Knoxville, TN. Mrs. Dennis has four grandchildren.
Now that she is retired, Mrs. Dennis is involved in work at her church and also loves writing and reading. In warmer weather she enjoys gardening.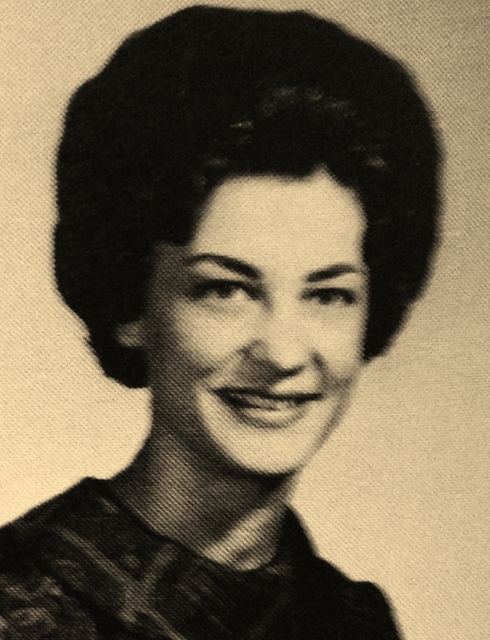 Mrs. Marilyn Drever
Homemaking
Beautiful young Miss Bueche began teaching at Lee in the fall of 1963. It is said that the guys all wanted to take Homemaking as Miss Bueche was so pretty. Born in San Antonio on March 13, 1941 to Fredrick Adolph Bueche and Mary Florence Brysch, she was one of four children and actually not much older than her students in the class of 1963. She graduated from Incarnate Word High School where she was very active in all phases of school life. She completed her education at Incarnate Word College where she received a B.S. in Education.
Miss Bueche did her student teaching at Lee with Miss Wofford. She was married to Don Drever, a St. Mary's University graduate, in the spring of 1963 during her first year of regular teaching. Miss Bueche, now Mrs. Drever, says that the district docked her pay for the time that she took off for her honeymoon as she was not allowed to use sick leave days. After teaching one more year at Lee, Mrs. Drever left and moved to Illinois. She taught for awhile in Pennsylvania and then in the Chicago area.
Mrs. Drever eventually left teaching to go into the gourmet coffee business which is now a famlly business run by her son. The family currently owns four Gloria Jean's Coffee franchises in the Chicago area and has been in the coffee business for 26 years. Gloria Jean's is an international franchise coffee business.
Mrs. Drever has three children and six grandchildren. She and her husband spend half the year in Ft. Meyers, Florida and half the year in the Chicago area.
Mr. Kirk Drew
Coach
1930-2014
Kirk Drew, 84, beloved husband, father, grandfather, coach, mentor and Christian, passed away and went to be with the Lord on Friday, March 14, 2014, and will be missed by all for his strong leadership and Christian example. Service: 11 a.m. Wednesday at Lakeside Baptist Church. Interment: 3:30 p.m. Wednesday in Laurel Oaks Memorial Park in Mesquite. Visitation: 5 to 7 p.m. Tuesday at Wiley Funeral Home in Granbury. Memorials: May be made to the Parkinson's Foundation or Lakeside Baptist Church. After he received his master's degree from North Texas State on a football scholarship, Kirk began his distinguished head coaching career at Galena Park in Houston. Four years later, he was head football coach at South San ISD. He went to Robert E. Lee Northeast ISD in San Antonio in 1958 as head coach. At Lee, he coached what was voted on by the Texas high school sportswriters as the "Game of the Decade" for Texas high school football for the 1960s, Robert E. Lee vs. Brackenridge of San Antonio. Lee won 55 to 48. This game was then determined to be the "Game of the Century" for Texas high school football. As usual, Kirk set the bar high. Later, in 1965, Kirk took Lee to the state championship game played between Lee and Odessa Permian with the score Odessa, 11, and Lee, 6. In 1966, Kirk took the head coaching position with R.L. Turner High School in Carrollton-Farmers Branch. That year he took that team, not expected to win district, to the state 4A semi-finals. Because of this, he was named Coach of the Year for the state of Texas by the Texas High School Coaches Association. Kirk retired from coaching in 1973 to become the assistant superintendent for Carrollton-Farmers Branch ISD. In this position, he was able to give his expertise and vision for the school district. In June 1985, Kirk retired from the CFB school district and started his own business, Drew Consulting Company, consulting for asbestos abatement. He was an avid outdoorsman who loved hunting and fishing. Kirk was preceded in death by his parents, Robert and Clara Alderman Drew; and sister, Mary Nell Burnett. Survivors: Wife, YEvonne Drew; children, Byron and Laura Drew, Kaye and Maxwell Barr, Kevin and Becky Drew and John and Amy Drew; grandchildren, Aaron and Sarah Barr, Johnathan and Christy Barr, Meridith and Barrett Durst, David Drew, Jason Drew, Wesley Drew, Patrick and Kendra Drew, Matthew Drew, Kaitlyn Drew, Brenden Drew, Brycen Drew and Kindall Drew; great-grandchildren, Nathaniel Barr, Lilian Barr, Caleb Barr, Ethan Barr and Mackenzie Barr; and brother, Bob and Martha Drew.
Posts:
Mr. Bill Evans
Physical Education
Mrs. Frances Everett
Math
Mrs. Everett is 83 and lives near Churchill High School in San Antonio. She taught geometry and Algebra II at Lee from 1961 to 1966 and then went to Churchill when it opened. There she taught math there a couple of years before becoming the guidance counselor. She was at Churchill for a total of 27 years before retiring.
Mrs. Everett went to Hardin-Simmons University in Abilene and Southwest Texas in San Marcos and later obtained her Master's Degree from Incarnate Word University. She has two daughters, 5 grandchildren, and 2 great grandchildren. Both her daughters were math teachers, and one recently retired.
Now that she is retired, Mrs. Everett is very active in her church where she plays the piano for the choir, is active in sewing group, and organizes the Game Day for Seniors every Monday. Mrs. Everett's phone number is 210-492-7178. Her address is 16802 Summer Creek Dr., San Antonio, TX 78248-1421.
Mr. Cecil Fox
Science
February 1, 1932 - August 7, 2010
Mr. Fox graduated from Trinity University with a B.S., taught briefly at Lee, and returned to college to further his education. Most of his studies were done at Clark University in Worcester, Massachusetts. He held three doctorates in the fields of physiology, biochemistry, and experimental pathology and has coauthored 140 peer-reviewed scientific papers. During his career he held positions at Yale, the University System of Georgia, and the Canadian National Research County. He was also Professor of Pathology at the University of Arkansas for Medical Sciences and has created and run a successful service laboratory specializing in molecular histology. He was also president of Molecular Histology Inc. and a former Senior Scientist at the National Institutes of Health.
Dr. Fox's research experience includes establishing cultures of fastidious differentiated human cells at the National Cancer Institute and at the Nobel Institute in Stockholm, and he discovered the lymphoid reservoir of HIV using in situ hybridization while working at the National Institutes of Health.
He has established molecular histology programs in Germany, Finland, and a number of sites in the United Sates, including Harvard, Yale, Boston Children's Hospital, the National Institutes of Health, and his own service laboratory, which he operated for 11 years in Gaithersburg, Maryland.
Mr. Fox was married previously and has a daughter who lives in Texas. His widow is an internist, hematologist specialist, oncology specialist, pathologist, and radiologist in Little Rock, Arkansas where Mr. Fox passed away. He was 78.
Mr. Bill Fuller (no picture)
Mrs. Willda Gafford
Science
Miss Nanna Garrett
Social Studies
November 12, 1904 - September 10, 1995
Miss Garrett not only taught geography and history, but you might say she was "history." She lived through many important events in our history, so she must have had a tremendous perspective on history. Her parents Jerome Price Garrett and Lula Emma Garrett were both born in the 1860's and passed way in the 1940's. Her father was actually born in 1861 at the beginning of the Civil War. Miss Garrett was one of 5 chlldren born to the Garretts. Her sister Lula was also a teacher who held a doctorate and taught at several universities over the years.
Miss Garrett received her BA from Southwest Texas State Teachers College in San Marcos. She was teaching as early as 1932 in San Antonio. Prior to that she taught in Uvalde, Texas. After she left Lee, she taught world history at Big Spring High School and was there for several years, at least until 1970. She passed away at the age of 94 in San Angelo, Texas.
Miss Rita Gianotti
Special Education
Mrs. Hazel Gibson
Secretary
Miss Phyliss Goodwin (Sewell)
English
Miss Goodwin was born on July 11, 1937. She graduated from Alamo Heights HS in San Antonio, attended Trinity University, and graduated from Abilene Christian College before coming to Lee. She met her husband Donnie Sewell while he was stationed in the Air Force in San Antonio. They were married on May 31, 1964. They later moved to the Texas Panhandle where she taught senior English for one year in Happy, TX and then taught English and journalism at Amarillo High School for six years. Before retiring in 2006, she taught English at Amarillo College.
The Sewells raised Appaloosa performance horses for five years and had two that qualified for the Appaloosa World show in color and dressage. They have lived in Canyon, TX since 1998.
Mrs. Sewell and her husband have two children. Daughter Dinita is a teacher at Athens High School where she teaches forensics and astronony, and son Monte teaches AP government and economics. Both are also coaches. Mrs. Sewell has two grandchildren and two great grandchildren.
Sadly, daughter Dinita says that her mom was diagnosed with dementia last summer.
Mrs. Mary Hackett
Secretary
Mrs. Hackett was born in Waco, TX in 1924 and will be 90 years old in March, 2014. She is retired and lives in San Antonio. While at Lee, Mrs. Hackett was an assistant secretary in the attendance office. She later transferred to Churchill High School where she was in charge of the attendance office.
After working in NEISD for ten years, Mrs. Hackett retired and continued serving the community by doing volunteer work and was active in her church. Mrs. Hackett has two children, two grandchildren, and four great grandchildren. When asked what she does with her time today, she replied, "Absolutely nothing!"
Mrs. Thelma Hall
Secretary
Mrs. Olga Haschke
Foreign Language
June 11, 1910 - November 30, 2002
Olga Manz Haschke, age 92 passed away Saturday, November 30, 2002. She was born June 11, 1910 in Austin to Karl G. Manz and Alwina Luker Manz. She was preceded in death by her parents, her loving husband Herbert P. Haschke, Sr., a brother Martin Manz and a sister Mildred Osoba. Olga graduated from the University of Texas with a Bachelor of Arts in June 1930 as a member of the Phi Beta Kappa honor society. She was a teacher in Giddings, San Antonio and Houston. She also tutored young patients at the Hedgecroft Polio Hospital in Houston during the 1950's. She was a loving wife, mother, grandmother and active member of Redeemer Lutheran Church, Austin. She was a member of the Dorcas Class, LWML, TLC Hostess and Life-Light teacher. She also held several offices in the state LWML organization of the Lutheran Church, Missouri Synod. Olga and her husband, Herb, were active members of Trinity Lutheran Church for the 50 years they resided in Houston. She also volunteered many hours at the M.D. Anderson Cancer Hospital. She is survived by her son, Herbert P. Haschke, Jr. of Tulsa, OK, daughters Karen O. Harrison of Austin, Janis Gibson and son-in-law Joe of Arkansas; five grandsons, Paul V. Haschke, Chicago, Ted Haschke and wife Vanessa of McKinney, Kevin Harrison and wife Cathy of Austin, Buck Gibson and wife DeAndra of Arkansas, Jesse Gibson of Arkansas, two sisters Esther Barsun of San Antonio, Ruth Studtman of Austin, numerous nieces, nephews and friends and special friends Chuck and Clarist Iselt of Austin. The family gratefully acknowledges the loving care provided Olga by all the staff of Buckner Villas Nursing Home and Hospice of Austin.
Miss Jo Hestand
Foreign Language
Tracking Miss Hestand has been very difficult as her first name was Elwanda. It is thought that she was born in Oklahoma about 1925. She was teaching at Breckinridge High School in San Antonio by 1951, so that may have been her first teaching assignment. Her credentials at that time said that she had a BA and MA and had attended Texas State College for Women (now Texas Women's University), WTSTC, the National University in Mexico, and Texas Tech in Lubbock.
Miss Hestand taught at Lee during most of the 60's where at one time she sponsored both the Spanish Club and the National Honor Society.
Mrs. Ruth Hicks
Business
May 28, 1910 - January 10, 1980
What a lady! What a teacher! Mrs. Hicks received her Master's in Education from North Texas University in Denton. She had previously attended Tarleton, a two-year college, where she met her husband, and graduated from Daniel Baker College in Brownwood. Prior to coming to NEISD, she had taught at the junior college level and had also been principal of two high schools. Her first job in NE was as an English teacher at NE High School, later to become MacArthur. While teaching at Lee, she also taught shorthand two nights a week at San Antonio College. She taught a total of 20 years at night at SAC.
Mrs. Hicks helped launch Business Education in Texas. In 1969 she was TSTA's District XX Teacher of the Year in the field of Business Education. She also served as president of Alamo District XX.
In 1971 Mrs. Hicks was chosen Texas Business Teacher of the Year and had been teaching 28 years at the time and had been chairman of the business department at Lee for 13 years. She was chosen over 4,000 Texas business teachers.
Mrs. Hicks's husband Thurman was an engineer at Kelly AFB. Together they had three children. The first child died at birth, and the second, a daughter, died at age 13 in 1945 due to kidney failure from sulfa drugs at the Santa Rosa Hospital. A son James, born in 1944, in San Antonio currently lives in the Texas Hill Country. James says that the death of his sister had a great effect on his mother, as she became dedicated to young people and that's what made her such a wonderful and beloved teacher. James graduated from Thomas Jefferson High School. He says that his mother had more tenacity that any woman he ever knew.
Mrs. Hicks passed away on January 10, 1980 from a brain tumor. She is buried in Stephenville, Texas.
Mrs. Mary Hill
Fine Arts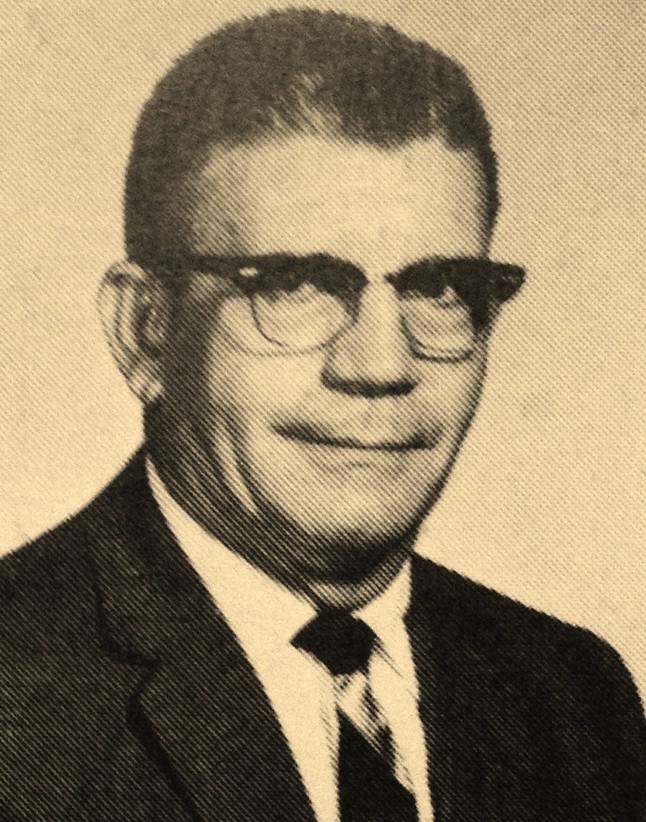 Mr. Charles Holden
History
February 13, 1914 - December 12, 1982
Mr. Damon Hollingsworth
Biology
Damon Hollingsworth, our beloved biology teacher, is alive and well in Spicewood, Texas. He is 91. If you want to send him a card then, his address is P. O. Box 382, Spicewood, TX 78669. Mr. Hollingsworth hasn't fully retired yet as he works for Clements-Wilcox Funeral Home in Marble Falls where he says he does everything except the embalming. Prior to teaching at Lee, he was a coach at Edison and then coached at the University of Corpus from 1954 - 56. He then went to NE Jr. High where he coached in 1957-58 and then to Lee in 1959 where he taught science. After teaching at Lee, Mr. Hollingsworth was principal at Ed White Middle School until he retired in 1982. After that he worked for Roy Akers Funeral Home in San Antonio but has been with the Clements-Wilcox Funeral Home for the last 15 years. He also stays active in the Texas Baptist Men's Association. When we were in high school, he was an active member of Dellview Baptist Church where several of our classmates attended church. Mr. Hollingsworth had four children. Liz Hollingsworth, class of '62, who married Mrs. Minnick's son Tim, passed away in 2007. Mr. Hollingsworth's youngest daughter Nancy lives both in Houston and South America, and his two sons Damon and Virgil live in San Antonio. Damon, class of Lee 67, was also a coach in North East.
Miss Patricia Janda (Davison)
Chemistry
Miss Janda, born in LaGrange, TX in 1941, graduated from Our Lady of the Lake in San Antonio where she was named Outstanding Chemisty student. After she received her degree, she taught chemistry at Lee for three years and left in the spring of 1966. After working at Kelly for 5 years, she quit to raise her two children.
In 1990 Miss Janda returned to teaching and taught math at Harlandale High School for 15 years. After retiring from teaching, she returned to Harlandale and tutored math for 7 years.
Miss Janda and her husband live in Schertz, TX and have two children who graduated from Samuel Clemens HS. In her spare time, she enjoys reading, and she and her husband both enjoy vegetable gardening.
Mrs. Jean Johnson
English
Mrs. LaVerne Jopling
Teacher of the Blind
March 31, 1926 - June 14, 2015
On June Fourteenth, LaVern Hallum Jopling closed her eyes for the last time to begin her journey tobe reunited with her husband of forty years, Oliver Eu"Gene", and her two oldest sons, Gene and Hallum.
She is survived by her youngest son, Robert and his wife Patricia; five grandchildren: Jill, Jacq, Jordon, Robert Lee, and Michael Gene; and a dear friend, Noel Mesa, who comforted LaVern through her darkest days.
She was born in Brady, Texas on March 31, 1926 and is a 1948 graduate of the University of Texas. She completed her work in her special field at George Peabody College in Nashville, Tennessee. She became interested in teaching the blind when someone suggested that she would be a good person to work with the blind. She was standing in a grocery story across the street from the Texas School for the Blind at the time. When she went to visit with the principal at the school, who was also blind, she was convinced. After working there three years, she worked at Agnes Cotton in San Antonio.
In the 1960's she was named "Teacher of the Year for the Partially Sighted" by the Texas Education Agency. At the time she was teaching students at both Nimitz and Lee. Following her assignment at Lee, she worked at the Central Office and also at the elementary level.
Mrs. Jopling said she loved working with blind students and at times they could be very sneaky. She remembers that they once locked her in the closet at the end of the day, and she could hear them giggling outside the door. They told her that now she knew what they went through all day long. Her oldest student was Judy Slimp who attended Lee during the early 60's. One of her students had such an ear for music that she could detect wrong notes when passing by the band hall and could tell which person was hitting the wrong note.
After Mrs. Jopling retired from teaching, she and her husband lived at Canyon Lake in a house overlooking the lake. "We loved it!" she said. When asked what she likes to do now, Mrs. Jopling replied, "Just put my feet up and watch tv." She lives in an assisted living facility but has a dog and a cat, and one of her sons lives nearby. She has three sons, all of whom graduated from Lee. Two of the sons are graduates of UT at Austin, and the other is a graduate of Southwest Texas at San Marcos. Her son Robert taught at Lee for 8 years and just recently retired.
Mr. Tom Jungman
Coach
December 29, 1933 - September 4, 1988
Coach Tom Jungman was born Dec. 29, 1933 in Medina County, Texas. He passed away on Sept. 4, 1988 in Kimble County when he drowned during a fishing trip. One source said that Coach Jungman suffered a heart attack while fishing and fell from the boat. A former coach at Lee and Coach Jungman's friend said that Coach actually died when he was checking a trot line in his boat. He had pulled up several of the hooks, not knowing that there was a 90-pound catfish on the next one. When he tugged on that line, the catfish pulled on the line and went to the bottom of the river, causing one of the large hooks to imbed in Coach's hand. He was pulled out of the boat and consequently drowned. Coach was only 54 years old. He is buried in the St. Louis Cemetery in Castroville, TX.
Mr. Ken Kearns
History
August 22, 1923 - September 15, 2004
KENNETH C. KEARNS, 81, entered into eternal rest on September 15, 2004 after a lengthy battle with heart and kidney disease. Born in Valley View, Texas on August 22, 1923, Ken was a four sports standout at Denton High School, which resulted in him accepting an athletic scholarship to the University of Arkansas. While at Arkansas, Ken received All-Southwest conference selection and All-American recognition on the basketball floor. Despite being drafted by the NBA's New York Knicks, he chose instead to dedicate his life to teaching and coaching in the Texas Public school system, where he positively influenced the lives of countless young people for 30 years. He was preceded in death by his parents, James and Mable Kearns and by his siblings Lena Fay Gilmore, Mary Williford, James Kearns and J.D. Kearns. He is survived by his loving and devoted wife of 49 years, Jeannine; brother, Walter and sister-in-law Betty of Atlanta, Georgia; daughter, Kateresa Loving and her fiancé Eugene Eddy; son Kevin and daughter-in-law Roxanne Mery Kearns. Ken will also be missed by his loving grandchildren, Kyle Robeau, Kyle's fiancée Tara Cummings, Brittany, Joshua and Chandler Kearns and numerous nieces and nephews. A memorial service was held on Saturday September 18, 2004 at Sunset Northwest Funeral Home in San Antonio, Texas.
Mrs. Doreen Kirk Forren
Physical Education
August 22, 1936 - January 25, 2008
Doreen Kirk Forren, born August 22, 1936, passed away in San Antonio on January 25, 2008. A lifetime San Antonio Resident, she will be lovingly remembered by students, friends and colleagues from her 30 year career as a counselor and educator in San Antonio. She is survived by her family: one sister, Charleen Kirk Hunt; nephew Christopher Hunt; nieces, Lisa Hunt Hanne and Allison Hunt Blessing and their children, Shannon and Michael Hanne and Zachary and Troy Blessing.
Harold Leach
History
February 4, 1912 - January 17, 1984
Mr. Leach received his B.S. from North East Missouri State Teachers College and a Masters in Education from Trinity University. A retired Lt. Col. from the US Army, he had served in the army from 1947 - 1962 just prior to coming to Robert E. Lee. He passed away in San Antonio in 1984.
Mr. S. Edgar LeVine
Math
October 18, 1915 - April 22, 1973
Saul Edgar LeVine was born Oct. 18, 1915 and passed away on April 22, 1973. Mr. LeVine graduated from Trinity University with a BS and ME and taught algebra and physics at Lee. He was a captain in the army during World War II and is buried at Ft. Sam Houston.
Mr. Sam Lopez
Spanish
Sam Lopez, Spanish teacher, is 79 and living in Bulverde Gardens in San Antonio. Mr. Lopez is originally from Bryan, Texas and graduated from Texas A&M University. His first teaching job was at Robert E. Lee beginning in 1959. He taught Spanish there for 34 years and retired in 1993. However, he was asked to help out by teaching Spanish at Churchill half-day and did so for 3 years. Following that he substituted at the new Reagan High School for 3 1/2 years. He said he now keeps busy with his 4 grandchildren, church, and doing things around the house. He and his wife both exercise to keep in shape, and his wife does volunteer work. Mr. Lopez says his two daughters have always made fun of his emphasis on conjugation of verbs in Spanish as back in our days at Lee conjugation of verbs in both English and Spanish classes were really stressed by our teachers. Mr. Lopez and his wife Constance live at 3726 Willow Walk, San Antonio, TX 78259-2385. His phone number is 210-494-6578.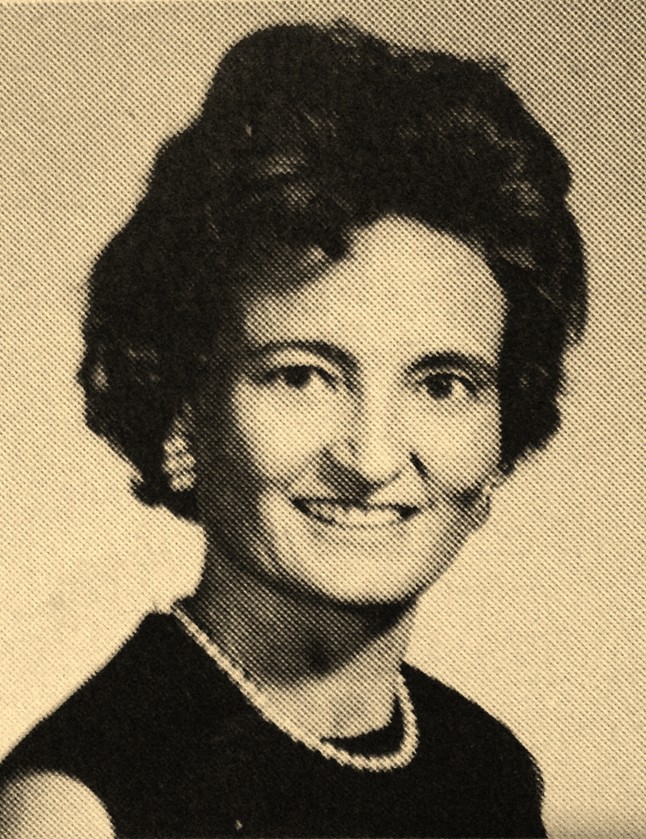 Mrs. Gladys Lorillard
Secretary
November 10, 1912 - January 1, 2010
Gladys Cordelia Irwin Lorillard, passed as peacefully as she lived on January 1, 2010.

Gladys was born on November 10, 1912 in South Dakota and was the third child of seven brothers and sisters.

Gladys married Chester Lorillard on June 3, 1935 and they made their home in San Antonio after serving in World War II and the Korean War. Gladys' legacy to her family is her positive attitude and generous heart. Gladys will best be remembered for her sweet temperament, quiet determination and beautiful smile.

She was preceded in death by, her husband Chester; four brothers and one sister. Gladys is survived by her daughter and son-in-law Rita and Larry Billingsley; Grandchildren, Rebecca and Seth Jones; Reagan and Kristen Billingsley; Lori and Barrett Schott, great-grand children Brady Billingsley and Emmy Jones and a sister Lucille Irwin.
Mrs. Mary Lysinger
Science
Only 74, Mrs. Lysinger taught science at Robert E. Lee from 1961 to 1995. While finishing her degree at Incarnate Word, she did her student teaching at Lee where her mentors were Mr. Hollingsworth and Miss Tatum. During her early years at Lee she taught mostly sophomores and a few juniors.
Mrs. Lysinger has one son Michael who graduated from Lee in 1985 and in currently the choral director for J. J. Pearce High School in Richardson, Texas. He has two children.
Now that she is retired, Mrs. Lysinger enjoys gardening and reading and also plays bridge once a month at Oak Hills Country Club with a group of teachers whom she taught with at Lee.
Mrs. Lysinger was born on December 12, 1939 in Laredo, Texas. She lives in San Antonio.
Mr. Richard McCreless
Math
October 22, 1939 - March 9, 2006
Mr. McCreless met his wife Karen, a Lee graduate of 1962, at a Sadie Hawkins dance at Lee in 1964. He didn't have a date for the dance, so his students brought baby photos of their older friends or siblings and Mr. McCreless was to choose from one of them, and that person would be his date. Cherie Reese was in his class and brought a photo of her sister Karen. The couple hit it off, and on the 2nd date, he asked Karen to marry him. When Mr. McCreless left Lee, he went to work for IBM and later Texas Instruments. Their first child was born in San Antonio, but their two daughters grew up in Austin. Mr. McCreless lived in Dallas at the time of his death. The McCreless family was well-known in San Antonio as they helped develop the city.
Richard Otis McCreless, loving father and devoted husband, passed away peacefully Thursday, March 9, 2006 at his home in Fort Worth. Memorial service: 2 p.m. Sunday, March 19, 2006 at Genesis United Methodist Church, Dr. Jim Conner and Rev. Laura Whitley will officiate. Memorials: National Brain Tumor Foundation, 414 Thirteenth St., Suite 700, Oakland, CA 94612. Richard was born October 22, 1939 in San Antonio to the late Thomas Griswold and Laura Emma McCreless. On April 23, 1964 he married his sweetheart, Karen Ann Reese. Richard's loving touch, his kindness and sweet smile will be greatly missed. Survivors: His wife of 41 years, Karen Ann Reese McCreless; daughters, Shannon Pena and her husband, William, and their twins, Thomas and Katy Pena, all of Burleson, Heather Carr and her husband, Bevan and their daughters, Madeleine and Elizabeth Carr, all of Fort Worth; brother, Tom McCreless and his wife, Nancy of San Clemente, Calif.; sister, Laura Kay Miller and her husband, Bill of La Vernia; and his son, Richard Scott Hartman and his children, Nicholas and Karly Hartman of New Braunfels.
Miss Pat McDaniel
English
Miss Helen McLeod
Business
January 26, 1922 - April 20, 2008
Helen M. McLeod, of Fair Oaks Ranch, passed peacefully Sunday, April 20, 2008. Helen was born in White Flat, TX to Buena and Thomas McLeod and grew up in Trent, TX. Helen graduated from Hardin-Simmons University in 1944. She was a lifetime member of the Presidents Club, served on the HSU Board of Development twice, served on the Board of Directors from 1986-1994 and was a member of the Ex-Cowgirls. She also received her Master's Degree from Trinity University in San Antonio. Helen taught school for 33 years, retiring from San Antonio Northeast in 1986. She was a member of Retired Teachers Association, the Whispering Oaks Garden Club, the Red Hat Association, PEO, Sonshine Singers, a variety of bridge clubs and 1st Baptist Church, Boerne. Helen loved to travel, visiting all 7 continents and all 50 states. Helen was an avid Spurs fan. She organized and hosted the SOLOSÉ Spurs Old Ladies Organization. She enjoyed the game on the day before her death cheering the team to victory in double overtime. Helen was preceded in death by her parents and her beloved brother, H.H. "Spud" McLeod. She is survived by one niece, Carol Phillips and husband Bob of Amarillo, nephew Tom McLeod of Dallas and nephew John McLeod and wife Barbara of Abilene, 5 great-nephews, 1 great-niece and 2 great-great-nephews, lifelong friends Granville and Barbara Smith and many wonderful friends.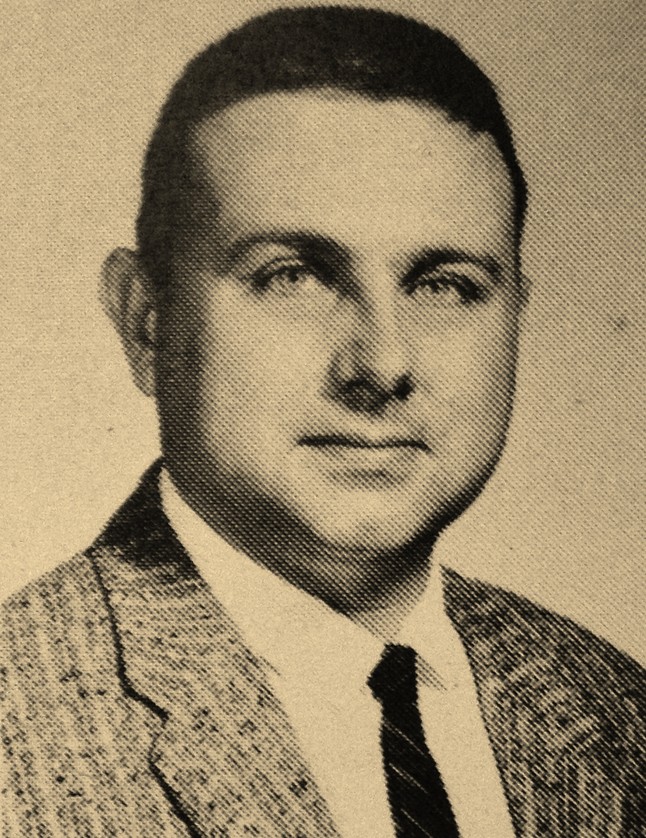 Mr. Tom Marsh
Chemistry
July 22, 1927 - April 8, 2012
Thomas G. Marsh, Jr. was taken to heaven on Easter Sunday about 8:00PM. He was born in San Antonio on July 22, 1927, graduated from Alamo Heights High School, served in the US Army for 2 years, and continued his education at Texas A&M University, graduating in 1950. He married the love of his life, Margie Heiligman, in 1948 at Alamo Heights Presbyterian Church. He was a Chemistry teacher in the NEISD for over 30 years. He will be missed dearly by his entire family and his friends. He is survived by his wife Margie Heiligman; daughter, Linda Roark and husband Gary; son Thomas Glenn Marsh III and wife Janice and 4 grandsons, Thomas Marsh IV, Robert Roark and Elizabeth, Scott Roark and Emily and Ryan Marsh and Jessica. He was loved and will be sorely missed.
Mr. Jack Mayberry
History
January 8, 1920 - November 29, 1981.
Mr. Mayberry served in the army during WWII.
Mrs. Dorothy Minnick
English

April 21, 1906 - February 1, 1996

Dorothy Minnick, one of our beloved English teachers, was born April 21, 1906 and passed away from breast cancer on Feb. 1, 1996 in San Antonio, TX. She was 89 years old. Mrs. Minnick taught at both NE Jr. High and Robert E. Lee. Her son Tim married Liz Hollingsworth, daughter of Damon Hollingsworth, but sadly Liz passed away in Dec., 2007. They had three children. Tim, who was an only child, is a graduate of Jefferson High School and Texas A&M and lives in Austin.

Mrs. Minnick was born in Nebraska and went to college there. Tim said that his mom retired in the mid-80's from Lee. He said he was against her retirement as she loved being there and interacting with her students, and she was not in poor health at the time. Once she retired, she was still interested in what was going on at Lee, plus she read a lot and loved working in the yard.

Mrs. Minnick was a real lady!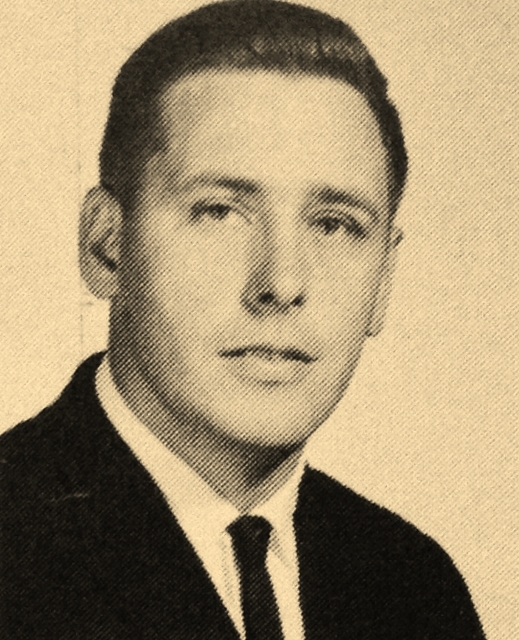 Mr. Bill Moseley
Coach

August 5, 1937 - September 14, 2008

Bill Moseley beloved husband, father and grandfather passed away September 14, 2008 at the age of 71. He was born on August 5, 1937, in Sherman, TX to John and Mary Moseley who preceded him in death. Bill was a longtime member of San Pedro Church of Christ where he served as an Elder for 30 years. After playing basketball at East Texas State College, Bill coached high school basketball in Devine and Luling before moving to San Antonio where he coached at Robert E Lee High School and MacArthur High School. He ended his coaching career in 1971 and began 26 years of service with Blue Cross-Blue Shield. He is survived by his beloved wife of 51 years, Betty Moseley; children, Deborah Moseley Egger and husband, Hal, Melissa Moseley and Jon Moseley; grandchildren, Amanda Egger Worley and husband, Jeremy, Courtney, Haley and Matt Egger, Zac, Mitchell and Lucas Moseley; brother, John Moseley and family of Sherman, TX; uncle F.H. Dickerman and wife, Marjorie of Sherman, TX; and many loving friends.

Mr. Thomas Moseley
Physical Education
March 26, 1933 - November 27, 2005
Thomas E. "Tom" Moseley, age 72, died November 27, 2005. A longtime educator, coach, and administrator, he served at Hondo, North East, and Fort Sam Houston school districts.
He is survived by daughters Cheri Moseley Groom and husband Cal of San Antonio; Linda Moseley Swierc and husband Brian of Spring Branch; and Holly Moseley Hopkins and husband Rick of San Antonio; and five grandchildren. His wife Mary Jo Moseley, mother of their three daughters and also a teacher in NEISD, preceded him in death.
Mrs. Freida Murphy
Math
August 9, 1917 - December 5, 2002

Freida T. Murphy age 85 of Austin, Texas died on Thursday, December 5, 2002. She was born on August 9, 1917 near Poteet, Texas. Mrs. Murphy graduated from Poteet High School in 1935, received a Bachelor of Science degree from Texas A&I College in Kingsville, TX, and received a Masters degree from Trinity University. She was a member of Manor Baptist Church in San Antonio for approximately 28 years before moving to Austin in 1992, where she became a member of Hillcrest Baptist Church in Austin. She was a high school math and science teacher for 28 years, the last 14 years at Robert E. Lee High School in San Antonio until she retired in 1976. She was a life member of Texas Retired Teachers Association. Mrs. Murphy is preceded in death by son Capt. Alfred W. Murphy and parents Alfred and Alpha Tutschke. Survivors include her husband Clinton E. Murphy of Austin; niece Sheila Gail Gully of Mobile, AL; nephew Paul Franklin Jones of Bastrop, TX; and other relatives.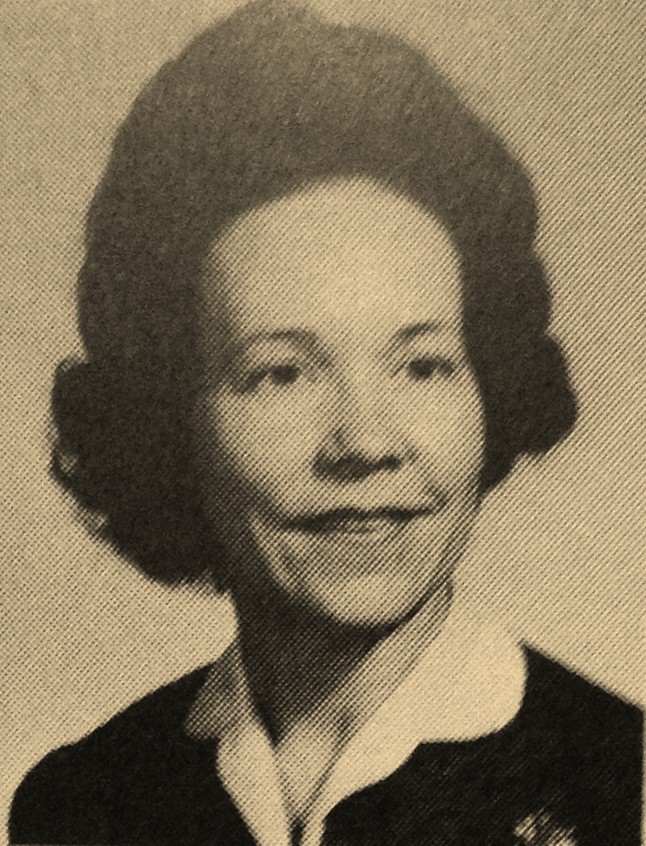 Mrs. Lois Obrecht
Business

Lois Dean Obrecht, age 83, died November 29, 2001. She served her Lord faithfully as a member of Trinity Baptist Church and later at Castle Hills FirstBaptist Church. Lois is survived by her son, Chris Obrecht and wife Pam; grandchildren, Summer Scanlin, Lisa Obrecht and Jillian Obrecht; great-grandchildren, Brianna and Brandon and sisters, Roselyn Florea, Dorothy Roussel and Marguerite Sturdivant. Mrs. Obrecht taught in the business department at Lee but then went to Trinity University where she taught Spanish.
Mr. James Oppelt
Distributive Education

September 4, 1929 - January 4, 2002

James Anthony Oppelt, age 72, of La Coste, TX, passed away January 4, 2002 in San Antonio, TX. He was born September 4, 1929 in Medina County on the family farm to the late William Joseph and Maud Caroline Newman Oppelt. He graduated from Devine High School in 1947. In 1956 he graduated with a Bachelor of Science in Industrial Arts with Honors from Southwest Texas State University, and in 1961 he received his Masters in Education with Honors from SWTSU. He proudly served his country in the U.S. Marine Corps from 1948 to 1952 and was in the 1st Marine Division. He served 8 months in Korea, and was in battle at the Chosin Reservoir in Korea. He was member of the Chosen Few. From 1952 to 1953,

James played football at Southwest Texas Jr. College. 33 years of his life were dedicated to the education field, which included his years as a teacher at Burbank High School and Robert E. Lee High School, assistant prinicipal at Mac-Arthur High School, Vocation Technical Director at NEISD and he retired in 1988 as Associate Superintendent of Operations for NEISD. He founded the Vocational Technical Education department at NEISD and was proud to make that program available for the many students that wanted it. He was a member of Our Lady of Grace Catholic Church in La Coste, lifetime member of the La Coste VFW No. 8134 and lifetime memberships in numerous education organizations.

On June 19, 1954, he married Laurel Jane Delbrail in St. Joseph's Catholic Church in Devine. To this union were born two children, a son, Mark Oppelt (Peggy) of San Antonio and a daughter, Marci Oppelt Thwing (Clint) of Bulverde. He is also survived by six grandchildren, James, Clayton and Laurie Thwing; Jim, Sara and Hannah Oppelt; brother, Albert Oppelt (Elizabeth) of Devine; sisters, Virginia Schleicher of Austin and Laura Oppelt of Devine; numerous nieces, nephews, great-nieces and great-nephews. In addition to his parents, he was preceded in death by his brothers, Milton, William Joseph Jr. and Eugene Oppelt and sister, Caroline Wilhelmina Hall.
Mrs. Jean Pearson (no picture)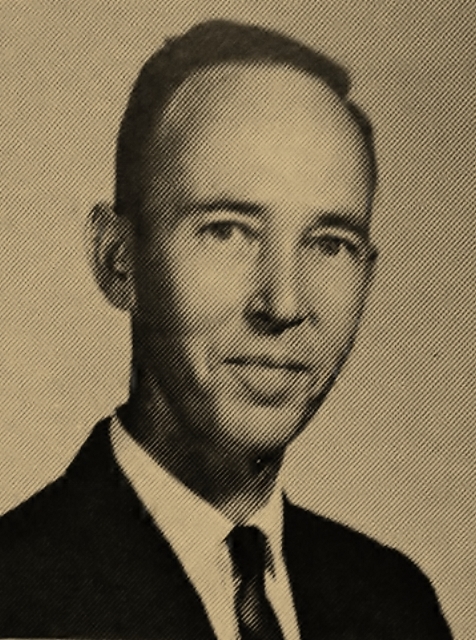 Mr. Perry Penn
Drafting
December 4, 1917 - October 25, 1999
Mr. Penn was a Lt. Col. in the USAF and served both in WWII and the Korean Conflict. He received his B.S. from Central State College and an Masters in Education from SWT State College. He taught at Lee and later at Roosevelt. He passed away in San Antonio at the age of 81.
Mr. Nicholas Perkins
Math
January 6, 1914 - September 18, 1995
Mr. Perkins, originally from Tennessee, graduated from West Point in 1936, and in 1938 he was among 114 West Point graduates who were stationed at Randolph Field. He had met his future wife Mary Frances Merry at a West Point dance while Frances was attending Vassar. Mary Frances was a San Antonio debutante and her father was an 1899 graduate of West Point. Nicholas and Frances were married in St. Mark's Episcopal Church in San Antonio in September, 1940.
In 1945 Mr. Perkins was Commander of the 94th Bomb Group and chaired the group that designed the B-52 bomber in conjunction with the Rand Group. He attended the Army War College and was subsequently Air Attaché to the US Embassy in Belgrade, Yugoslavia. He eventually reached the rank of colonel.
Col. Perkins' son Stephen says that after his father retired from the USAF, the family returned to San Antonio briefly from 1961 to 1964, and it was then that Mr. Perkins taught at Lee. The family lived in Terrell Hills near Alamo Heights. In 1964 they moved to Melbourne Beach, Florida where Col. Perkins began teaching for Rollins College in Winter Park, Florida.
Colonel Perkins and his wife had three children and three grandchildren. He passed away in Melbourne Beach, Florida on September 18, 1995. He was 81.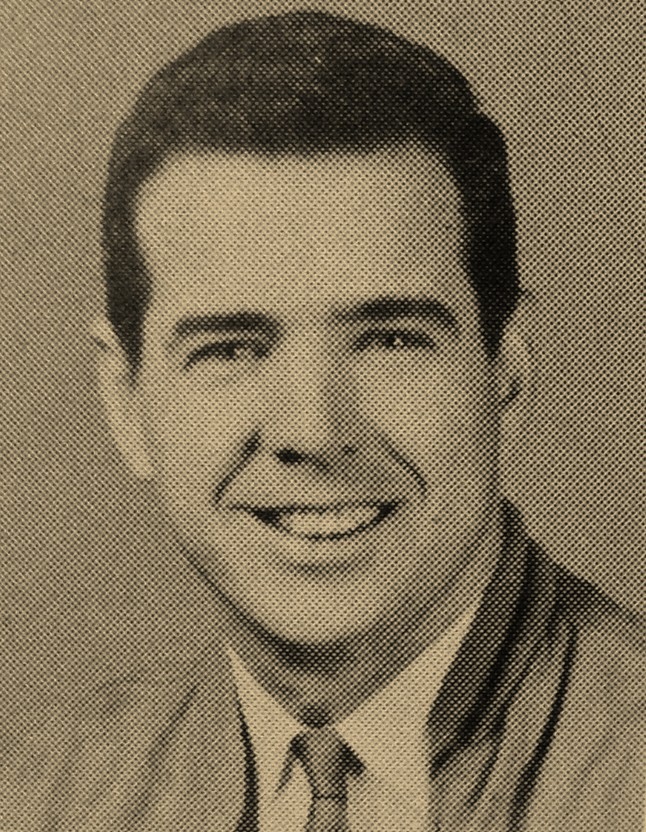 Mr. Jim Porter
Special Education
Mr. John Porter
Math and Physics

John Porter graduated from North East High School, now MacArthur, in 1956, so he is still quite young. He was born on July 7, 1938. He came to Lee in the fall of 1961 from Lubbock where he had taught in 1960-61. At Lee he generally taught advanced courses of solid and plane geometry and physics. He was chairman of the science department in 1966. Mr. Porter had a triple major of education, physics, and math from Southwest Texas and also a Masters from Trinity which he received in 1966.

Mr. Porter left Lee after 1966 and went to City Public Service Board as an engineer but then went to Southwest Research where he worked in the physics area from 1966 - 1972. Part of his job involved inspecting nuclear power plants.

In 1972 Mr. Porter and a friend began a general contracting business as well as a non-destructive testing company. In 1976 the partnership was dissolved, and he went to work for Technology Incorporated in San Antonio. Part of his job entailed working with teflon heating cables in the New Braunfels area.

In 1982 Mr. Porter commuted back and forth to Austin where he worked with a company which tested power companies until 1993. His capacity in all the jobs he held was that of director of engineering. For a period he was in New York also as a director of engineering.

In 1999 Mr. Porter says he "sort of" retired and came back to Texas. His wife at that time had an antique shop in Lockhart, so he decided to join her in that area. Now, the two of them travel about the country to various antique shows where they deal in over 1000 silver patterns. Each summer they spend several weeks in Sun Valley, Idaho; Pagosa Springs, Colorado; and the Rocky Mountain area doing antique shows. They come back in the fall for the Roundtop Show where they have had the same spot for 13 years.

Mr. Porter and his wife together have four children and 5 grandchildren. Their oldest granddaughter just received her Master's from St. Mary's University. The Porters live in Seguin.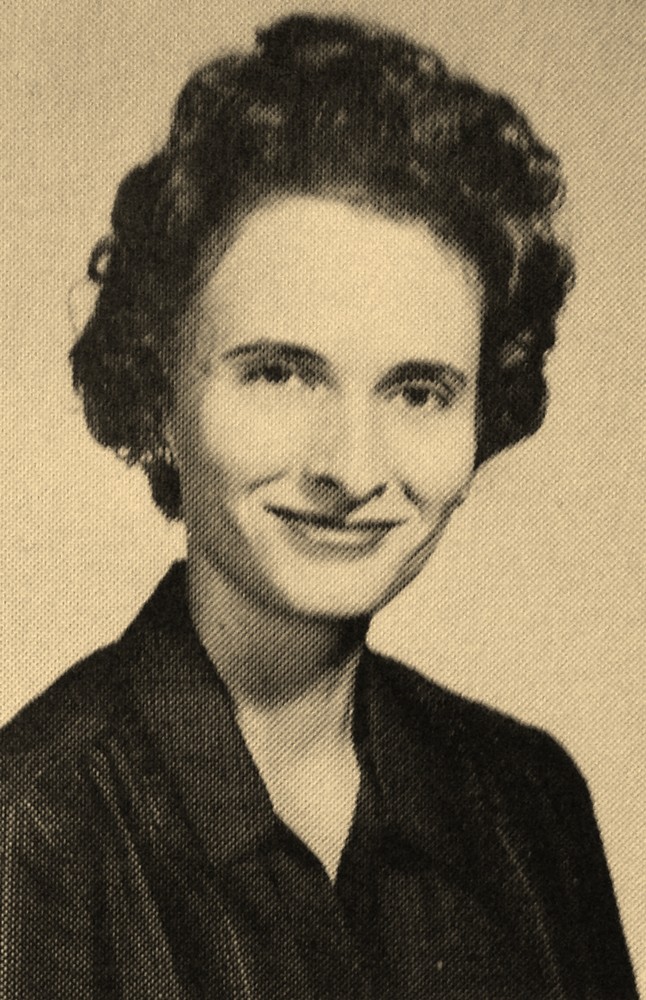 Mrs. Cathy Prater
English

Mrs. Prater currently lives in San Antonio. She graduated from the University of Texas in Austin and received her Master's from St. Mary's University. After teaching one year elsewhere, she came to Lee in 1960 and taught sophomore English that first year. Mrs. Prater then taught junior English, and during her last 14 years at Lee she taught only senior English. She retired from teaching in 1990 after 28 years at Lee.

Mrs. Prater has one daughter and four grandchildren, three of whom have graduated from college. The youngest is ten years old. Besides staying busy with the ten-year-old, Mrs. Prater still plays bridge once a month with several Lee teachers. She says that there were originally 3 tables of bridge, but the numbers are slowly decreasing because of health problems.

Mrs. Prater will be 79 on November 25th. Her address is 4119 Bunker Hill, San Antonio, TX 78230. Her phone number is 210-696-0308.
Mr. William Richards
Commercial Arts
October 24, 1912 - November, 1985
Mr. Richards was retired military. He had a B.S., B.B.A., and a Masters of Education from SWT State College. He passed away at the age of 73 in San Antonio.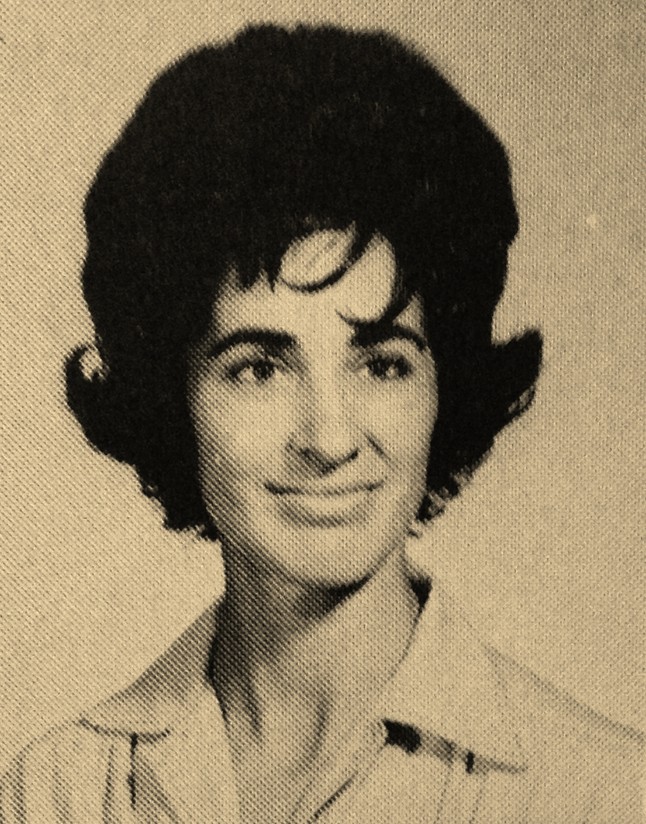 Mrs. Sue Riklin
Attendance Secretary

Suzanne (Sue) Riklin, our beautifuul attendance secretary, is currently living in Houston and will be 84 on August 27 of 2014. After Lee, Mrs. Riklin went on to manage an office business. She now has 5 grandchildren and 3 great grandchildren. Her address is 2475 Gray Falls, #1207, Houston, TX 77077. Her phone number is 713-446-4541.
Mr. Bobby Roberts
Coach
November 1, 1935 - October 30, 2006

Coach Bobby Lee Roberts passed away on October 30, 2006 after a courageous battle with cancer. He was 70 years old. Coach Roberts was born on November 1, 1935 to Lee and Bessie Roberts in Halletsville, Texas. He graduated from Miller High School in Corpus and received BS and ME degrees from Southwest Texas University. He also received a basketball scholarship, earning All Conference and All American honors his senior year. Bobby was named to the Hall of Honor at Southwest Texas in 1982. It was at Southwest Texas that he met his wife Trish, and they had just recently celebrated their 50th anniversary in July. They had three children and nine grandchildren.

Bobby taught and coached for nine years in Lockhart and at Lee. He was selected to coach the Texas High School South All-Star basketball team in 1965. He was principal at Churchill High School in San Antonio and Lockhart High School. He was also superintendent of schools in Blanco and Rockdale and was the Executive Director of Region VI Service Center in Huntsville until his retirement in 1999.

Bobby served on the State Membership Committees for TASA and TACS and was a UIL legislative committee member representing Region IV AA. He was a past state president of Instructional Television of Texas and was selected to participate in the Meadows Fellows program. He was elected to serve on the National Committee of American Association of Educational Service Agencies. Coach Roberts also belonged to various school and civic organizations and was a member of the First United Methodist Church.

Coach Roberts is buried in the Fort Sam Houston Memorial Cemetery in Huntsville, Texas.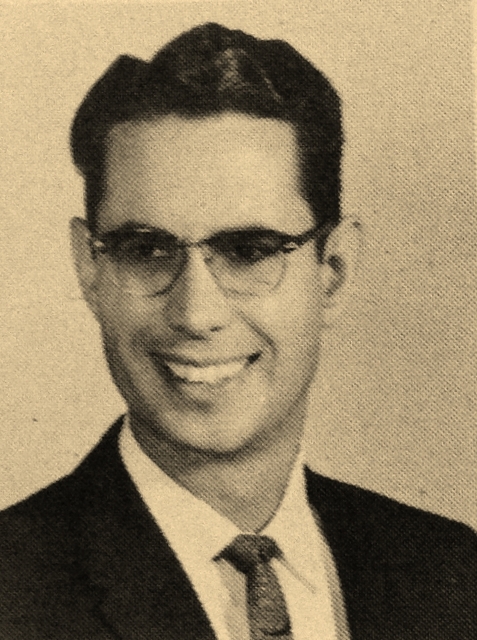 Mr. Marion Rodman
Band Director
Aug. 29, 1929, Marshall, Okla.
DIED: May 20, 2013, Wimberley
SURVIVORS: His wife, Fay Bell Huff; daughter Julie Rodman; two sons, Rodney and Rick Rodman; daughter-in-law Danna Ashby Rodman; and three grandchildren.
MILITARY: Army, 1950-1952.
Marion Rodman not only taught his high school band students how to play with skill, but instilled lifelong lessons that they've carried with them ever since.
Rodman was the first band director at Churchill High School when it opened in 1966. He enjoyed a similar distinction as Highlands High School's first band director when it opened in 1959.
That was where Julia Olene met him as a freshman.
"I was in his band 50 years ago, and there wasn't a single one of his students that wasn't affected by his example," she said. "We all respected him so much, and he was fun to be around. He was strict with us and taught us about the importance of dedication."
Rodman, 83, died of a heart attack May 20 at his home in Wimberley, where he had retired, son Rick Rodman said.
Former Highlands band members who learned of his death at their 50-year high school reunion will host a memorial celebration potluck at Mission San Juan's Slattery Hall on Saturday and are inviting any of Rodman's former students to attend.
"He was only at our school for four years, and he made that kind of impact and we never forgot him," Olene said. "He was just one of those teachers you never forget."
Rodman played in the Fourth Army Band and spent much of his 40-year teaching career in San Antonio.
After his stint at Highlands, Rodman taught at Lee High School and became the first band director at Churchill. He earned a master's degree and a doctorate in education.
He was an accomplished musician and vocalist at several Texas schools and colleges and was an intellectual who loved to read, Rick Rodman said.
"Dad especially loved being outdoors and hunting," he said. "Every Sunday, he would go to his adult Bible study class at First Baptist Church, too."
"He also loved politics and loved to discuss them, even if we didn't always agree," he said with a laugh.
"We are deeply moved by the love and support," his son said of tributes from former students. "It's a source of encouragement. People are coming out of the woodwork to express what Dad meant to them. It means a lot."

Mr. Rodman came to Lee in 1962, taking Calvin Schultz' place as band director. Previous to that he had taught at Paige Junior High and then Highlands High School. He was at Lee for four years and then became band director at Churchill when it opened, serving there from the spring of 1966 through 1971. After teaching at Churchill for 5 years, Mr. Rodman went to Weyland Baptist College, satisfying his residency there, before obtaining his Doctorate from Texas Tech University in Lubbock. Prior to coming to Lee, he had gone to college at Sam Houston University and Hardin Simmons and had obtained his Master's degree from Southwest State in San Marcos. Mr. Rodman formally retired in 1989 but continued to teach privately in Hayes County for 13 years.

The military originally brought Mr. Rodman to San Antonio. In 1951 he enlisted in the army along with two friends from his hometown. When his captain discovered that he could sing, play an instrument, and also type 80 words a minute, he was taken out of the "pipeline" which would have led him to serving in Korea. At that time he also auditioned for the 4th Army Band. He was sent to Ft. Bliss in El Paso for basic training and was a part of the 591st MP Company where he patroled the streets of El Paso. He then came back to Ft. Sam just in time for the Fiesta Parade in 1951 in which the 4th Army Band took part. He was discharged from the army in January, 1953 and immediately went to work at Paige Junior High in San Antonio. On an interesting note, Nelson Wolff, the former mayor of San Antonio, was one of his general music students.

Mr. Rodman had his roots in northern Oklahoma in the famous Cherokee Strip. When the land opened up for settlement in the 1890's, his maternal grandfather road on a mule to claim his land and consequently became very wealthy by taking shorthorn cattle and breeding them into beef cattle. His maternal grandmother was a 1st cousin to Kit Carson, so Mr. Rodman comes from hardy stock. His family were wheat farmers in northern Oklahoma but left the area in 1934 when Mr. Rodman was 5 years old.

Before his death Mr. Rodman resided in Wimberley, Texas. He enjoyed hunting and fishing, and a former student from Lee allowed him to hunt on his ranch near Blanco. Mr. Rodman and his wife had three children.
Mr. I. E. Ruby
History

March 17, 1915 - January 6, 1999

Mr. Ruby, a Lt. Col, passed away in Boerne, TX on January 6, 1999. Mr. Ruby served in the USAF both in WWII in Europe and North Africa and later Korea. His wife Iona Jean died in 2005. They had one son Michael and several grandchildren.
Mr. Roy Sawyer
Coach

December 12, 1934 - August 7, 2010

Roy Leslie Sawyer was born on December 12, 1934 in Corsicana, Texas to Dave and Essie Sawyer. He graduated from Itasca High School in 1953, where he was a 4 year letterman in football, basketball, baseball and track. He attended Tarleton State Junior College on a football scholarship, leading the Plowboys to a championship title. He then attended Trinity University in San Antonio, again on a football scholarship, where he met his college sweetheart, Dorothy Bellos. In January of 1958, he graduated from Trinity and went on to serve in the U.S. Army, where he was stationed at Fort Knox, Kentucky, and retired as a Captain. Upon his return, he married Dorothy on September 13, 1958.
Roy taught and coached at Fox Tech High School and Olmos Elementary, before beginning a 22 year career at Robert E. Lee High School. His first year at Lee, he coached all of the freshman sport teams, where the football team went undefeated, untied and un-scored upon. The basketball team won all except one game, and the track team won the district championship. Over the next several years, Roy served as assistant coach through several momentous occasions including the 1963 Lee vs. Brackenridge regional game dubbed, "The Greatest High School Football Game Ever Played," the 1965 state finalist team and 1969 state finalist team, who the week before the finals, played and won the first high school football game ever played in the Astrodome. He continued as assistant coach through the 1971 state championship title, in the first high school football game ever played in Texas Stadium and the 1972 state semi-finalist team. Roy also coached the THSCA South All-Star Teams in both 1967 and 1973. In 1971 Roy received a Master of Education in Administration from Our Lady of the Lake University. In 1974 Roy was named Head Football Coach and Athletic Coordinator at Lee. In 1975 and 1977 he led the Vols to the state semi-finals, and in 1975 he was named the Express- News Coach of the Year. The 1979 team was the last Lee team to win the district championship.

In 1983, Roy was named Coordinator of Blossom Athletic Center in the North East Independent School District, and eventually assumed the duties of Elementary P.E. Coordinator and Assistant Athletic Director. Roy was also an active member of St. Sophia Greek Orthodox Church, where he enjoyed cooking souvlaki at the annual Greek FUNstival. He retired in 1997 after a 40 year career in education. Through the years, Roy enjoyed hunting and fishing with his friends. Roy spent his retirement with his wife of 52 years, Dorothy, and enjoyed spending time with his children and grandchildren. On Saturday, August 7, 2010, Roy passed away peacefully due to complications from Parkinson's disease. Roy was preceded in death by his parents and 4 siblings. He is survived by his wife Dorothy; daughters, and sons-in-law, Cynthia and Greg Asvestas, and Patricia and Stacy Economides; five grandchildren, Stephanie and Matthew Asvestas and Anastasia, Nicolette and Alexandra Economides; a brother, Don L. Sawyer; and numerous nieces and nephews.

Miss Jeanette Schaleben
History
Miss Schaleben was born September 11, 1939 in Hidalgo County, Texas. She married in 1966 and moved back to the Valley area of Texas. She and her husband had three daughters, two of whom live in Austin and one in Dallas. Mrs. Cook is now 74, single, a grandmother of three, and lives in Austin.
Mr. Reid Sellers
Choir

August 13, 1933 - June 9, 2015
Reid Jerman Sellers passed peacefully surrounded by family from this life into the arms of his Lord and Savior, Jesus Christ, entering his Heavenly home, Tuesday, June 9, 2015, after a year long battle following his second open heart surgery at 81 years of age. Reid was born in Greenville, North Carolina, to Robert Earl and Annie Andrews Sellers. In addition to his parents, he was proceeded in death by his brothers Haywood of Naples, Florida, and Ralph of Houston, Texas. Reid is loved and is already greatly missed by the Love of his Life, Brenda Smith, his wife of 52 years; daughter, sons, and their spouses, Heather (John Janes, III), Earl (Annette Emmons) and Kelly (Renelle Forist); niece, Regina Mantooth; six grandchildren, Sarah, Robby, Morgan, John "Christian", Chloe and Austin; his most beloved sister, Sarah (Marvin Baldree, Jr.) of Ayden, North Carolina; sister-in-laws Anne Sellers of Naples, Florida, Carol Sellers of Tomball, Texas, Patricia Smith and Julia Murders, both of San Antonio; dedicated Father-in-law, Barney E. Smith; and numerous nieces and nephews.

After moving to San Antonio in 1948, Reid graduated in the first class at the current location of Alamo Heights High School in 1951, then graduated from Texas State University for his undergraduate degree, St. Mary's University for his Master's and also spent two years in the Navy (Four
in the Reserves). He enjoyed participating in many choirs and musicals throughout his high school and college years and organized and directed the Drum and Bugle Corp in the Navy. Beginning his lifelong career at Robert E. Lee (Junior/Senior) High School, opening the school in 1958 and retiring in 2000. He began as Choral Teacher and Assistant Band Director (co-writing the school song with Cal Shultz), then moving on to Counselor and administrator, as Assistant Principal, totaling 42
amazing years. When he wasn't at school or attending their extra curricular activities- his favorite being football, especially being "Coach of the Week" on the sidelines, singing was his lifelong
passion. Fulfilling this as a church soloist, professional soloist and professionally directing the choirs at Alamo Heights, St. Mathews United Methodist churches and Bible Study Fellowship dedication
choirs, quartet member year around for Friday night services at Temple Beth-El- especially loving the High Holy Days music, being in the MasterSingers- especially loving Opera Weeks, San Antonio Chordsmen, singing as a family; "Sellers of Song", and with SonShine Ministries, with the First Baptist Church of San Antonio choir, Northeast Baptist Church choir, and singing and traveling with the SonShine Singers and the Singing Men of South Texas. His many interests over the years included loving Hawaii, volunteering at 4th Street Cafe, time with his Circle of Six, being a driver's education instructor, fishing at the coast, boating, R.V. travel, tennis, supporting the Children's Chorus of San Antonio, being a 42nd degree Mason, and being a state of the art electronics and MAC enthusiast.

But above all, Reid was a loving husband, father, brother, "Granddaddy", uncle and friend to whomever he met. His love for his Lord and Example, Jesus, as well as his driven purpose to emulate the ideal of the earthly father that he lost at age seven, matured the fiber that he was assembled with from birth. He gave all that he was, 100% of the time. We pray that the glory he brought to God be his legacy, and that our generations follow in his footsteps."The just man walketh in his integrity ...blessed are his children after him." Proverbs 20:7.

The family would like to express gratitude to his Doctors and Nurses everywhere!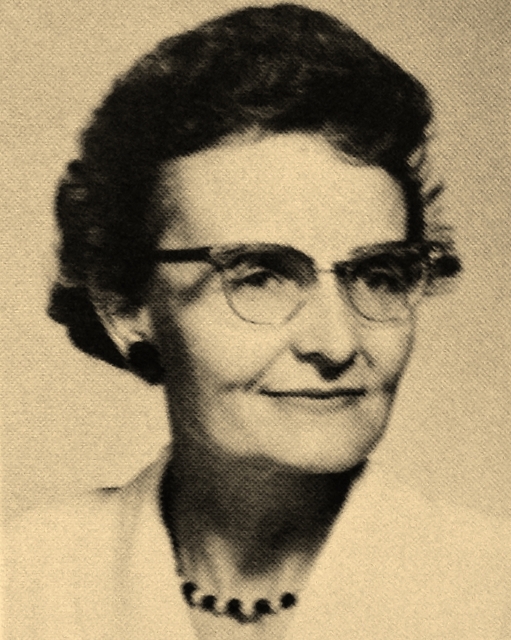 Mrs. Faye Sigman
Commercial Arts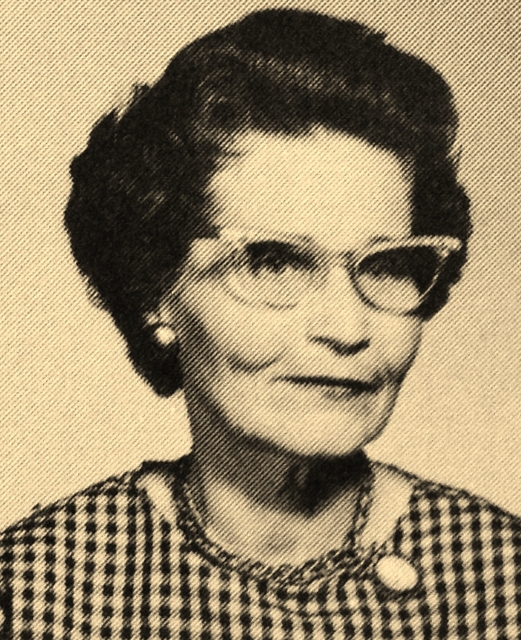 Mrs. Gladys Sirdevan
English

August 5, 1905 - December 24, 1987

Mrs. Sirdevan was born Aug. 5, 1905 and passed away on Dec. 24, 1987 in San Antonio. She is buried at Ft. Sam Houston along with her husband James Sirdevan who was a captain in the US Army during WWII. He passed away on Mar. 11, 1988, less than 3 months after his wife.
Miss Janet Stanberry
History
Miss Florence Stavorowski (Sherman)
Commercial Arts
Miss Stavorowski's parents Samuel and Chaja Stavorowski were Polish immigrants who settled in Mexico around 1930 prior to coming to the United States. Their port of entry was Laredo, Texas so that is where the family permanently settled. Miss Stavorowksi was born there on January 16, 1943. Since her parents had lived for many years in Mexico, she grew up in a household which spoke English, Spanish, and Yiddish.
After graduating from Martin High School in Laredo, Miss Stavorowksi went to the University of Texas where she received a degree in Business, a Bachelor of Education, and a degree in Secretarial Studies. She taught typing at Lee for two years in the business department and then went to California where she taught business for 2 1/2 years in a finishing school. Upon returning to Texas, she was married in 1968.
Miss Stavorowski, now Mrs. Sherman, lives in the Houston area. She and her husband have three grown children. One is Howard Sherman, a prominent Houston contemporary artist. One daughter is a teacher and the other is a writer. Miss Stavorowski is a substitute teacher in the Houston Independent School District.
Mrs. Hortense Talley
Math
October 22, 1908 - April 6, 1980
Miss Ruth Tatum
Science

June 28, 1928 - January 3, 2001

Ruth E. Tatum, science teacher and dept. head, was born June 28, 1928 and passed away in Bandera, Texas on Jan. 3, 2001. She was educated at Southern Louisiana Institute and Texas Tech and had a BS and MS in science. She taught at NE Jr. High and then came to Lee when it opened in 1958.
Miss Martha Taylor
Foreign Language
Miss Joan Terry
English
Miss Challie Thornton
Physical Education

Miss Thornton is currently living in Kerrville, Texas. She is 85 and doing well except she says she has a few aches and pains. Miss Thornton began teaching at Lee when it opened in 1958 and taught there until she retired in 1987. She still maintains contact with some of the teachers she knew and gets together each month for lunch. Among those in the lunch group is Barbara Wofford, homemaking teacher. Up until recently, Miss Thornton said that she and about ten friends kept up with the UT ladies basketball team and went to all the home games.

Miss Thornton attended college in Nashville at Belmont College and then finished at the University of Iowa and returned to Belmont College to teach four years. She received her Master's from UT in Austin and began her teaching career in Texas at W. B. Ray High School in Corpus where she taught two years. It was there she became acquainted with Joe Woods, a future superintendent of NEISD, as he was a referee in various sports. By the time she decided to move to San Antonio and apply for a teaching position in North East, Mr. Woods was associate superintendent, so she said she had no difficulty in getting hired. Miss Thornton taught at NE High School for one year before transferring to Lee.

Miss Thornton said she lived for awhile between Bandera and Medina on the river but moved to Kerrville to be near the doctors, some life-long friends, and her brother and his family. Her longtime friend Ruth Tatum, who also taught at Lee, passed away in 2001.
Mrs. Myra Tidmore
Commercial Arts
Mr. Robert Tipton (no picture)
Miss La Nelle Uselton (Lawrence)
Homemaking
November 25, 1941 - April 8, 2006
LaNelle Uselton Lawrence was born on November 25, 1941, in Austin TX and passed peacefully from this earth from there on April 8, 2006. She was born in Austin to Marguerite and C.T. Uselton. LaNelle graduated from Austin High School, and then from Texas State University in San Marcos. She received her Masters Degree in Education from the University of Texas, with certification to teach the blind and visually impaired. She taught school in San Antonio and Houston. She met and married E.M. Lawrence, Jr. in 1969 and returned to Austin where she taught school many years, ultimately retiring from the Del Valle ISD. At that time, she joined E.M. at Affordable Car Rentals as a partner until the time of her death. LaNelle enjoyed life and had many wonderful friends. She loved to travel and entertain friends and family at her home. She was an active volunteer in Casa (Court Appointed Special Advocate) for many years. LaNelle was a member of Riverbend Church. LaNelle is survived by her loving husband of 37 years, E.M.; and her two children, Greg and Joy, both of Austin; her sister, Sharon Munke of San Antonio; and many nieces and nephews.
Mr. Simon Utay
Foreign Language
July 2, 1905 - February 8, 2000
The Utay family was originally from Russia near the town of Kiev and were of the Jewish faith. Mr. Utay's father Wolfe came to the United States in 1881, first settling in St. Louis. There he and his wife had five children before later moving to Dallas, Texas. Five more children were born there with Simon Utay being the youngest. His father Wolfe was a jeweler in Dallas for many years.
Simon graduated from Forest Avenue High School in Dallas in January, 1924. He received a degree in textile engineering from Texas A&M in 1928 and for many years was in the textile and bottling business before entering the teaching profession.
Mr. Utah passed away at the age of 94 in San Antonio.
Mrs. Thelma Vollmer
Special Education
September 25, 1913 - January 3, 1986

Mrs. Vollmer was born in Conway, Texas in the Texas Panhandle and grew up on a farm where her parents raised wheat and cattle. She received her Master's in Special Education from Southwest Texas at San Marcos.

Her first husband was in the military, so she lived in various places. She married her second husband in 1958 and inherited two step-children who became the light of her life as she never had any children of her own. The family lived behind Lee on Green Meadows, and both children graduated from Lee, one in 1966 and the other in 1968. Her step-daughter Bobbie has two children whom Mrs. Vollmer loved dearly.

Mrs. Vollmer died of a heart attack on January 3, 1986. She was 72.
Miss Beth Walker
Physical Education
Mr. Charles Walker
Drama

Mr. Walker will be 85 on June 17th. Mr. Walker loves to work in the yard and received "Yard of the Month" last year. He and his wife Jo Ann are also very active in their church where he is a greeter. After leaving Lee, Mr. Walker was principal at South San Elementary for 26 years and then worked for Centex for 7 years before retiring in 1995. They have two children, a son Gregory and a daughter Debbie, and they have one granddaughter named Aransas, age 16, who goes to MAC and is an accomplished violinist. The Walkers have been married 60 years.
Mrs. Janet Westheimer
English
Mrs. Westheimer was born in Robstown, Texas on October 19, 1940. She graduated from the University of Texas with a degree in English and Education. She was married in 1963 and began teaching at Lee for two years, beginning in the fall of 1963 and ending in the spring of 1965.
Mrs. Westheimer, who lives in San Antonio, stayed home to raise her three children but was always active in community affairs. She enjoys travel, working out, reading, and especially spending time with her eight grandchildren.
Mr. Charles Whittler
Math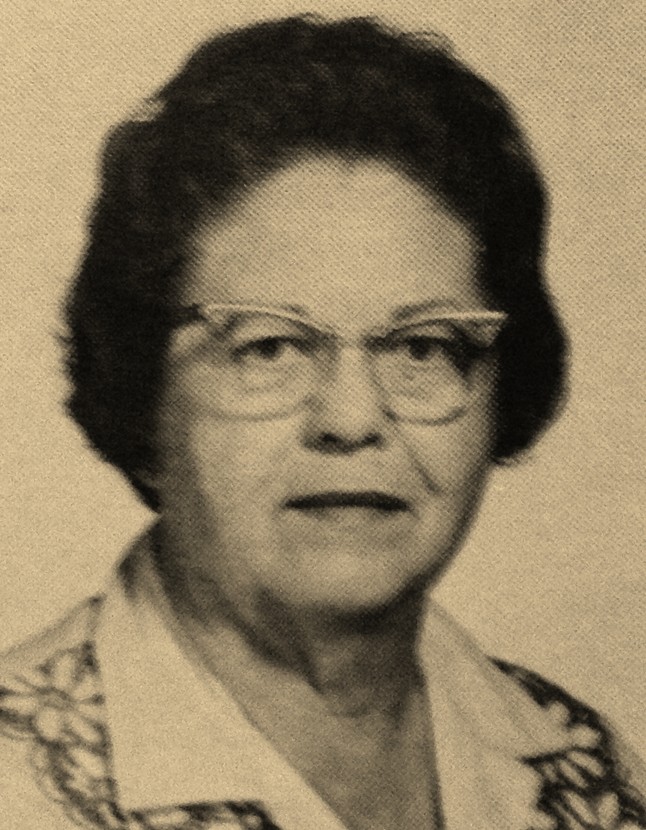 Mrs. Ione Williams
English

February 22, 1909 - January, 1973

Mrs. Williams was born Feb. 22, 1909 and passed away in January, 1973 in San Antonio. As an interesting side note, Mrs. Williams and her family lived in Beaumont before coming to Lee. Her son was best friends while growing up with "The Big Bopper" who died in the plane crash with Buddy Holly. She was teaching at Lee when she heard about Buddy on February 3, 1959.

Mrs. Eleanor Wilson
History
Miss Barbara Wofford
Homemaking

Miss Barbara Wofford, homemaking teacher, still lives in San Antonio. She retired in 1992 from the NE Central Office where she was the district consultant for Home Economics. Miss Wofford taught at Lee until the late 60's, teaching part time and consulting part time before becoming a full time consultant. She said she is saddened that many of the vocational classes such as homemaking have been removed from the curriculum as classes like homemaking provide students with important skills that can be used in life.
When asked what she did now, she replied, "Everything, but I try not to volunteer so much any more." Miss Wofford belongs to two quilting guilds and is particularly interested in quilted jackets. She has also been the treasurer for her Homeowners Association. Miss Wofford loves to travel but say she always goes to England as she has friends there. She generally travels to England every summer and stays at a B&B in central England close to the location of the old Wedgewood Pottery factory.
Mrs. Wofford has lunch once a month with several former Lee teachers including Challie Thornton, who was a physical education teacher at Lee. Her address is 1551 Yosemite Oaks, San Antonio, TX 78213-1637. Her phone number is 210-525-8410.