Class Of 1972
Shawnee Mission Northwest

High School

~ Shawnee, Kansas
In Memory
Robert Daw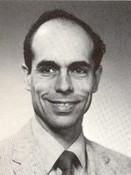 Robert Harold Daw
April 13, 1937 ~ October 24, 2004
Daw, Robert H., died October 24, 2004. Born in Winona, Kansas, he was an Art and Music Librarian. He began his career as a music teacher in Dodge City, Dighton and Shawnee Mission, Kansas, and his library career in Topeka, Kansas, 1972, continuing in Omaha, Nebraska, until moving to Ft. Lauderdale in 1994, where he worked in the Broward County library system, until his recent retirement. Mr. Daw held many degrees in music and library science. He is survived by his wife; Beverly, children; Brian W. (Lynn) Daw of Monmouth, IL and Barbara J. Moline/Adams and her husband, Colin A. Adams of Royal Palm Beach, Florida, 2 grandchildren; Nathan Daw and Courtney Moline, and his mother Helen M. Daw of Hutchinson, Kansas. Services will be Wednesday, October 27, at 1:00pm from Fred Hunters Funeral Home, 718 S. Federal Highway. Visitation will be Wednesday 12 noon until time of services. Fred Hunters Memorial Services 718 S. Federal Highway 954-989-1550.
To Plant Memorial Trees in memory, please visit our Sympathy Store.
Published in Sun-Sentinel on Oct. 26, 2004.
If you knew Robert and would like to place a kind memory here, please follow the instructions on this page (click on "post comment").


Mac McDaniel and Jan Klein, Site Administrators
https://www.legacy.com/obituaries/sunsentinel/obituary.aspx?n=robert-h-daw&pid=2752819