Class Of 1972
Shawnee Mission Northwest

High School

~ Shawnee, Kansas
In Memory
Tim Myrick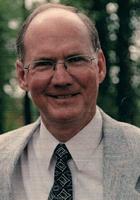 Timothy Eugene Myrick
October 24, 1954 ~ December 14, 2014
Timothy E. Myrick died peacefully at the age of 60 on Sunday, Dec. 14, 2014, at his home in Powell after a year-and-a-half battle with cancer. Tim was the son of Gene and Glenna (Clodfelter) Myrick.

Tim grew up in Kansas and moved to Tennessee in 1977 after earning a bachelor's degree in nuclear engineering from Kansas State University and a master's degree in environmental engineering from the University of Florida. He and Teresa were married in 1975.

An engineer who had worked at Oak Ridge National Laboratory and SAIC, he was well known in Oak Ridge as an award-winning, model community leader and volunteer. Many also called him a teacher and friend.

He and his wife Teresa were honored on April 29, 2014, for their "lifetime of commitment to the people of Oak Ridge and Anderson County." He was recognized as the only volunteer who helped construct each of the 59 homes built by Habitat for Humanity of Anderson County since its inception in 1992.

At the time, a successful fundraising campaign had been launched to support the construction of a 59th house in Myricks' honor. The new Honorary Myrick Build is located in Heiskell, not far from the Myricks' farm, where they had grown Christmas trees that they donated to the American Cancer Society for fundraising and to the Holiday Bureau.

A few weeks ago, Tim received the Bill Wilcox Bow Tie award from Aid to Distressed Families of Appalachian Counties to honor him as "community leader, volunteer, teacher, husband, and friend." Tim was on the ADFAC board for 12 years and served as its president for 10. He also helped craft a long-range plan for ADFAC and provided matching funds for a house build.

He was bestowed the Anderson County Interagency Coalition's Starfish Award in 2013. He received the Rotary Club of Oak Ridge's prestigious Vocational Service Award in 2008 and the Muddy Boot Award in 2007 from the East Tennessee Economic Council.

His working career included 10 years of consulting with SAIC and 17 years at ORNL. At the laboratory, he worked on environmental restoration and nuclear waste issues and oversaw the design and construction of the first phase of the new ORNL research campus as part of UT-Battelle's modernization plan for the largest energy research laboratory in the nation.

As an ORNL employee, he helped plan and oversee the renovations at Oak Ridge High School. He retired from ORNL in 2004 at the age of 50 to devote himself full-time to volunteer work.

Tim went on eight emergency response missions as a member of the Red Cross Disaster Relief team. He also raised and contributed funds to buy a Red Cross Emergency Response Vehicle.

He funded the rehabilitation and worked on construction of the Manly Hospitality House at Methodist Medical Center of Oak Ridge. He taught the Advanced Placement Environmental Science class at ORHS for seven years as a volunteer. He worked with Living Waters for the World, serving on its board and as its president for six years, as well as traveling to Belize and Haiti to install clean water systems. He also helped with similar projects in Appalachian communities. He was a Big Brother to Sam Kershaw for 14 years and performed his wedding in 2013. He served on the Oak Ridge Site Specific Advisory Board. He was a legacy member of the National Parks Conservation Association, and he and Teresa visited all the national parks.

As a member of the Tennessee Chapter of the Nature Conservancy, he worked with a group to protect crucial habitats for people and nature across Tennessee, conserving more than 280,000 acres. He also served on the state board.

As a Sunday school teacher of senior-high students for 25 years at First Presbyterian Church of Oak Ridge, he touched many lives as a mentor and role model. He also was a mentor for a Boy Scout troop.

As a member of the steering committee, he was co-chair for the design and construction of the new Oak Ridge Unitarian Universalist Church building, which was dedicated in October 2014.

Tim was preceded in death by his mother, Glenna Myrick.

He is survived by his beloved wife and soulmate, Teresa. He is also survived by his father Gene, brothers Steve (Lori); Jeff, and a sister; Julie (Bill) and nieces and nephews.

Friends are invited to a memorial service at the new Oak Ridge Unitarian Universalist Church, 809 Oak Ridge Turnpike, at 1 p.m. on Saturday, Dec. 20. The service will be followed by a reception at First Presbyterian Church, 1051 Oak Ridge Turnpike.

If you knew Tim and would like to place a kind memory here, please follow the instructions on this page (click on "post comment").


Mac McDaniel and Jan Klein, Site Administrators
https://oakridgetoday.com/2014/12/17/obituary-timothy-e-myrick/