Class Of 1972
Shawnee Mission Northwest

High School

~ Shawnee, Kansas
In Memory
Edna Auten (Rhodes)

Edna Delene Auten Rhodes
December 27, 1953 ~ September 2, 2010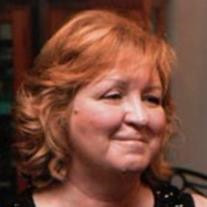 Edna Rhodes (Auten), 56, passed away on September 2, 2010 at Shawnee Mission Medical Center. Edna was the devoted wife of David Allen Rhodes, loving mother of Melissa Hausback, Richard Luce and Anna Good and grandmother of 10 grandchildren. Edna also had three stepchildren, Dustin, Jacob and Lucas Rhodes. Edna will be deeply missed by her parents; Donald and Edna Auten, brothers; John, Richard and Micheal Auten and sisters; Tish Auten and Karen Brooks, many friends and co-workers at Gear For Sports, Inc. Those who knew Edna will remember her devotion to her grandchildren, love for cooking and spunky outlook on life. The family requests memorial contributions be made to: Wayside Waifs, 3901 Martha Truman Road, Kansas City, MO, 64137, (816) 761-8151. A visitation will be held at Maple Hill Funeral Home in KCK on September 7, 2010 at 11:00am, with the funeral to follow at 1:00pm with the graveside service at Maple Hill Cemetery. Edna: We love you.
To send flowers or a memorial gift to the family of Mrs Edna Delene Rhodes please visit our Sympathy Store.
If you knew Edna and would like to place a kind memory here, please follow the instructions on this page (click on "post comment").


Mac McDaniel and Jan Klein, Site Administrators
https://www.maplehillfuneralhome.com/obituaries/Edna-Rhodes/#!/Obituary