Class Of 1972
Shawnee Mission Northwest

High School

~ Shawnee, Kansas
In Memory
Peter White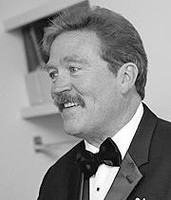 August 4, 1954 ~ March 12, 2017
Peter Edwin White, 62, passed away on Sunday March 12, 2017. Pete was born in Jackson County, Missouri in 1954 to Edwin and Mildred White. He grew up in Shawnee Mission, Kansas, and graduated from Shawnee Mission Northwest High School where he was captain of the swim team. In 1977, he graduated from the University of Kansas with a Bachelor of Science in Psychology.

He was a loving husband, father, grandfather, uncle and son-in-law. He is survived by his wife of 33 years Kathleen White, their children: James (Elizabeth) White and Jessica (Craig) Odell; by his grandchildren: Sophia and Charlotte Odell, in-laws James & Diana Blizzard, his sister Cathy White, and several cousins, and sister/ brothers-in law, nieces and nephews. His mother and father, beloved grandparents, and brother-in law Greg, preceded him in death.

Pete was a believer, a master scuba diver and sailor, a philosopher with a brilliant intellect, a youth basketball coach, and a trusted friend to many. He had a special gift with animals and love for young children who were always drawn to him. He was widely known for his compassionate and kind heart.

His 35-year career as a construction project manager and estimator included owning his own business on the central coast of California where he raised his family. He was president of the San Luis Obispo Contractor's Association and active in the organization in various roles for over 15 years.

A memorial service will be held at 3:00 p.m. on Friday, April 7th at Forestgate Presbyterian Church, 970 North Gate Blvd, Colorado Springs, CO 80921, with a reception immediately following the service.

In lieu of flowers, please donate to the Colorado Springs Rescue Mission.

Published in The Gazette on Apr. 5, 2017
If you knew Peter and would like to place a kind memory here, please follow the instructions on this page (click on "post comment").


Mac McDaniel and Jan Klein, Site Administrators
http://www.legacy.com/obituaries/gazette/obituary.aspx?pid=184897280