Class Of 1972
Shawnee Mission Northwest

High School

~ Shawnee, Kansas
In Memory
Kathryn Drury (Wycoff)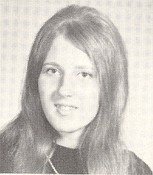 Kathryn Diana Drury Wycoff
November 11, 1954 ~ February 13, 2018
Kathryn "Kaye" Diana Wycoff, age 63, of rural Paola, died unexpectedly Tuesday, February 13, 2018.
Kaye was born November 11, 1954, at Kansas City, Kansas. She was the daughter of Arthur James and Francis (Paulsen) Drury. She grew up in Merriam, Kansas, and graduated from Shawnee Mission Northwest, with the class of 1972.
Kaye and Curtis Lee Wycoff were united in marriage on July 16, 2005, at Osawatomie, Kansas. They made their home in rural Paola. Together, with their combined families, they enjoyed time spent with their three daughters, seven grandchildren, and one great grandson.
Kaye worked as a billing clerk for Preferred Pediatrics, in Olathe, Kansas, for many years.
Kaye enjoyed feeding and watching the birds, sitting in her chair, on the front porch. She loved to cook and bake. She enjoyed having family dinners.
Camping was another favorite pastime of hers, especially at Truman Lake. She gave their camper the nickname of "Chuck Wagon." Branson, Florida, and South Dakota were some of her recent traveling experiences.
Her pets included: three cats, a dog, two birds, a goat and chickens and they provided her much entertainment.
She was preceded in death by: her parents; brother, Arthur "A.J." Drury; and sister, Judy McCowan.
She is survived by: her husband, Curtis, of the home; daughter, Annalesha Green (Keith), of Kansas City, Kansas; step-daughters, Amanda Wilson (Chris), of Osawatomie, and Jenny Yeager (Tracy), of Paola; brother, Ted Drury, of Merriam, Kansas; three grandchildren, Keith "Keiffer" Jr., Hannah and Kourtney Green; four step-grandchildren, Sara and Rachel Wilson, Kati Wycoff and Jacy Yeager; one great-grandson, Christian Wycoff; and many other relatives and friends.
Visitation: 6 to 8 p.m. Friday, February 16, 2018, at Dengel & Son Mortuary, 305 N. Pearl St., Paola, KS.
Funeral service: 2 p.m. Saturday, February 17, 2018, at the chapel. Burial will be in New Lancaster Cemetery.
In lieu of flowers, memorial donations may be made to the family, to help with funeral expenses. As published in the Miami County Republic.
If you knew Kaye and would like to place a kind memory here, please follow the instructions on this page (click on "post comment").

Mac McDaniel and Jan Klein, Site Administrators
https://www.republic-online.com/obituaries/wycoff-kathryn-d/article_9ae5de3e-5050-5e27-9243-5ee6fedc0ad1.html