Class Of 1972
Shawnee Mission Northwest

High School

~ Shawnee, Kansas
In Memory
Bruce Larkins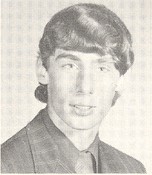 Bruce Arlen Larkins
November 29, 1954 ~ September 25, 2016
Bruce Arlen Larkins, 61, of Olathe, KS, passed away at the Kansas City Hospice House, Kansas City, MO., on 9/25/2016 from cancer. Bruce was born in Belleville, KS, on Nov. 29th , 1954, He was preceded in death by his parents, Garreth A. Larkins, Republic, KS. died 1980 and Ruth D. (Dalke) Seitz, Assaria, KS. died 1994. Bruce graduated from Shawnee Mission Northwest High School in 1972. He was married three times. Kenna (Parker) Routh, divorced. They had one child from this union. Patty Carson, died 1996 and Debbie Atchison, divorced. He was owner/operator of Bruce Larkins Realty where he sold residential real estate for many years in the Kansas City area. Bruce was a perpetual life member of Old Mission Lodge #153. He was three times Past Master, 11 years as Secretary, and achieved several awards for service and ritual. He is survived by daughter Amy N. Larkins, O'Fallon, MO. Sister, Kelli L. Larkins (Myrrie), Olathe, KS; Two brothers, Brent A. Larkins (Michelle), Republic, KS; and Brad L. Larkins (Ginna), Olathe, KS; Two nieces, Nicole D. Larkins, Wichita, KS; and Carrie L. Ismert (Michael), Olathe, KS; Two nephews, Nathan F. Larkins (Tiffany), Belleville, KS; and Joel B. Larkins, Manhattan, KS; One Great Nephew, Barrett A. Ismert, Olathe, KS. A service will be held at 11:30 AM on Saturday October 8th , 2016 at the Old Mission Lodge #153, 5201 W. 75Th Street, Prairie Village, KS. 66208. In lieu of flowers, memorial donations can be made to the Old Mission Post Founders Fund.
Cremation Center of Kansas City
http://www.cremationcenterkc.com/bruce-arlen-larkins/
Published in Kansas City Star on Oct. 2, 2016
If you knew Bruce and would like to place a kind memory here, please follow the instructions on this page (click on "post comment").


Mac McDaniel and Jan Klein, Site Administrators