Class Of 1972
Shawnee Mission Northwest

High School

~ Shawnee, Kansas
In Memory
Myrna Louise Jones (Stringer)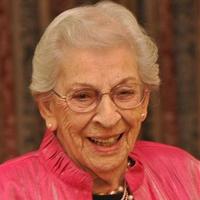 Myrna Louise Jones Stringer
November 20, 1924 ~ November 16, 2021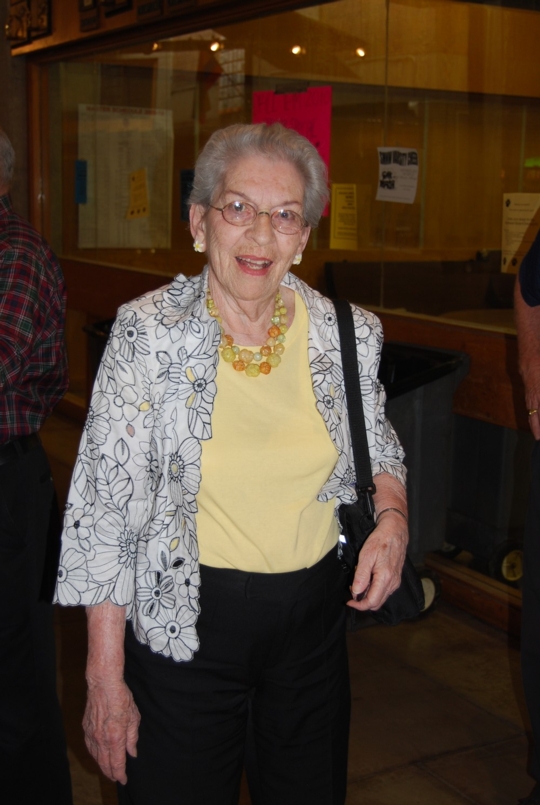 Photo from the 41st Faculty Reunion
Myrna Louise Stringer went to heaven on November 16th, 2021, just 4 days before her 97th birthday on November 20th. Myrna suffered a stroke on November 4th. She was born in Marysville, Kansas, the 2nd of three girls to Vivian Lucy Jones and Roy Mason Jones in 1924. Her sisters, Lora Taylor and Wanda Barkley predeceased her.
Myrna was a singer her whole life. She sang with the Warren Durrett band In the 40's when she learned one evening Dwight Eisenhower was in the audience. She walked up and asked him his favorite song and sang it for him. She sang in various chorale groups and church choirs her whole life.
In 1948 she married William Chapman Stringer, a guy she thought was too stuck up when she first met him. Bill died of Alzheimer's in 1998 after 50 years of marriage. They built a house in Olathe on 20 acres where she could see the deer coming to the pond from her window as she watched the sunset.
When she was still out mowing so much at 80 years old, she decided it was time to move to an apartment where other people took care of things like that. She lived independently in that Lakeview Village apartment until Dec. of last year.
Myrna was always an activist, standing up and supporting the causes she believed in strongly. She was a leader. She was a room mother, scout leader of both boy and girl scouts, PTA president, and member of the Shawnee Mission school board for several years before being elected president of the school board for 4 years. She actually was the one to hand the diploma to her youngest son.
In 1994 she was awarded the Milton E Erickson citizen of the year award. In recognition of exceptional volunteer leadership and personal contribution to human services.
After moving to Olathe from Shawnee, she became a member of the Olathe planning commission. She often would drive to the Topeka Capitol to be informed and let her voice be heard on issues including her leadership in the League of Women voters.
Even in her 90's when she lived at Lakeview Village, she led a campaign for the dining room to get rid of styrofoam containers and use more eco-friendly packaging.
Myrna leaves behind 3 children. Cheryl D. Singers, husband Rick, Wm. Randy Stringer and wife Barb, Tim K. Stringer and wife Rochelle. Ten grandchildren, Seventeen Great grandchildren and one Great great grand baby. Also many loving nieces and nephews.
When Jesus came to get her, He took her breath away and she had to go because choir practice was about to start.
A Celebration of Life Visitation will be held from 4-6:00 p.m. Tuesday, November 30, 2021 at the Porter Funeral Home, 8535 Monrovia St, Lenexa, KS.
In lieu of flowers, gifts may be made to: The Alzheimer's Association
https://www.alz.org/get-involved-now/donate
or Olathe Health Hospice House https://www.olathehealth.org/patients-and-visitors/giving
If you knew Mrs. Stringer and would like to place a kind memory here, please follow the instructions on this page (click on "post comment").

Mac McDaniel and Jan Klein, Site Administrators
https://www.porterfuneralhome.com/ObituaryDetails.aspx?id=60974&Name=Myrna_Louise_Stringer