Sheridan High School
Class Of 1989
In Memory
Tommy Tumlin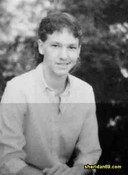 Tommy Darren "Bubba" Tumlin, 47, of Sheridan, Ark., passed away on Saturday, April 15, 2017. Tommy was born in Dayton on Dec. 30, 1969. His family moved to Jacksonville, Ark., in the late 1970s where Tommy attended Jacksonville Jr. High North and Jacksonville High School. In 1987, Tommy moved to Sheridan, Arkansas where he graduated from Sheridan High School. After graduation, Tommy joined the U.S. Navy and was stationed aboard the USS Kitty Hawk during Operation Desert Storm. After the Navy, Tommy worked in construction and landscaping. Tommy loved the outdoors. fishing, hunting, or just working in the yard burning leaves. He felt the most peaceful when he was outside. Tommy was devoted to his family and friends and would do whatever he could to help anyone in need. He always said, "There is someone worse off than me." Tommy will be remembered for his goofy grin, his big bear hugs, his love of nature and, most importantly, his big heart and willingness to help anyone he could.
Tommy was preceded in death by his father, James Edwin Tumlin; his grandparents, Woodrow and Beatrice Tumlin and Willie and Margie Godsey; his uncles, Wayne Godsey and Chester Godsey; and his aunt, Helen Aline Godsey.
Tommy is survived by his mother, Thelma Godsey Tumlin; his sister, Tina (Chris) Plante; his nephew, Andrew (Aubrey) Jones; his uncle, James (Diane) Godsey; his aunts, Charlotte (Glen Ketch) Jones and Betty Cleveland; and several cousins and friends.
There will be no services held.
Cremation arrangements are under the direction of Moore's Jacksonville Funeral Home & Crematory. (501) 982-2136.